Tell us a little more about this program, what makes it a unique experience?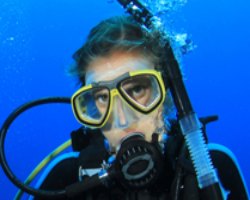 Hannah: Volunteers on this program get the opportunity to learn to dive in a unique tropical environment and progress quickly, leaving as an experienced diver. They work very closely with the marine scientist to learn to identify almost everything in the ocean and conduct coral reef surveys, which improves their diving even further.
This program is broken up with time spent with the community in the local villages. Each volunteer is assigned a host family in our host village of Navatu, with whom they spend a lot of time and are treated as one of their children (no matter how old they are!). On no tourist trip will you get to see the real Fiji in such a unique way.
Describe a typical day on this program.
Hannah: .Volunteers typically wake around 7:00 and those who are not preparing breakfast choose to sunbathe, do yoga, or read a book. Breakfast is served at 8:00 and those who are not yet awake will be awoken by the bells. After breakfast, we start diving.
During the first 2-3 weeks, volunteers will be doing their PADI Open Water and Advanced Open Water courses with our Dive Instructor. Once qualified, they will be taken on pointy dives with the scientist to learn about the marine life and be tested on their identification skills, after which, surveys can begin.
Diving gives you a great appetite, so the cakes brought from the village are always welcome. Lunch is served around midday. We dive again after lunch, going to different sites to try and mix it up. Before dinner, volunteers will have some free time to shower, do their chores, socialize, or just to chill out and relax.
After dinner there are often lectures given by the scientist, dive theory sessions, documentary films, or sometimes a relaxing evening to watch the stars on the beach. By the time the lights go out, volunteers are truly exhausted and ready to get up and do it all again the next day!
What are some extra-curricular activities participants enjoy in this program?
Hannah: The snorkeling just off the beach is excellent, with the occasional shark, turtle and large groupers resident on our house reef. You can get around the island we are on in a few hours, and our local boat captain makes an excellent tour guide into the jungle.
Volunteers are free to walk to the village whenever they like to have dinner with their family, or just to walk around where they will most certainly be invited in for tea by somebody.
We visit the local kindergarten to spend time with the children who love to have their photos taken, or we visit the school to do more educational activities with some of the older children.
What is one piece of advice you would offer someone considering this program?
Hannah: The best advice I could offer is that if you have had thoughts about joining a program such as this, take the plunge and do it. Although life-changing, the lifestyle and experience of this program is not for everybody, but if you have considered it, then this is the experience for you. Come with an open mind and it will be life-changing.
What aspect of your work on this program inspires you the most?
Hannah: It can be tough becoming good friends and working hard with volunteers for just 10 weeks, before they go home and you have to start all over again. But seeing how volunteers grow in confidence, skill level, and watching them blossom into a close-knit family can be inspiring.
inspiring. Not only do they make friends for life, gain new skills and a love for the ocean, for many spending just 10 weeks on camp completely changes their outlook on life and their future career choices.