What position do you hold at Gap Medics? What led you to join their team?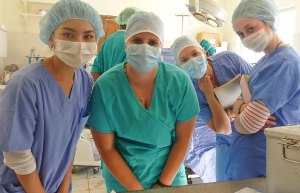 Sophie: I'm the Communications Manager for Gap Medics, so I spend lots of time working on the website. I also speak to students when they come back from their placement to find out how their trip was!
As soon as I saw the advert for a job with Gap Medics, I knew I wanted to work here. I love travel, having previously visited much of Europe, Central and South America and Asia.
On my own gap year, I spent six months living and working in Nicaragua. It was an amazing experience where I met some amazing people and learned a new language.
Working for Gap Medics and sending students on their own overseas adventure is great!
What do you most enjoy about your role?
Sophie: I really enjoy chatting to students about their placement once they return from their trip!
It's great to hear about all of the amazing and varied experiences they have had in our host countries, from, going on safari in Tanzania to observing a C-section in Thailand!
What is your favorite story you've heard of a Gap Medics program experience?
Sophie: All the students stories are great, but my particular favourite is when a group of our students who were shadowing doctors at a government hospital in Tanzania were able to observe the safe delivery of twins after a complicated birth where the chances of at least one fatality were high.
Their safe arrival was a beautiful moment for the mother and babies, and a triumph against adversity for the doctors involved. Our students were all very honored to be a part of it.
What makes the Gap Medics programs so unique?
Sophie: Gap Medics is unique because the service we offer is so specific. We only offer overseas placements to students interested in a career in healthcare. Because this is all we do, we make sure we do it very well!
The concept of medical work experience and the opportunity to explore a new and exciting country is a combination that really appeals to aspiring young medics
What advice do you have for someone considering their first gap year experience abroad?
Sophie: Do it! It might seem like a daunting thing to do, but it is a great opportunity to meet new people and see new places. It can really help you to develop your confidence, interpersonal skills and it will also look great on your CV.
Getting gap year experience that relates to your chosen university course is also really beneficial - it can help you gain a place on the choice of your course, and give you a good understanding of the subject area before starting university.