What position do you hold at Kalu Yala? What has been your career path so far?
Brigitte: Currently I am the Farm-to-Table Chef on the Kalu Yala property, and am beginning to believe this will be the final step towards determining my career path. I started by studying Sustainable Design at Boston Architectural College, and then came to Panama where the hands-on work experience has lead from Outdoor Rec Director, to ESL teacher, to Operations Manager, and now to Farm-to-Table Culinary Arts Director. This new passion for cooking fulfills my desires to please people and contribute to a more sustainable future by providing and consuming local, organic food.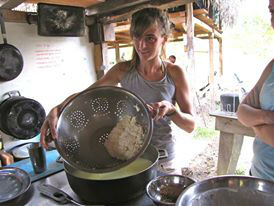 Did YOU intern abroad?! If so, where and what inspired you to go?
Brigitte: I came to Panama to do an internship and finish up my work credits at Kalu Yala. I chose to study Biology while I was here because the description of the program included both a connection with nature and some design-based projects, like a water system for the camp. Otherwise, I have done 3, month-long internships in France at an Architecture firm. These experiences ultimately lead me to realize that working behind a computer was not what I wanted to be doing with my life.
What do you believe to be the biggest factor in being a successful company?
Brigitte: Passion. I think this is the most important factor to a successful company as it is the main drive to work with a team, be diligent, and strive to accomplish goals. I have never worked with such a passionate team like Kalu Yala. The reality is, we are a young company, but we're running a life-changing program for some. I believe we are successful because we're all extremely passionate about what we do.
What does the future hold for Kalu Yala - any exciting new programs to share?
Brigitte: Kalu Yala is constantly evolving both physically and socially. Time will tell which programs will be essential to the development of the internship company. For now, the Farm-to-Table Program is the newest and will have its first interns in May. I look forward to the implementation of this program!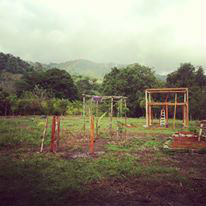 What changes would you make to the intern abroad industry?
Brigitte: If I could, I would make it free and available to anyone and everyone who wishes to experience and work in another country/culture. I believe everyone deserves the chance to learn, particularly with a hands-on experience that can help to influence and shape their future career paths.
How have you changed/grown since working for your current company?
Brigitte: I have grown to learn so much about culture, nature, sustainability, innovation, creation, team work, construction, cooking, livestock, and countless other things that have helped me determine who I am and what my role is on this planet.
What language have you always wanted to learn and why?
Brigitte: Spanish...check! I now speak 3 languages: English, French, and Spanish, and would love to learn a non-romantic language like Mandarin, but I will probably go for Italian or Portuguese next.
What unique qualities does your company possess?
Brigitte: The freedom and ability to assess and act upon our needs. I have never worked in a company prior to Kalu Yala that has given me such a wide range to figure out what skills I possess that are assets to the company, nor one which allows it's employees to create their future while also creating the future of the company.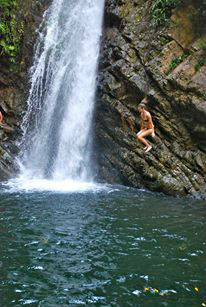 Describe a time when you felt especially proud to be part of the Kalu Yala team.
Brigitte: Each and everyday, but my most memorable moment was when one of our Summer 2013 interns told me that I had contributed to one of the best days of her life after her accident, in which she lost her leg. Hearing this made me realize the importance of Kalu Yala and the experience we bring to so many students and young professionals who feel their internship was truly life-changing.
What is the best story you've heard from a return student?
Brigitte: I don't have one particular favorite story, but I love that many alumni have expressed to me that Kalu Yala changed their lives and how they have implemented sustainability standards back home. I especially love when interns tell me that they're spreading the word about Kalu Yala and telling their friends how it's a once and lifetime experience. It feels good knowing that I played a role in that experience.
What does your home-country's culture value that is taught in your program?
Brigitte: I have grown up around French cuisine and gastronomy, and believe this plays a huge role in my desire to create a Farm-to-Table Culinary Arts Program here at Kalu Yala. I know much of the techniques and recipes I have learned growing up will influence how I choose to run the program.