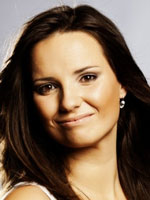 Tell me a little about yourself. What has been your career path so far?
My name is Lenka Zdarska and I am responsible for lesson observations on the TEFL course. I help trainees to improve their teaching skills by observing their teaching practice and then giving constructive feedback. I have experience with teaching English young learners, teenagers as well as adults.
I obtained a master's degree in teaching English and History. In 2013, I completed doctoral studies in which I focused on using interactive whiteboards in pedagogical practice.
What makes Prague a unique destination to obtain TEFL Certification?
Prague is a beautiful city in the heart of Europe. You will never tire of it because there is always a lot going on. Thanks to its great location you can reach many European capitals within a few hours and, last but not least, our school has very helpful and friendly staff, a comprehensive library with lots of useful resources, tailor made social programs and more.
What are some extracurricular activities students participate in during this course? (Does your training centre offer any guided tours?)
There is a wide range of extracurricular activities which help the trainees to learn about Czech culture, people and habits. We provide a tailor made social program designed to makes the trainees feel comfortable in a new country which may include bowling, group dinners, guided tours, parties, etc.
Do students generally stay in Prague to teach after completing this course? (How does this course help students teach abroad? What are some other popular destinations?)
Well, it depends. The majority of students end up teaching but the locations differ. The TEFL course is internationally recognized, so in addition to Prague and other European cities, Asia is also a very popular destination for our graduates.
What is one piece of advice you would offer someone considering obtaining TEFL Certification in Prague?
Don´t hesitate to try it. You will not regret the experience!