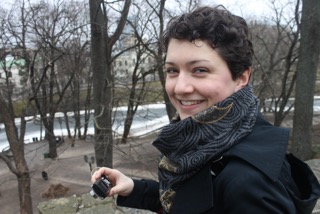 What position do you hold at Panrimo? What has been your career path so far?
Emily: I'm the Intern Abroad Advisor at Panrimo, and it's my job to place students in 2-3 month internships in Europe and work with our overseas internship partners. Before I started working at Panrimo, I spent 2 years teaching English in St. Petersburg, Russia.
I had studied abroad in St. Petersburg, but while I was a student I wasn't able to shake the feeling of being a tourist. It wasn't until I starting working there that I finally felt a special connection to the people and the culture around me. I'm proud to be helping our students have similar experiences.
Did YOU study abroad?! If so, where and what inspired you to go?
Emily: When I was 8 years old, my family hosted an exchange student from Japan for a semester. Iku was very eager to share Japanese culture with my brother and I, and I loved it when she showed us how to do things like use chop sticks or make paper cranes.
I remember telling my dad how cool it was that she came to live with us, to which he responded, "You know, you can do this too." That was when I knew I wanted to study abroad. After years and years of patiently waiting, I finally had the opportunity to spend a semester in St. Petersburg, Russia when I was an undergrad. It's easily the most important thing that's ever happened to me.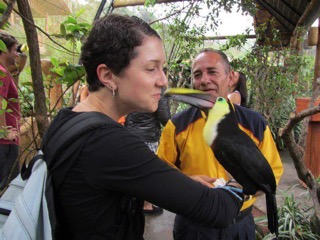 What was your favorite traveling experience?
Emily: My trip to Lithuania has been the highlight of all my travel experiences. My grandfather's family is Lithuanian, and since I was a little girl I wanted to visit my family's homeland. I was able to spend a week traveling across the whole country in the summer of 2013 (from Vilnius to Klaipedia and back), and what a week it was.
Not only did I achieve a childhood dream, but this was also the first time I traveled by myself. Exploring my roots while exploring my own capabilities was an unbelievably powerful experience. Traveling solo is something everyone needs to do at least once!
Why is language learning and cultural immersion important to you?
Emily: For me, the most important thing in the world is connection. We're going to solve the world's problems through mutual understanding, but it's nearly impossible to form any type of meaningful connection without a common language. I speak Spanish and Russian (and a bit of German), and there are so many incredible people I never would have met had I not learned these languages.
But learning a language is so much more than studying words. Immersing yourself is the only way to truly give meaning to the words you've learned, and it's through this you see that you actually have a lot in common with everyone else in the world.