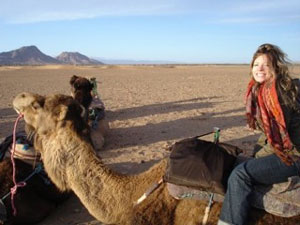 Did YOU study abroad?! If so, where and what inspired you to go?
Audry: I did study abroad, for six weeks in Grenoble, France. French was my favorite class in high school and I promised myself that I would study in France while in college to put my language skills to use. It was the best decision I ever made, and without my even knowing, it laid the groundwork for my career in International Education. Studying abroad opens so many doors.
Why is language learning and cultural immersion important to you?
Audry: Language learning and cultural immersion is important because it enables you to create meaningful connections with people and places in ways that you otherwise wouldn't be able to. I think it also adds a new dimension to the way you view yourself and others when you become a speaker of another language.
What language have you always wanted to learn and why​?
Audry:
Even though I speak French, I'd still love to learn other languages. At the top of my list are German and Romanian. I've always been intrigued by both because I have family in both countries and I'd love to be able to communicate with my family members there in their native language.
What country have you always wanted to visit?
Audry: Ireland has been on my list for years, but I just haven't checked it off yet. Advising students on our program in Galway gets me so excited for them and all they'll get to see and learn, and also makes me even more anxious to get there myself! I want to see what (real) Guinness is all about, visit Giant's Causeway, kiss the Blarney Stone, and listen to that charming accent all day!