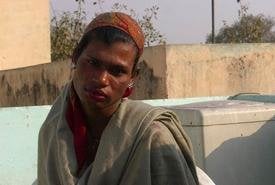 What you need to know:
Hijras are a marginalized LGBT society in India
They consider themselves neither male nor female, but a "third sex"
International volunteers are needed to promote their health and wellbeing
From a Western standpoint, gender is usually thought of in two broad terms: male and female, and while these separations have become more fluid over time, the existence of a "third gender" is a relatively foreign idea to most people. I first came across this interesting concept last December while traveling through India, a region where eunuchs have existed for thousands of years.
As with other LGBT groups in India, these eunuchs (usually referred to as "Hijras" throughout the subcontinent) are marginalized members of society that are largely unaccepted by the local population due to their sex. They are granted very few rights, and as a result of their low social status, most Hijras are forced to resort to street begging and sex work in order to make a meager living. These unsafe conditions combined with a lack of sexual education and available resources have contributed to an extremely high HIV/AIDS risk within the Hijra population.
A few organizations have begun making efforts to provide the aide these Hijras need, but it has been difficult to gather local volunteers given the social stigmas surrounding the LGBT movement in India. Groups including India Volunteer Care, the South India Positive Network, and the Humsafar Trust have looked past these negative perceptions and are slowly making progress in offering basic necessities, counseling, and overall support to the Hijra population.
Volunteers from abroad are especially encouraged to join these programs. There is hope that with the help of foreigners, these organizations can improve the living conditions of these mistreated individuals and in general make India more accepting place for the LGBT society.
Who are the Hijras?
The Urdu word "Hijra" is translated into English as "eunuch" or "hermaphrodite", although the Hijra identity has no exact match in the Western views of gender and sexual orientation. India is among the few countries left in the world where eunuchs still exist.
Hijras are viewed as an institutionalized "third sex" that has always existed in Indian society. While Westerners tend to understand them under the construct of "homosexuality," most Hijras do not classify themselves in this way, nor as transsexuals because they do not feel like women trapped in men's bodies. Their initiation procedure isn't meant to transform them from men to women, but rather from "man to Hijra". Therefore, Hijras describe themselves as neither men nor women; They belong to a "third gender."
Historically, initiation into the Hijra society involved castration around the time young boys experience puberty. Mentions of the Hijra population have been found in ancient Indian texts including the Kama Sutra and the epic Mahabharata, though not much is known of their exact origins. Hijras have traditionally gone through castration in order to harness their true powers of blessing and cursing, which were attributed to them through ancient myths. They also played a large role during the Mughal era as caretakers of local harems; their third gender designation proved to be very helpful in conducting activities between harem women and the rest of the male empire.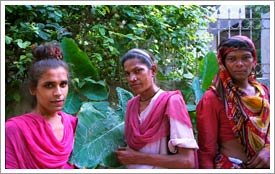 As Hijras can no longer fulfill their traditional role as caretakers of the harems, their sources of income in India today rely on offering blessings, begging on the streets and trains, and prostitution. Hijras cannot seek employment anywhere else because they are not considered part of "normal" Indian society. With no legal documentation, they are hardly even considered citizens and have very limited rights: Hijras cannot vote, marry, or own property, and they also face discrimination in health, education, and employment.
Why don't the locals help?
Hijras have an extremely low status and live on the margins of society. Locals find them nuisances, as today's Hijras are known to lift up their saris or curse when they are denied money on the street (one should keep in mind that this behavior is a result of constant ill treatment and ostracization). When a Hijra is lucky enough to be given a few rupees, it's usually in annoyance. Rarely is anyone actually trying to help them. These local attitudes are also mirrored by the Indian media, which previously portrayed Hijras as evil monstrosities in Bollywood films. Even law enforcement officials have been known to carry out horrific abuses against the Hijra community. Victims are often taunted, beat, stripped, and forced to dance by police officers.
What can I do to help?
Shunned from their homes, the public, and even the law, Hijras are left with very little support, but thanks to a number of international support groups, Hijras are starting to see their lives improve. Laws are gradually being changed to adapt to the needs of India's LGBT community, and advocates are hoping to see changes in treatment from the Indian population as well.
"It's been a long process, but I'd say about 40% of the population has become more aware of the issues surrounding Hijras and transgenders," says SIP Network President Saleem Noori. "A few years ago, the police department was giving them trouble, but now the transgenders are giving advocacy training to the police! These are the kinds of results we hope for."
Many of these organizations encourage students as volunteers, featuring great programs that focus on providing the support, counseling, and resources that the Hijra population needs to survive.
"As volunteers, we are trying to fight for their rights and help them learn skills so that they will be put at a decent place in the community," says India Volunteer Care Director S.M. Arasu. "It's a great moment for me when our organization brings a change in the lives of Hijras and transgenders".
Get involved!
Volunteers provide support for Hijras and trans-genders through counseling, HIV/AIDS awareness, and drop-in centers for the male homosexual community. Each volunteer is assigned to a specific project and site, working 5 days a week with Sunday and Monday off to explore areas on their own.
"Volunteers are given an induction into the program that will teach them about India's culture, behavior, cooking, and general lifestyle," explains director S.M. Arasu. India Volunteer Care also takes special care to monitor and guide volunteers regularly. There is a weekly feedback session each Saturday, and the next week's events are also planned.
No language training is necessary, as translators are provided in any areas where English isn't spoken. IVC volunteers are given a full orientation and guide book with information regarding the cultural differences experienced by visitors in India. In regards to safety, volunteers are accompanied by a staff member at each project site.
India Volunteer Care is also involved with different projects for women, children, environmental safety, and eco sanitation.
South India Positive Network
Volunteers focus on providing assistance to HIV infected Hijras and other members of the LGBT community through support groups, condom distribution, health camps, and rallies. The volunteer program also offers counseling and direction in an effort to help Hijras switch from sex work into safer fields.
The SIP Network is responsible for many groundbreaking changes in the lives of India's Hijra population. Past volunteers have helped create a platform for the Transgender Welfare Board in the Tamil Nadu Government in 2008.
"Because of this board, many Hijras and transgenders are now able to get identification, ration cards, health insurance, voter IDs, and if desired, free sexual reassignment surgery," describes SIP Network President Saleem Noori. "This has been one of my most rewarding experiences to date."
SIP Network's volunteers are currently working on a variety of projects, with the long-term goal in mind to establish permanent government jobs for the Hijras and transgender populations.
The Humsafar Trust
The Humsafar Trust has a variety of programs all dedicated to improving the lives of Hijras and the MSM community. The type of work done by volunteers can be highly variable, and it is completely dependent on both the volunteer's skill set and the current needs of the Humsafar Trust.
Many volunteer programs focus on offering counseling and encouragement for those seeking to speak about their fears, doubts, and pressures. Others provide the care and support needed in any marginalized community, passing along information, acceptance, awareness, and other direction that Hijras and MSMs may otherwise lack.
Apart from community counseling, volunteers also offer outreach through sexual education and condom distribution. HST offers pre-test and post-test counseling at their VCCTC and STI clinics.
Thanks for reading and learning more about the Hijra population of India! Comment below to share your experiences as well.
Interested? Explore volunteer programs in India.