The Pioneer program gives you the opportunity to work on-the-ground in three interrelated project areas; development, conservation and sustainable livelihoods, while living and working within the local community. Activities include building schools in rural villages, constructing wells to improve access to clean water, teaching local children health education, and building fuel-efficient stoves.
The Pioneer Programme is offered as an internship for those wishing to gain experience and/or credit for a college or university course. The major difference between whether you take the programme as an intern or a volunteer relates to the amount of mentorship and self-evaluation available to you during your time on the programme.
Five reasons to intern with us!
Reviews
Alumni Interviews
Meet Matt Massara, Azafady - Madagascar alum
Matt Massara is 25 years old, from Sevenoaks, England. He went to Weald of Kent Grammar School, followed by Reading University where he studied Philosophy. Although currently travelling around New Zealand, he is a video editor back in the UK, for a comedy television company. He enjoys reading, football, tennis, running and plays bass guitar for an indie band.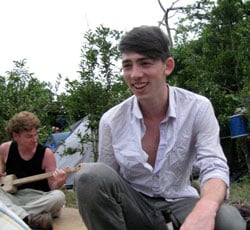 GO: Why did you decide to intern with Azafady in Madagascar?
Matt: I had a multitude of inspirations that really came together after I had decided on the simple notion to go travelling. Madagascar had always interested me as a place and I had always wanted to contribute to a worthy cause. At first, these two independent thoughts just happened to coincide. But after I properly considered working for a charity in Madagascar, I realised that it was so much more to me. I am passionate about the preservation of biodiversity and what better country to do that within than one of the most biodiverse countries in the world. Where working towards that cause, within that country, would generally make a difference. By chance my friend had volunteered for Azafady two years prior to my experience and highly recommended the NGO. In the end it was senseless for me not to go. I wanted to make a positive difference in the world from a level that I could and interning with Azafady was the way towards achieving this.
GO: Describe your day to day activities as an intern.
Matt: It is hard to describe a typical day, as we had such an array of activities to be getting on with, which would vary daily. We would rise with the sun at 6am, to the sound of a spoon banging against a cooking pot to signify breakfast. Once we had filled up on banana bread and a form of rice pudding, it was off into the rainforest. We were split into groups and all given various tasks. One group would potentially be tracking lemurs, monitoring their behaviour and specific notifications of their environment. Anoher group would be searching for and noting herbs that they had uncovered, establishing whether a certain species was native to a particular area of the rainforest. The other group may be searching for a specific type of tree or plant and collect its seeds to reinvest in the population. This would largely last around 2-3 hours and we would walk back for lunch.
Both lunch and dinner tended to consist of rice and beans, in more forms than you could imagine. After eating and a prolonged rest, we would work again for a similar period. We worked as a team to build stoves for the community, we planted saplings in the tree nursery, we worked on and then presented lessons to the school children about the rainforests, where we would teach, sing songs and monitor colouring in. In the evenings we would have the option to go into the rainforest for similar excursions to the morning, or recuperate for the next day. The rainforest is a different place at night and the animals you came across reflected that. With our head-torches on we would complete another two hours of walking through the woodland, before making our way back to camp for some well-earned sleep.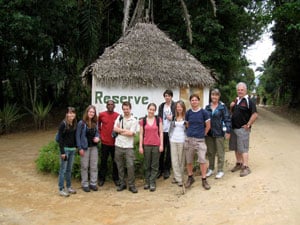 GO: How has this experience impacted your future?
Matt: The experience of going to Madagascar with Azafady has impacted me greatly and far more than I could have ever anticipated. I made some very strong bonds with the individuals that joined me for those brief 4 weeks, yet still keep in touch with them regularly. The experience is so unique, that the fact you shared that experience with those people, permanently bonds you together. We will always have that experience in common.
People I met asides, the drastic lifestyle change makes you realise what is important. The school kids, that possess absolute nothing are far happier than Westernised kids. The smile never leaves their faces, despite everything they have to deal with and talking to them is a delight. Living can be so much simpler. I am definitely driven to a less materialistic lifestyle. My diet has also vastly improved. I no longer feel the desire to go to KFC as, despite having it consistently for 4 weeks, having a simple meal like beans and rice is fulfilling enough and far healthier for me than junk food.
I am much more environmentally aware than I ever was and that impact, has become the primary point of any decision I make, over money or social concerns. I used to be very much fixed on getting a standard 9-5 job and earning enough to pay the mortgage. That desire has deserted me and I feel that the experience I gained from Madagascar, can not be forgotten about, but rather I should live a cleaner and more considerate lifestyle. I would far rather work for a good cause than have excess pocket-money for Pokemon cards. I am now, far more aware of the impact my choices have, and have far more desire to discover more about the world. I strive to learn more and enhance my knowledge of what is going on around us. I am starting to feel both how ignorant I am and how I am slowly moving past that ignorance.
However, the most important aspect is what an amazing and productive experience I had and I will never settle to be content with what I had. I don't feel I have to, but I want to strive for a better world. I am better than being passive to worldly matters I don't see as quite right and if you ever decide that Azafady is the right decision for you, I'm sure you will see it too.
Meet Rachel Serena McKee, Azafady Alum
GO: What originally inspired you to intern in Madagascar with Azafady?
Rachel: I was a tourist in 2005/2006 when I was on my year abroad living in Reunion Island. I was very keen to return to Madagascar in a more meaningful context. I did some research on the internet and got in touch with Azafady. I was planning to go straight back, but decided to finish my degree first.
GO: Describe your day to day activities as an intern in Madagascar.
Rachel: Early mornings, up with the chickens, after our orientation we went to Mandromondromotra where all of the Azafady volunteers participated in the construction of the community hospital latrine, fixed the only village well and did hygiene and sanitation role plays for the delighted population, who laughed a great deal. Life was simple, with tent living, bucket showers, lots of rice and different varieties of beans punctuated with salad, prawns, the odd malagasy chicken and zebu (the best beef you'll every eat!). Mixing cement was hard work, but after the 3rd day the whole Azafady team got into the swing of things, improving our sawing, chiselling and hammering skills. In our spare time we went to the local cinema - ' one tv powered by a generator' and played with the children. We spent several weeks in town helping with the construction of a latrine for a local primary school, helping with English language teaching at a local secondary school, and doing tree nursery work in preparation for the reforestation program we would be involved in. We planted more than 4000 trees with the help of the local community in the St. Luce area.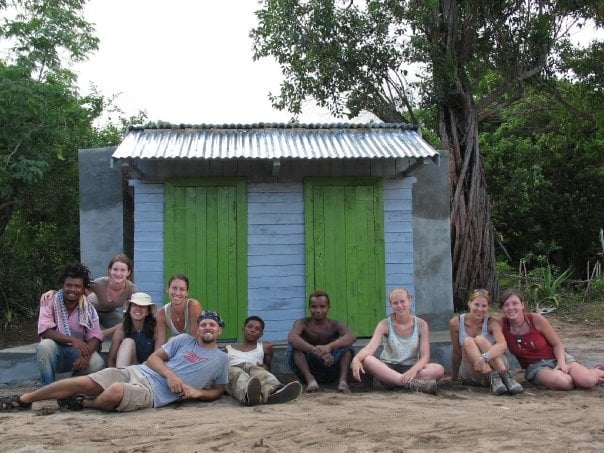 GO: How has this experience impacted your future?
Rachel: I learned a lot from my time with Azafady. I returned to the UK inspired and challenged. I decided to return to Madagascar a few months later to co-lead a team with a Tearfund partner in the north working with the community health team at Hopitaly Vaovao Mahafaly (Good News Hospital). I then studied for two semesters as an independent student at a private University in the South learning all about Development and Ecology from the Malagasy perspective. It was fascinating to study with the local students and turned some of my western world views upside down.
After this I applied to do an orientation with Medair, an international relief and rehabilitation organization, and was offered a position in DR. Congo where I worked as logistics manager for 15 months. I have returned to Madagascar several times and hope to continue to in the future. I even got the chance to check up on our trees, which were growing well. If you're thinking about going with Azafady you should, I made friends with the locals and international volunteers alike and I loved how what we were doing directly impacted the lives of the communities we had gone to assist. Keep up the great work Azafady!
Further Info
About Azafady
Azafady is an award-winning UK registered charity and Malagasy NGO dedicated to supporting the people and ecosystems of Madagascar, one of the most biologically rich but economically poor countries in the world. Our approach is one of co-operation and participation with grassroots communities working to alleviate the effects of poverty and to support viable, environmentally-sensitive development. Our holistic development and conservation projects support some of the world's most vulnerable people in threatened & irreplaceable environments. We offer volunteers the opportunity to get involved in our projects in Madagascar through unique and challenging volunteering programmes lasting from 2 to 10 weeks.
All Their Programs