The Science Exchange is a non-profit organization that offers customized, affordable internships for undergraduate and graduate students interested in interning in Latin America and the Caribbean. The Science Exchange operates in Mexico, Cuba, Honduras, Costa Rica, and Panama. Internships packages are extremely affordable and great way for college students to gain valuable experience working at sea turtle research centers and conducting field-work.
Five reasons to intern with us!
Reviews
Alumni Interviews

Meet Gabriela Ponce, Science Exchange Alum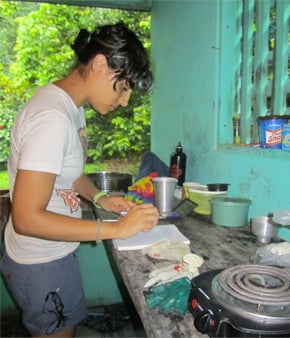 GO: What originally inspired you to intern with The Science Exchange?
Gabriela: My original inspiration to intern with the science exchange was the opportunity to get more research experience as well as work with such an amazing animal as the sea turtle.
GO: Describe your typical day.
Gabriela: My day to day activities as an intern included eating an early breakfast and then heading out to collect data on the beach such as sand specimens and measurements of the shoreline. Then we came back in time for lunch after which we would take as down time until after dinner where we would set up the patrolling schedule in two shifts: early and late according to the tide.
On the patrols we would scout the beach for sea turtle nests and for nesting female sea turtles. When we would find a nest we would dig it up, take a couple data points (eg. Number of eggs, width of the mothers tracks, tide, sand samples and sector of beach where nest was found) and bring the eggs back to the hatchery so they will be safe from predation.
When we would cross paths with a turtle nesting we would take her measurements, tag her with an identification number, collect her eggs and then take them to the hatchery. The next day with the sand samples we would cook the sand to get measurements of the water content and then sift the sand to measure the grain size.
GO: How has this experience impacted your future?
Gabriela: This experience has helped me understand more about myself than any other experience I have had to date. I personally grew quite a bit in the fact that I was responsible for a project bigger than myself which led me to be more responsible. Also, traveling with only my research partner in a foreign country made me more resourceful making me be more willing to ask other for help.
Professionally it has been a help with trying to apply to other internships and has helped with choosing what sector of biology I could focus in on.
Further Info
About The Science Exchange
Join The Science Exchange on a Sea Turtle Internship for College Credit!
The Science Exchange is the only affordable non-profit organization that gives US college students the opportunity to intern in the Caribbean and Latin America. Multiple, customized internships packages are available for students who wish to gain valuable professional experience by taking part in field work and lab research.
All Their Programs