TaLK - Internships in South Korea!
Teach and Learn in Korea (TaLK) invites you on a Korean Government scholarship to teach English at a public elementary school in a rural area of South Korea. Benefits include a monthly stipend of KRW 1.5 million (approx. $1,300), a settling-in allowance of KRW 300,000 (approx. $250), a free round-trip air ticket, accommodation, health insurance and more! Have fun exploring a unique culture and develop a mature global mindset. TaLK scholarship terms begin in August and February. Apply online for the 2012 Spring semester!
Five reasons to intern with us!
Reviews
Alumni Interviews
Meet Charlotte Jones, TaLK alum
GO: What originally inspired you to teach in South Korea with TaLK?
Charlotte: Well, I knew I always wanted to teach overseas but I was extremely apprehensive about the costs of an experience abroad. With the TaLK program, you make money teaching and learning about Korea! It's perfect, and they cater to students who are currently earning their degree. They offer 5 month, 6 month, and 12 month contracts depending on your school schedule. Even being a big scaredy cat, I figured I could do anything for 6 months, so I decided to apply.
GO: Describe your day to day activities as a teacher?
Charlotte: I taught grades kindergarten through sixth beginner-level English in a public after-school program. Hours with the TaLK program are unbelievably comfortable, which made many of my friends in EPIK acutely jealous. I went in from 12:00-4:00, usually teaching only 3 classes per day with the same students everyday. My classes were usually small, no larger than 15 students, which allowed for excellent individualized attention. I prepared all of my lessons before class, usually in one-week long unit-blocks addressing one main language target through a variety of different activities. With TaLK I had the freedom to design my own lessons and create unique, innovative ways to teach English.
GO:How has this experience impacted your future?
Charlotte: My experience with the TaLK program vastly impacted my future. After graduating with a degree in psychology, I was severely lacking in direction and really wasn't sure which profession I would end up pursuing. However, as soon as I stepped foot into my classroom in South Korea, I knew what I wanted to do. Currently I am back home in the US pursuing my MA in education and plan to go abroad again as soon as I'm finished. I can't wait to go back.
Meet Eugene Lee, TaLK Alum
GO: What originally inspired to join the TaLK program in South Korea?
Eugene: What inspired me first was an old elementary school friend of mine who wanted to go and thought it would be fun if we went together. Free round trip flight, free housing and they pay you!? come on! once in a lifetime opportunity. + free healthcare and other great incentives.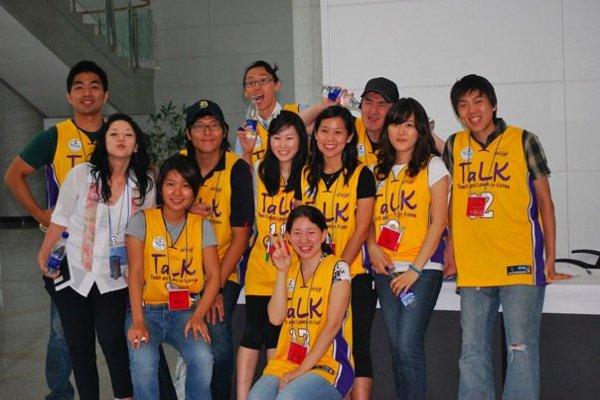 GO: Describe your day to day activities as a TaLK intern in South Korea.
Eugene: Well, the first month was orientation. We met people from all over the world, that was the most interesting part of the internship. The day to day orientation was also very informative and the transition into Korea was smooth. I was introduced to the students I would be teaching and I absolutely loved them, I would love the chance to go back to Korea to visit old friends and students. Since the TaLK program is part-time and takes place after school, I would simply go to school late in the afternoon and just work for a couple hours, and then come home and just maybe hit up friends and go out to eat. Usually I would stay home and work on lesson plans or read, and listen to music. I loved exploring over the weekends, meeting my friends, and spending time with my host-family.
GO: How has this experience impacted your future?
Eugene: The internship inspired me to look at the world from a global perspective. I still keep in touch with TaLK and help them promote this great program. I am an entrepreneur, and I never thought of teaching but it opened my mind and eyes to new things. My new global perspective has set me right to do business overseas.
Meet Hamid Mahdi, TaLK Alum
GO: What originally inspired you to join the TaLK program in South Korea?
Hamid: When I found out about the TaLK program, I was mostly interested in having the chance to live abroad. My understanding is that TaLK looks for individuals who are open-minded, good with children, interested in Asian culture (specifically Korean culture), and willing to commit 6 months of their time to helping the next generation of Korean children towards a better future by helping them overcome their shyness of speaking English and learn along the way.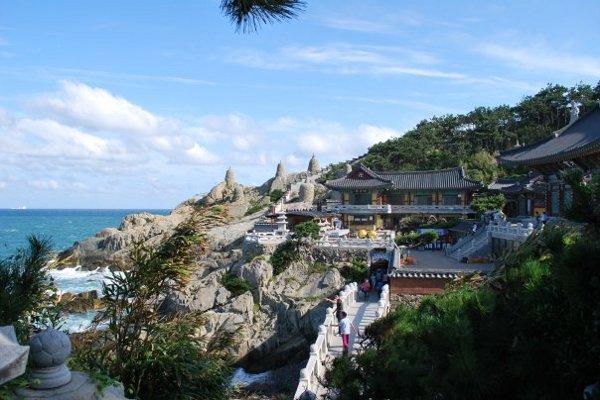 While my major is Foreign Languages and Translation with a concentration in Spanish and Arabic, I had a study-abroad experience in Costa Rica during summer of 2008 and I am able to pick up languages effectively so TaLK definitely sparked my interest.
GO: Describe your day to day activities as a TaLK intern in South Korea.
Hamid: I generally am required to work 3 hours a day (from 1pm to 4pm) but I show up around 12pm to eat lunch with the school staff and students. After lunch I teach four 40-minute classes with one 10-minute break between each class. Even though I am teaching I try to have fun with my students by playing games and having contests to reinforce the vocabulary that they are picking up from their classes.
Classes can consist of using a series of visual aids--power point presentations for short notes, pictures, and sing-along songs. When I am certain that the students understand the subject material, I reinforce what they've learned by playing games with them. The most common ones that I use are BINGO and Charades. I also hold spelling races where students are divided into two teams and are asked to properly & quickly spell words that I call out. The students tend to respond well, can retain a lot of information, and they have fun while doing it.
Outside of school life, I enjoy attempting to cook ethnic meals (Tteokbogki, Saeoo Tangsoo Yook, Jin Ramyeon, etc). I tend to travel a lot on the weekends, sometimes alone, and other times with friends on culture trips as well as leisure travel. By now, I have visited nearly every province in South Korea including 16 cities and counties: Jochiwon, Songdo, Seoul, Daejeon, Gyeongju, Pohang, Yecheon (where I live currently), Daegu, Gumi, Busan, Andong, Yeongju, Pyeongchang, Geomundo, Ulleungdo, and most recently Yeosu.
GO: How has this experience impacted your future personally, professionally, and academically?
Hamid: Personally, being in the TaLK program and living in Korea has helped me become a little more independent and proactive about dealing with life's situations (both the good and bad). I am cooking more now than I ever did back home, and even though my Korean is not as good as I would like it to be, I am still able to travel around the country and shop for things I need without needing a translator/interpreter 24/7. It has also helped me to be more aware of the things that many foreigners experience when they first move to the US and have feeble English, and it reminds me to be a little more patient with them as others have been with me while I am here.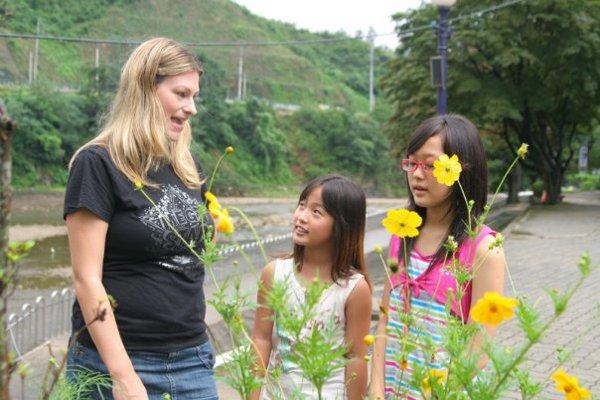 Professionally & academically it has helped strengthen my linguistic abilities to juggle multiple languages at once. I mentioned earlier that my major is Foreign Languages & Translation with a concentration on Spanish and Arabic. But being in Korea the past several months has helped me to strengthen my spoken Japanese. I am steadily picking up the Korean language as well; thanks to several friends that I have made while living here. This will all help me become a bit more marketable when I am ready to take the job as a full-time translator.
Meet JC, TaLK Alum
GO: What originally inspired to join the TaLK program in South Korea?
JC: I heard of the TaLK program when they first started. I was an exchange student at a Korean university. TaLK asked universities in Korea for possible applicants for the program. After completing my exchange program, I applied for TaLK, which was going into it's 3rd semester. I was already interested in teaching English in Korea and had experience as an teacher's assistant at 2 English camps in Korea. I also took a course in teaching English as a foreign language. TaLK was a great opportunity to get experience teaching before finishing my degree and being a full-time English teacher in Korea in the future. It was also an opportunity to practice my Korean language skills and learn more about the culture.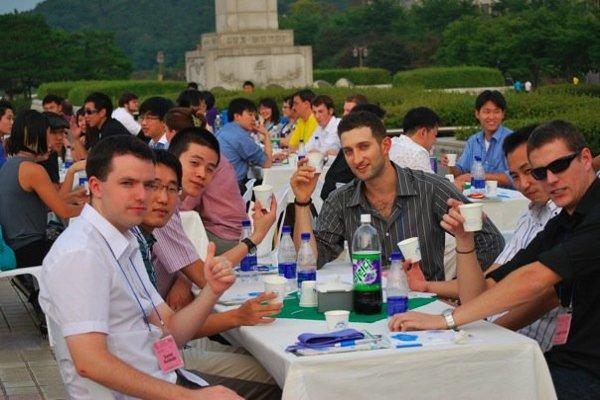 GO: Describe your day to day activities as a TaLK intern in South Korea.
JC: When I first began, I met with other fellow TaLK scholars on an almost nightly basis after work. We would share our stories and give tips to one another. Before and after that I spent most of my time lesson planning. After my first semester, lesson planning became easier and took less time. I met with other TaLK scholars less, but helped those who asked for tips. I had more free time to meet with friends or exercise.
GO: How has this experience impacted your future?
JC: I've made some great life-long friends through TaLK and learned a lot about Korean culture as well as other cultures from other TaLK scholars from various countries. I've also learned and experienced a different schooling structure and culture compared to my American background. This has been a positive impact on my own teaching and study methods.
Further Info
About TaLK
The Teach and Learn in Korea (TaLK) Program invites young, adventurous college students and recent graduates to teach English to elementary school students living in the rural areas of South Korea. Funded by the Ministry of Education, Science and Technology, the TaLK Program aims to cultivate a strong desire to learn English through the use of innovative and engaging classroom teaching methods designed by the our own program's participants. While teaching, participants will have the opportunity to learn about the many facets of Korean culture and find time to travel to distinct regions of the Korean peninsula. TaLK is the perfect program for those who aspire to be global leaders, who seek to gain personal and professional enrichment through teaching, and who are highly adaptable to new environments.
All Their Programs