Study abroad in Rome, Italy with AIFS as your guide. Explore the history, culture and architecture of this 3000 year old city. Places like the Colosseum, the Roman Forum, St Peter's Basilica and the Vatican Museums are waiting for you to witness their testaments of time. Visit other Italian cities as well, including Naples, Pompeii and Venice.
Study from a large number of subject areas including Italian language. Stay in an apartment, or as a guest in a house. Let AIFS take care of all the details so you can relax and enjoy every moment of your trip. The AIFS website has all of the details, so don't hesitate!
Reviews
Alumni Interviews
Interview with Meredith Deacon, AIFS Alumna in Rome
GO: Why did you decide to study abroad with AIFS at Richmond in Rome?
Meredith: I had already been to Italy but wanted something different, so instead of going to where I have already been, I decided to go to Rome, where I had not been before. I decided on AIFS because it was affordable and provided the most support for its students. They had trips and different cultural activities planned and the classes were interesting which made it a very appealing program. I loved my experience with them since they definitely fufilled all my expectations and more.
GO: What made your study abroad experience unique and special?
Meredith: What made my experience so unique and special was all of the opportunities I had to really immerse myself in the Italian culture. I volunteered twice a week at a local bird shelter and I participated in a number of different activities such as plays, concerts, and cooking classes. I would have to say the program made it so special by doing everything they could so I would feel like Rome was my home by the end of my time there.
GO: How has this experience impacted your future?
Meredith: This experience has greatly impacted my future by allowing me to consider a future of a year of service, and having the experience of already living on my own in a culture not my own is keeping me more open minded to relocating to Atlanta for that position. It has also immensely improved my self-confidence and my flexibility as a whole, which has helped my personal relationships grow into lasting ones based more on my true self. Overall, my future would not be as bright without this experience.
Interview with Samantha Lach, AIFS alumna in Rome
GO: Why did you decide to study abroad with AIFS in Rome, Italy?
Samantha: I chose the AIFS Richmond in Rome program because it offered me the opportunity to study abroad during the summer in a program that guaranteed me the most bang for my buck. I go to a school that runs on trimesters, not semesters, so it often makes studying abroad with a 3rd party program slightly more challenging. AIFS granted me the opportunity to study in the city of my dreams without disrupting my school schedule.
Also, this program offered the most to it's students in it's all inclusive price. Knowing that my travel expenses, rent, food/drinks, and side trips were all included in my final price was an extremely liberating feeling, especially as Europe can be quite expensive. Having those expenses essentially pre-paid helped me to enjoy my time in Rome that much more because I was able to focus on experiencing all Rome as to offer as opposed to scrimping Euros together for my next meal.
GO: What made your study abroad experience unique and special?
Samantha: This study abroad experience was especially great for me because it offered me the opportunity to meet college kids from all over the nation. I go to a small liberal arts college and as much as I love everyone, I was glad that I had the opportunity to meet new people from new places. Being in an environment that provides the opportunities to meet new people is always very exciting and AIFS did a great job facilitating activities and opportunities to meet and get close to the other students on our trip. I even met and remain close to girls that go to school close to Augustana which is great because we are able to keep in touch that much easier. I can say that my summer in Rome granted me new amazing friends.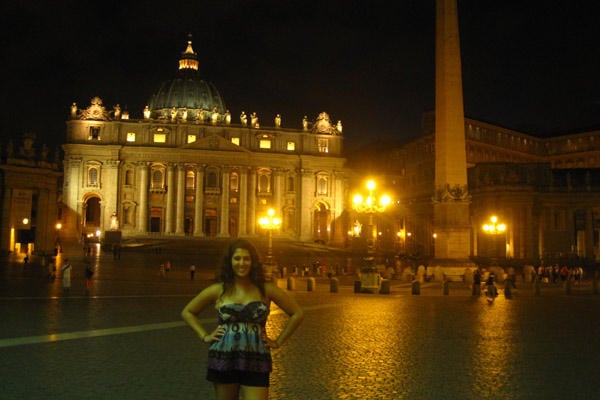 From an academic perspective, AIFS had a great program. I loved being able to tour Florence and Pompeii with professors who were extremely knowledgeable about the history of the cities. It's one thing to be a tourist in a city, however it's another to be a student touring art museums and ancient ruins with knowledgeable professors. I truly believe that studying abroad offers a once in a lifetime opportunity to experience a new city and culture from a completely different viewpoint. You are not simply a tourist, but you become a member of the community, and that's not an opportunity that is granted every day.
GO: How has this experience impacted your future?
Samantha: This experience fulfilled my lifetime dream of not simply visiting Rome but actually living in Rome. The AIFS program granted me not only my first visit to Europe, but also a new found sense of independence. Traveling to a foreign country on your own is an experience that will test you in the best ways possible. I was able to truly challenge myself, take care of myself, and be in control of my experience abroad. I have a greater self-respect and know that I can handle challenges because I was able to navigate the streets of Rome on my own.
Academically, this study abroad experience helped my liberal arts education come full circle. Liberal arts at Augustana College really emphasizes going out of your comfort zone to broaden your experiences which then broaden your life view. Studying abroad is the epitome of this belief because it causes you to integrate yourself into a new culture in order to learn more about it and to develop a new perspective. I believe that this experience with AIFS has caused me to become a stronger student because I have new perspectives created by my experiences in Rome.
Interview with Natalie, AIFS alumna in Rome
GO: Why did you decide to study abroad with AIFS at Richmond in Rome?
Natalie: I chose Richmond in Rome because I have always wanted to spend an extended amount of time in Italy. When I compared multiple organizations, AIFS had the most comprehensive program. I liked that they helped coordinate everything from our housing and meal plans to extra travel opportunities. They also had the best variety of classes.
Mid semester I connected with friends who were doing different programs in Italy, and after hearing what was included told me they wished they would've chosen AIFS. It was a bit more expensive, but it was truly worth every penny.
GO: What made your study abroad experience unique and special?
Natalie: Part of what made this program unique was the great location of the school and my apartment. I lived in the middle of Rome and truly enjoyed being able to walk barely 15 minutes to get to the Vatican City or walk 20 minutes to get to the Coliseum.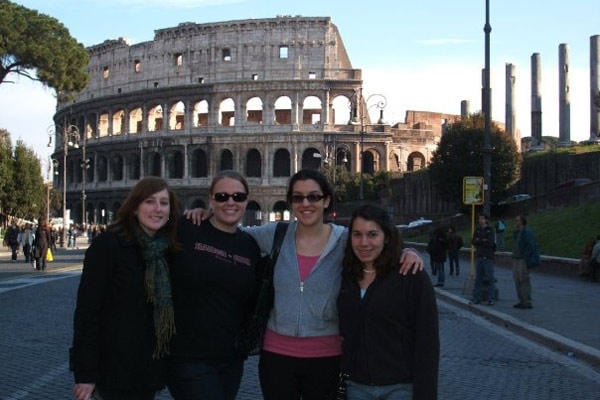 By far what was most unique and special about my experience would be the great relationships that developed over my five months in Rome. The staff and faculty at the school were just wonderful people. They genuinely wanted us to enjoy our entire time there. It was easy to connect with locals and get involved in the community. I met great people in my classes who have become some of my best friends.We made a pact to get together at least once every year since our study abroad, and we have stayed true to our promise.
GO: How has this experience impacted your future?
Natalie: My experience abroad exposed me to a completely different culture. I had to learn to communicate in a different language, immerse myself in a different way of life (for example picking up fresh produce every day at the market, getting everywhere by foot, or listening to workers sing opera while repairing an old building), and of course try tons of new foods, which was not difficult by any means in Italy.
Living in a different country forced me to step out of my "comfort zone," which is an important skill to have in all aspects of life. I learned how to communicate with a variety of people and backgrounds which has helped me immensely in my professional career as a health advocate.Being able to step into a new environment or situation whether it be a new job or continuing on to graduate school has opened the door to many opportunities to travel more, discover different cities and countries, and meet great people with unique stories. I've studied and lived abroad again since my time in Italy, and have made friends from many parts of the world. I plan to continue traveling as much as possible!
Interview with Britani Bouldin, AIFS alumna in Rome
GO: Why did you decide to study abroad with AIFS at Richmond in Rome?
Britani: I decided to study abroad with AIFS at Richmond in Rome because you get so much out of the program. As a student on a budget I was looking to get the most for my money. The basic trip included three days in London, two weeks in Florence, a trip to Venice, Capri, Pompeii, and Naples. In addition there were excursions to Pisa, Tivoli, and other places outside of Rome.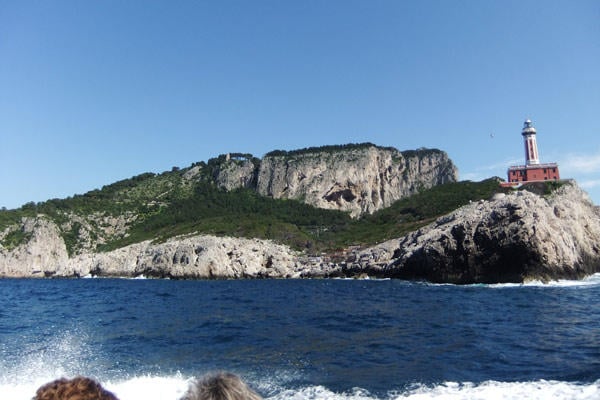 Second to money was if I would be comfortable with the program and the staff. The director at my school had only good things to say about the Richmond staff. Students in the past had been able to easily get in contact with them and they were there to help them every step of the way.
GO: What made your study abroad experience unique and special?
Britani: This study abroad experience was unique in that the group that went was large enough that you had other Americans to hang out with, but it didn't always have to be the same people. On the other hand it was small enough so that you wither knew or could recognize everyone on the trip. Which is helpful in a city full with Americans studying abroad, especially if you get lost on an excursion.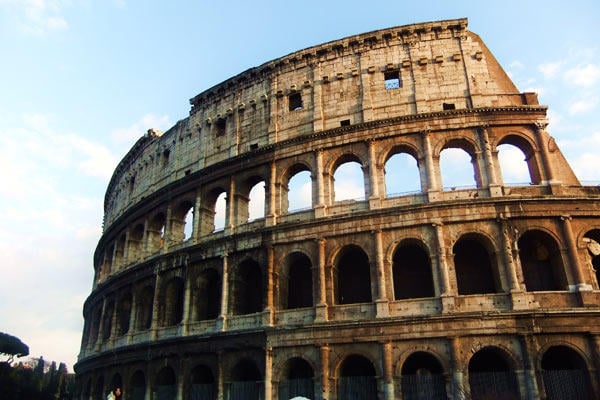 The staff helped to make this trip special as well. The directors were willing to help whenever you needed it, whether it was trying to find a site in the city, or else where, or if something in your apartment went wrong. This happened to my roommates and myself, but the housing director was able to ensure that the landlord knew it wasn't our fault and we didn't have to pay anything extra.
GO: How has this experience impacted your future?
Britani: This experience has impacted my life in a major way. As a quiet person, going to a country that speaks another language and having to survive almost on my own has boosted my confidence. As an international studies major I dream of working abroad. After this experience I know that I am prepared to go any where and I know that I will be able to be safe and maneuver my way through any city I find myself in. I can't wait to go back!
AIFS Study Abroad Program in Rome, Italy:
Further Info
About AIFS Study Abroad
Founded in 1964, AIFS prides itself as an industry leader in providing summer, semester, and academic year study abroad programs. AIFS sends nearly 5,000 undergraduates every month to study abroad in one of 23 AIFS international campuses.
Programs are available in Argentina, Australia, Austria, Botswana, Brazil, Chile, China, Costa Rica, Cuba, Czech Republic, England, France, Germany, Greece, India, Ireland, Italy, New Zealand, Peru, Russia, South Africa, Spain, Turkey, as well as multi-country programs. AIFS offers Gap Year programs, along with internships and volunteer opportunities abroad. With locations throughout the world, AIFS College Study Abroad is able to offers high-quality, college-level courses in subject areas as diverse as Islamic Studies, French Cinema, business and engineering.
All of Their Programs