Study in Australia at the University of Queensland with GlobaLinks Learning Abroad (formerly AustraLearn)! The University of Queensland offers the perfect study abroad experience for those looking to study abroad in the company of innovative researchers, and instructors knows as leaders in their fields. Holding more awards than any other university in Australia, the University of Queensland prides itself as an academic leader and has been consistently ranked internationally as a top 50 university.
While you study abroad in Australia, you will be in the company of students from all around the world, creating an eclectic and unforgettable atmosphere. Visit the GlobaLinks website to learn more about how you can study abroad at the University of Queensland.
Reviews
Alumni Interviews
Interview with Katherine Pearsol, GlobaLinks alum
GO: Why did you study abroad with GlobaLinks at the University of Queensland?
Katherine: Ever since I was a little girl I've always dreamed of going to Australia. I wanted to be a zoologist when I was little and was fascinated by the unique eco-system in Australia. I chose the GlobaLinks program because the staff at GlobaLinks are very friendly and willing to answer any questions I had. In addition, they made the application process and the transition to a new country very smooth.
I enjoyed the friendly and helpful attitude from those that worked with me. Also, at our orientation in Cairns the staff were very enthusiastic and knowledgeable about the study abroad process. I chose the University of Queensland for a number of reasons; the first was its location in Brisbane, Queensland in-between the Gold Coast and the Sunshine Coast. In addition to its location, the tropical climate was very appealing to me. The University of Queensland is a gorgeous campus, and offers a wide range of courses and student clubs one can join. I loved my professors who really encouraged student involvement in classes and were very helpful with my studies.
GO: What made your study abroad experience unique and special?
Katherine: My study abroad experience at the University of Queensland was very special because it was not only my first time leaving the country for a long period of time, but also I was able to go to my dream destination! It really was a dream come true. Furthermore, I utilized all of the resources available to me from GlobaLinks and the University of Queensland to travel around the country on my breaks.
I was able to see Cairns, the Whit Sunday Islands, Noosa, Surfer's Paradise, Alice Springs and Uluru, Darwin, Sydney, and Melbourne. It was great getting to experience so much of what Australia has to offer. Moreover, it provided educational experiences into the diverse cultures within Australia. Not only did I get to see so many places, but I had the opportunity to meet and travel with not only Australians, but backpackers from across the world, many of whom I stay in touch with. It provided a unique and fun international networking experience.
GO: How has this experience impacted your future?
Katherine: This experience has impacted my future by teaching me skills that allow me to adapt to various situations, as well as giving me the experience to study and work in another culture. Furthermore, I developed long lasting friendships with people all over the globe, many of whom I still get together with or Skype with.
Interview with Rachel Simon, GlobaLinks alum
GO: Why did you study abroad with GlobaLinks at the University of Queensland?
Rachel: I decided to study abroad with GlobaLinks at the University of Queensland (or UQ as they call it there) because someone else from my home college had studied there, loved it, and had done well. I go a very small college in the states with only 1,000-2,000 students.
I knew that I wanted to experience a complete shock from what I am used to and once I learned someone else from my small home college was able to tackle 44,000 students at UQ and huge lecture halls, then I knew I could do it, too. I also loved that GlobaLinks provided a weeklong orientation when we first arrived in Australia. I went by myself and didn't know anyone or what to do, and through this orientation I met new people and did amazing things, like go snorkeling in the Great Barrier Reef! (Yes, I saw Nemo!) We also went to a rainforest, held a koala in a wildlife centre and saw kangaroos up close and personal.
GO: What made your study abroad experience unique and special?
Rachel: I have to be honest and first say that I went abroad to Australia because my parents wanted me to go study abroad in London and then come visit me. I knew right away that I wanted this experience to be me on my own with no visits from anyone I knew, being an adventurer and learning to become independent. I chose Australia because it was the farthest away I could get from the USA, and also because I didn't know that much about it.
All I knew was Finding Nemo the movie took place there, Crocodile Hunter was from there and Heath Ledger (from Batman: The Dark Knight and 10 Things I Hate About You) was from there too. Okay, so I may have chosen Australian on very superficial levels (hot guys, good movies and far, far away from my parents), but it ended up being a really wonderful adventure.
At first, I was very homesick, which was surprising. I've been away to summer camp for about nine or ten years and never had a problem and I go to college about 5 hours from home and also never had a problem. However, I think it was the fact that I was struggling to make friends at first and I had no idea where I was going half the time (I think the bus drivers thought I was really annoying, asking them questions all the time of which way they were going!) that made me homesick for familiarity. Once I made friends, joined a few clubs at uni and settled into my classes and living situation, though, I had a great time.
I chose UQ because it was very different from my home college life. As I mentoned above, I go to a small college with a very discussion based classroom setting and it is a mostly all girls school (we became co-ed in 2007). I really wanted to immerse myself in the Australian culture so I decided to go to UQ (University of Queensland) because it had 44,000 students and was focused on research science and medicine, neither of which are my specialties.
I am an English major, which meant, to my surprise, my classes and lectures at UQ were smaller than I expected - the size ranged from anywhere between 100 to 80 students in a lecture and then about 20 to 15 students in a tutorial (which is a discussion based part of the course). I also lived in the center of Brisbane in an area called South Bank with 5 other girls from my GlobaLinks program in an apartment complex. At first I was upset that I wasn't on campus at UQ in a dorm (I really wanted to be immersed with Australians as much as possible), but then I realized what an advantage living in South Bank was.
South Bank was a 15-minute walk from the main city of Brisbane, which means lots of different shops and restaurants to explore (my favourite is Pancake Manor, a 24 hour pancake restaurant) and we lived so close to many wonderful museums and the QPAC (Queensland Performing Arts Centre). I went there once and saw Wicked the musical; it was so much fun! We also were very close to the train station, which made it easy to get to the airport or different parts of the state.
I also went on a wonderful trip for my "spring" break (it was really autumn at the time but it was April/Easter break) to New Zealand for 10 days. I traveled around the South island of New Zealand with a tour called TopDeck (I really recommend them!) and we got to go to a sheep farm, see beautiful mountains, go hiking on a glacier, and stay in different areas. One of the places we stayed in first was a really nice town called Otago. I actually recently saw a clip in the new Lord of the Rings movie where they filmed there - it was so cool to tell my friends here in the States that I had been there and it looked EXACTLY like I remembered it
One thing I really remember from that trip is that I went skydiving. I am not terrified of heights but I definitely do not like falling, but I decided to do it anyway. It was my birthday present to myself, and it ended up being one of the best experiences of my life. I wasn't nervous being in the little plane, but it was a little scary that I was the second person to go. I saw the first girl and her instructor jump out of the plane and disappear.
Falling and tumbling into the sky, for me, was a very scary experience because you can't control your movements until about 60-70 seconds later. You're supposed to open your eyes when falling but I was too scared; I kept them shut until we came to a lull and then opened them. Seeing the New Zealand town of Queenstown like that was AMAZING. The sky was so blue, the mountains looked incredible and I couldn't believe that I had once been one of those tiny, tiny people I could barely make out on the ground.
I also joined some clubs at uni and made friends through that as well as classes. I really advise joining a lot of clubs on campus while abroad; it helps you connect with other students: Australian and international. I really tried to make friends with Australians because I wanted to see what their culture was like. I ended up making some really wonderful friends from my writing courses and the clubs I was a part of, and finding out that they're not so different from us.
I went out for pancakes at 4 in the arvo (afternoon), talked about my favourite movies and television shows, and I had sleepovers, basically typical things I do here. I do have to admit I ate kangaroo - one of my Aussie friends Emma told me I had to try it, and even though I was a little skeptical (I saw kangaroos on the orientation trip we took with GlobaLinks and also in the wild when I went to Sydney), I did it. I have to admit that kangaroo more or less tastes like beef except with a taste I can't exactly describe.
Besides Sydney and New Zealand, I also made it to Melbourne and many of the coastal beaches on the East Coast. I had a great time, traveling, getting lost, meeting up with friends and discovering new cities and towns.
I think what made my trip to Australia special was that I proved to myself that even though I was scared and sometimes alone, I made it through 5 months of living in a country that was so far from home.
I included a photo below, which is on this bridge right when you walk into the city of Brisbane. What you are looking at is South Bank, where I stayed. I spent a lot of my time at this spot just looking back at where I lived and feeling the sun on my face. It was such a peaceful view for me and it was a constant reminder I was here and doing great things even if sometimes it was hard to be away from home.
GO: How has this experience impacted your future?
Rachel: This trip has impacted me in ways that I probably can't even put into words or explain. While I don't feel like I came back a totally different person (a lot of my friends from my home college studied abroad and said that they did), I think studying abroad in Australia changed me for the better. I am more independent. I am also more aware of what goes in Australian politics and their racism issues.
I took a course on Aboriginal Issues, a sociology elective, and I learned so much about the racial tension between the Aborigines (the natives) and the "white" Australians. I think that as Americans, we are often so wrapped up tightly in our own bubble that we forget about other countries. Australia is definitely one of them. For example, did you know the prime minister of Australia is a woman named Julia Gillard? She is the first woman prime minister of Australia, which is pretty awesome if I say so myself.
I also think I came home having a serious appreciation for cheddar cheese (I don't like "American"/Kraft cheese so imagine my excitement when wherever I went in Australia, I got to get cheddar! On my burger! On my sandwich! It was awesome.), and Tim Tams, which are the most addicting, amazing biscuits (cookies). I brought home 5 packages and that was not enough. They don't make them here (okay, that's a lie - Pepperidge Farm makes a "version" of Tim Tams but its not the same at all), so I really miss them. I did find an Australian candy bar in the international grocery store here, which was really exciting and made me just the tiny bit homesick for Australia.
One of the greatest things I've found about coming home after studying abroad is that people are really eager to talk to you about your experiences. I have to have an internship to graduate my college and one of the first questions I was asked in many of my interviews was about my time studying abroad in Australia. I can't say enough positive things about it and it is definitely a conversation starter.
I recommend that people go abroad because I think no matter how long you go for (a week, two weeks, a month, three months, five months, a year), it is an eye-opener. I had no idea of the issues Australia was having and if it weren't for my Australian Literature class, I never would have read some of the most famous Australian writers. Just by looking at the coins and paper money they use is totally different than ours. Studying abroad is a life-changing event. I'm sure my family and friends can elaborate more on how I've changed since I got back, but one thing is for sure...sometimes I still wake up and think I'm in Oz! ;-)
Rachel Simon is a senior at Lesley University in Cambridge, Massachussetts, majoring in Creative Writing with a minor in Literature. She's traveled to Australia, England, Israel and New Zealand. When not reading, writing or traveling, she loves watching bad television shows like Teen Mom and Terra Nova (which was filmed not far from UQ in Australia!). Read more about Rachel's time in Australia on her blog: Rachel's Australian Adventures!
Interview with Brianna Elliott, Globalinks alum
GO: Why did you study abroad with Globalinks at the University of Queensland?
Brianna: I decided to study abroad with Globalinks for two main reasons. Firstly, they offered a greater diversity of schools to attend than my own university, and the program itself was really appealing with me. I really liked that it included orientation in the Great Barrier Reef area, and that the staff would be more than willing to help along the process.
Once I chose Globalinks, I then chose the University of Queensland for a number of reasons. Because I am studying both Journalism and Environmental Science, they offered a range of classes and options to help fulfill my degree. Being a large research university and one of the Great Eight in Australia, I knew that they had a renown, diverse academic program.
Additionally, I really liked the location of UQ. It appealed to me that it was near but not directly in a city, and that it was also near the coast and easily accessible to other areas for travel such as Cairns, Byron Bay, and Sydney. Finally, the cost of UQ was right for me and my family as compared to other schools.
GO: What made your study abroad experience unique and special?
Brianna: Everything about this study abroad experience was unique and special to me! My living situation at UQ made the experience so worthwhile. I was living in an off campus apartment complex with international students from around the world studying in Brisbane (that was set up by Globalinks). Because of that, I gained an appreciation for many other cultures and now have friends around the world.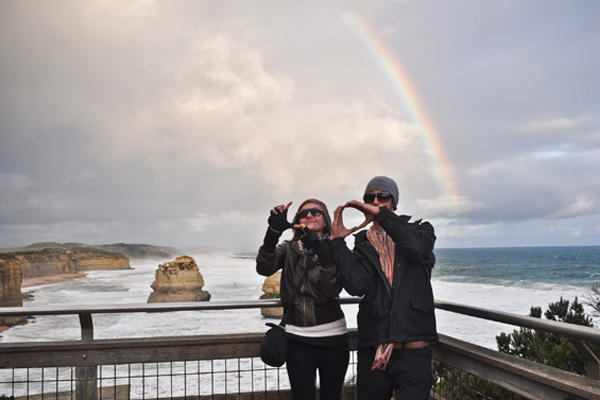 Additionally, the diving I got to do when I was in Australia was the most amazing thing I have ever done. When I first arrived to Australia, I got to go diving on the Great Barrier Reef with my Globalinks program- that was absolutely amazing and made me fall in love with the country. Later in the semester, I travelled to the West Coast and went diving with whale sharks on the Ningaloo Reef on the Indian Ocean. Words cannot describe that experience and it is by far my favorite thing that I have ever done in my life.
Other travel too, really completed my experience, such as visiting the Outback, Coober Pedy, Melbourne, Perth, etc. At UQ, the friendliness of my instructors and the large campus feel really attracted me and left a lasting impression. I also was able to take Indonesian Language at UQ to fulfill my language requirements for my home university, and I plan to go to Indonesia one day to work or study and practice my language skills (and of course return to Australia while in I am there!). In summary, the travel, academic and social experience all complemented each other to make it a great experience.
GO: How has this experience impacted your future?
Brianna: After studying abroad, I definitely am much more independent and confident in myself. That transition became more apparent throughout my time there and was really reflected in myself when I returned home. It also made me a better, more effective traveler, as well as really teaching me personal financial skills.
Living on the other side of the world on a tight budget really taught me how to save and how to manage my finances. Additionally, attending school in another country made me more thorough and creative in my approach to academia; I really had to adjust my learning style to work with the grading system in Australia, and this has helped me manage my time and more effectively complete assignments back at my home institution.
Finally, through several of my classes and a trip I attended to Fraser Island, I received several professional contacts for science field jobs after graduation in the Queensland area of Australia.
Interview with Chelsea Van Eck, Globalinks alum
GO: Why did you study abroad with Globalinks at the University of Queensland?
Chelsea: Going into the decision of where to study abroad, I knew that I wanted to study in Australia; I just didn't know which program provider to use. What impressed me the most about Globalinks was the large variety of universities and locations in Australia to choose from.
I am so thankful I decided to go to UQ because of the variety of courses available to study and the big city location. With many opportunities to get involved in at UQ in student activities and Brisbane's unending supply of cultural, athletic, and social events, there was always something to explore. I never once regretted choosing UQ as my home during my study abroad experience.
GO: What made your study abroad experience unique and special?
Chelsea: What I really enjoyed about my experience abroad was living in the Women's College on campus. Living and dining with local students every day provided me with the opportunity to learn from fellow Australian students through conversations and college activities. Building these relationships gave me a unique perspective into Australian traditions, pop culture, politics, and current issues facing the country. Without living in this environment, I would have missed out on learning so much.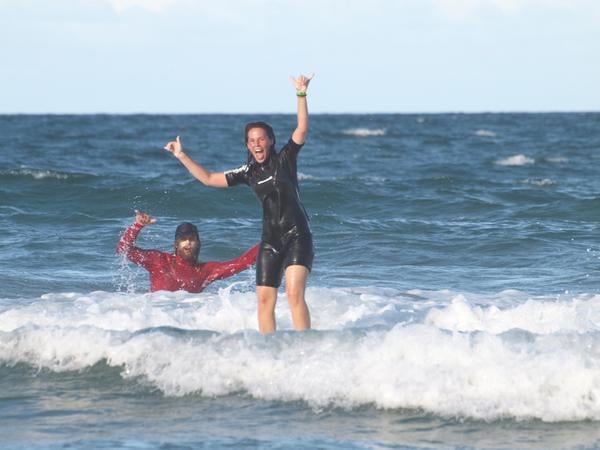 GO: How has this experience impacted your future?
Chelsea: For me, studying abroad was the perfect experiential learning opportunity to complement my academic learning. One of the best things I ever did for my personal growth was to leave my home for the first time and completely immerse myself into a new environment. Independence, problem-solving skills, a sense of adventure, and adaptability are key characteristics that I gained from participating in a semester abroad.
Getting involved in a culture exploration group, taking a course in intercultural communication, and living with local students completely shifted my professional focus to revolve around cross-cultural learning experiences in international education. Even if you are not looking to pursue international education as a career, studying abroad builds intercultural competency that is invaluable in the workplace and will prepare you for the future.
Interview with Emily Casey, Globalinks alum
GO: Why did you study abroad with Globalinks at the University of Queensland?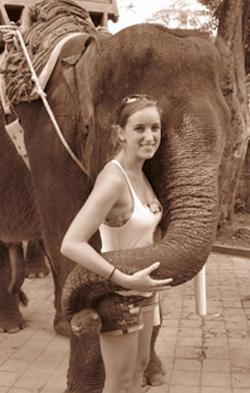 Emily: I chose to study with Globalinks because they had the most to offer me when it came to information I needed in order to choose a school within Australia. Globalinks was also extremely organized and user-friendly. They made sure that all of my documentation was submitted on time and correct. Without this help, I don't think I would have been able to figure out all of the necessary documents and processes I needed to get through alone.
I was also attracted to the opportunities Globalinks had to offer such as the almost week-long orientation in Cairns, Australia. Not only was I informed about the culture of Australia, but I was also provided with amazing activities like the Rainforestation and catamaran trip to SCUBA dive on the Great Barrier Reef. The staff was extremely helpful and friendly (especially Andrea Lipkin my coordinator/advisor).
I chose the University of Queensland because it was in the perfect place in Australia for me. I wanted to be near a city where I could get a feel for the culture and not be near all the touristy areas. I knew I wanted to study in Brisbane, and UQ had a lot to offer when it came to location. I lived in Urbanest which was in the South Bank, Brisbane and it was beyond perfect. Had I chosen another school, I do not think I would have had such a great experience with housing and the culture I was looking for.
GO: What made your study abroad experience unique and special?
Emily: What made my study abroad experience unique was that I was able to travel to different parts of the world that I would have never dreamed of going to otherwise. For example, I spent a week in Bali, Indonesia which is very close to Australia. The cultures that I experienced abroad were unlike anything I would have been apart of in the U.S.
What made my study abroad experience special was the different people I made life-long friendships with. On a typical day I would hangout with people from England, South Africa, Argentina, Singapore, Egypt, and of course, Australia. That isn't something that you will find at home and I don't think in any other country. Australia is the true melting pot and the amount of diversity you can find their is endless.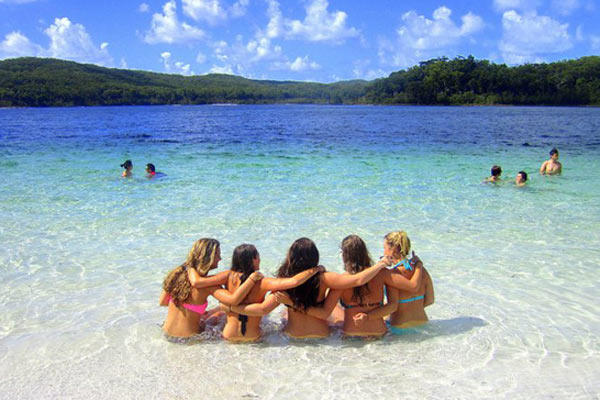 GO: How has this experience impacted your future?
Emily: Studying abroad has impacted my life and future in so many ways I don't think I could name them all. To name a few though, I have gained an amazing amount of independence. Going from being used to having my dad plan everything out for vacation and not knowing anything that was happening to booking flights and traveling all around the South Western Hemisphere alone is a major step in responsibility, maturity, and independence.
The same goes for having to cook all my meals. In the future, I plan to use my experience to prove that I am worldly. Although I only travelled to three different countries while I was abroad, I was able to experience multiple cultures and ways of life. Not many people get the chance to live in a different country on the other side of the world. Anyone who gets that chance and takes it should be extremely proud of such a unique accomplishment.
Interview with Isabella Gesualdo, Globalinks alum
GO: Why did you decide to study abroad with Globalinks at UQ?
Isabella: I decided to study abroad with Globalinks because my school's (The Catholic University of America, Washington, DC) study abroad program only offered a limited number of universities to study abroad at in Australia. I found Globalinks through my abroad advisor and applied to their program. I wasn't really sure where in Australia I wanted to study, but I looked at schools like Bond, University of NewCastle, ect. But then I found the University of Queensland, and it was perfect. It was just close enough to Brisbane, the most beautiful city I have ever lived in, but just far enough to have its own peaceful atmosphere.
I could not have asked for a better University to attend while abroad. Because my school in the states is more conservative, the University of Queensland was an amazing experience for me. Its student body of 44,000 students, 3,000 of those being students studying abroad, make up an incredible group of students that have the desire to learn. Every single student I met at UQ had a different story, different goals, and taught me something about myself that I never really knew.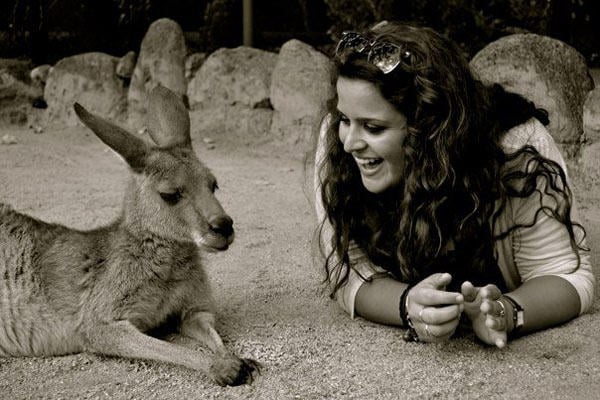 The academics in Australia are very different than most schools here. Having one tutorial and one lecture per week, with almost 300 people in every lecture and up to 40 people in some tutorials. As a student that works well with the personal connection that I have with teachers, it was hard to completely change my learning habits. I had to take more time to study the notes I took in class, to meet with my tutorial teachers individually (many of whom were grad students), and be more responsible in my academics.
The only downfall of my entire experience was that I did not have that personal connection with my teachers that I can have at my (much) smaller school in Washington, DC. Having to email three different professors just to get an answer was tough, but it is definitely good to learn in a different environment and in a different way to really understand what kind of student you are.
GO: What made your study abroad experience unique and special?
Isabella: Everything at UQ was incredible. The wednesday markets and the different student organizations on campus that held events and booths daily to help raise awareness and action always made uni life interesting. Being a rugby player from the states, I joined the University of Queensland Women's Rugby Team. It was the best decision that I made while I was abroad. All of the women were incredible athletes and friends. They taught me so much about rugby, being part of a team, loving myself, and becoming a better athlete and friend. Having the ability to play rugby in a country where it is so celebrated is an honor, and life doesn't get much better than doing something you love with people who enjoy it just as much.
Rugby was definitely one of the things that made my study abroad experience unique. That opportunity was incredible and, to this day, one of the best decisions I have ever made. Along with rugby, Globalinks and their orientation week definitely made my study abroad experience better.
For a week before I got to Brisbane, me and the other students in the program spent a week in Cairns. Probably one of the most exciting weeks of my life. It was filled with new adventures and new friends. Friends that I kept throughout my entire time in Australia. It was amazing to have friends around Australia after only being in the country for a week, but what was even more amazing was that there was some kind of connection, some kind of togetherness that we all felt from experiencing our first days together in Australia.
So we got the chance to visit each other on our breaks from uni and talked all the time. And now I have best friends from all around the United States that studied abroad in Australia the same time I did, two of which I am planning on meeting up with this coming summer. I think that Oz just captures you, changes your outlook on life, makes every single part of you better, then gives you back a completely new person with an extraordinary view on life.
GO: How has this experience impacted your future?
Isabella: So many parts of my abroad experience changed the person that I am. I learned how to adapt to different teaching styles, understand myself, live more responsibly, meet new people and get the most out of life. Every single time I have an interview with a new internship opportunity, Australia is the first thing I bring up. I talk about the classes I took, the experiences I had, and what Australia really gave me; an incredible new love for life. Studying abroad was a long process, there were alot of papers to be filled out, calls to be made, and emails to be sent. It takes a while for everything to fall into place, but once it did, it turned out to be the best decision I had ever made.
Further Info
About GlobaLinks
GlobaLinks Learning Abroad, originally titled AustraLearn, was created by Cynthia Banks in direct response to requests from an Australian university to assist U.S. students who wanted to study abroad in Australia. They have been in operation since 1987. Since then, AustraLearn became the largest provider of study abroad programs to more than 25 universities in Australia and added new partner institutions in New Zealand and Fiji.
In 2008, AustraLearn expanded its reach to more regions of the world. EuroLearn and AsiaLearn were created as additional programs of GlobaLinks Learning Abroad to accommodate an increasing demand from students and advisors for structured, well supported, and affordable programs in destinations worldwide.
All of Their Programs