Study in Australia at the University of Newcastle with GlobaLinks Learning Abroad (formerly AustraLearn)! The University of Newcastle offers the perfect mixture of classroom learning combined with practical skills. A top ten research university in Australia, you can ensure an academically enriching experience while you study abroad in Australia. With over 350 acres of rich bushland, surrounded by Australian wildlife, you will certainly have a peaceful studying experience, whether you're studying for exams or just catching up on some reading.
GlobaLinks Learning Abroad gives students who wish to study abroad at the University of Newcastle a hassle free application process. Visit our website to learn more about how you can study abroad in Australia!
Reviews
Alumni Interviews
Meet Kati Keenan
Kati is a 21-year-old newly graduated senior of the class of 2013 who studied abroad in the fall of 2011 at the University of Newcastle, Australia. She is originally from Dublin, Ohio and goes to school at Miami University of Ohio. While abroad, Kati studied business marketing and communication. Her favorite memory of studying abroad was traveling to New Zealand and skydiving over the beautiful snow covered mountains...what a rush!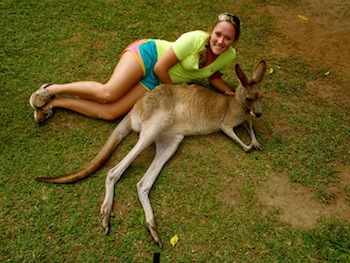 Why did you decide to study abroad with GlobaLinks?
Kati: I decided to study abroad with GlobaLinks because right from the beginning everyone was always welcoming of my questions and concerns. They provided me with so much information and never hid information between the lines. One of the major things was the parents section on the website. Both my mom and dad were hesitant about letting me go abroad but once they looked on GlobaLinks's website they were so much more at ease. Another huge thing for me was the bridging cultures program that helps you get assimilated to the culture when you get there. You also meet people right away because you all have common ground as GlobaLinks students.
What made this experience unique and special?
Kati: This experience was so unique and special to me because of all the friends that I made while I was abroad. I have friends everywhere around the world: Sweden, Zimbabwe, China, Indonesia, Japan, New Zealand, England, Australia and all over America. It truly is such an amazing world that so many people from so many different cultures can get along and teach each other so many cool things. I lived in International House when I was at the University of Newcastle and I wouldn't trade that living experience for anything. Everyone was so welcoming and just truly wanted to learn about you and your culture!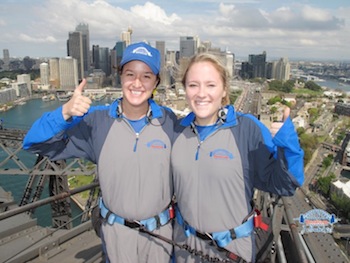 How has this experience impacted your future?
Kati: One thing I will say that is unique in the professional world is studying abroad, especially in Australia. Everyone always wants to go to Australia, that's his or her dream. Every job interview I've been in they always want to talk about my experience in Australia. It has definitely made a lot of my interviews more relaxing knowing that someone in genuinely interested in my experiences and how it has made me a better person. Living in another culture is a great experience and will make you a well rounded person.
If you could do-over one thing, what would it be?
Kati: If I could do one thing over, I would stay longer. I say this all the time and I mean it 100%! Before going abroad with GlobaLinks I was very hesitant to leave home. I go to school just 2 hours away and could go home even for a night if I ever need it. When I went to Australia I wasn't sure how I was going to do. But before I knew it, I was in love with Australia and all of the experiences that I had. I cried when I saw my parents in the airport because I knew that it was all over. I say everyday I just want to go back, why didn't I stay for a full year? I encourage everyone to study abroad for as long as they can. It is honestly one of the best experiences you will ever have!
Meet Abby Beham, GlobaLinks-Australia alum
Abby Beham attended the University of Newcastle in Australia from July 2011 through November 2011. She is from Sylvania, OH and attends Miami University, studying architecture. She enjoys spending time with her family, traveling, and listening to country music.
GO: Why did you decide to study abroad with GlobaLinks?
Abby: Studying abroad through Globalinks was a great decision. Not only is the staff extremely helpful in the pre-departure process, but you get a lot of 'bang for your buck'.
GO:What made this study abroad experience unique and special?
Abby: For the first week, there is an orientation to Australia in Cairns, the touristy part of Australia. Here, you participate in all things "Australia". We held koalas and fed kangaroos, we snorkeled the Great Barrier Reef, and we participated in a community service day. We had traditional Aussie barbeques and got a free day to participate in additional activities for a reduced price. Not only was there so much to do in Cairns, but we also met Americans who were travelling to other universities throughout Australia, so we had people to stay with when we travelled. I met a good friend who was studying in Brisbane, so I visited her during the school year and got to experience another city in Australia.
GO: How has this experience impacted your future?
Abby: This study abroad experience has helped me to grow so much as a person. Not only was I challenged academically, but I was also challenged to become more mature because I was on my own on the opposite side of the world. I learned so much from the people I lived with, attended classes with, and became friends with from other countries. Each person I met had their own story and amazing things to share with me. I would never trade anything for the experience I had being abroad and would recommend it to everyone.
Interview with Lindsey Peterson, GlobaLinks alumna
GO: Why did you decide to study abroad with GlobaLinks in Newcastle, Australia?
Lindsey: I chose to study in Newcastle, Australia, because the Uni was close to the Central Business District (CBD) and the water. I wanted to go to a place where I spoke the language and where I could be close to the ocean. Choosing Newcastle, I was only a 10 minute train ride from the shore. I didn't want to live in a big city because I prefer the beach, and Newcastle has five of the most beautiful beaches fairly close together.
Additionally, I could live on campus with Australians. I picked Evatt House because it was mostly Australians; around 80% Australian students and 20% International students. However, "international" didn't just mean the U.S.; it meant a plethora of different countries. I knew I didn't want to live with just Americans if I was going overseas, and Newcastle provided me with diverse living arrangements and the close proximity to the Pacific.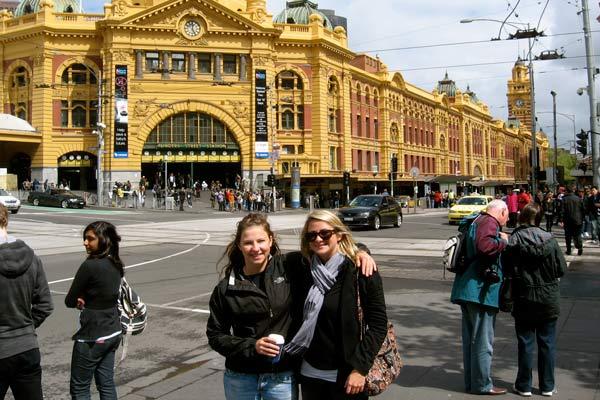 GO: What made studying abroad a unique and special experience?
Lindsey: I think that the people I lived with at Evatt House made my study abroad experience unforgettable. I didn't take the tourist route in my travels around Australia, but I got the insiders view instead being that the majority of my friends were Australian.
Evatt House had an event planned nearly every weekend, whether it was a wine tour, a ridiculous themed party, or a holiday. I was too busy to do anything else but live in the moment. Two years later, I'm still in touch with a fair few of my Aussie friends. I was lucky enough to learn the true meaning of "mateship."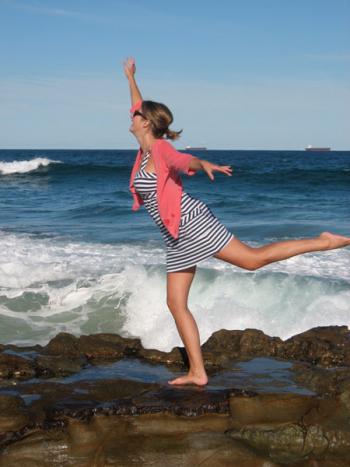 GO: How has this experience impacted your future?
Lindsey: Studying abroad in Australia changed me profoundly. I came back wanting to integrate the insouciance and warmth that embody the Australian people into my own life. However, I had a hard time readjusting to life in America. I decided to figure out if I was alone in feeling displaced in my own country. For my senior thesis, I researched the psychological effects of culture shock and reverse culture shock.
I interviewed students who had studied abroad all over the world for different lengths of time and did a great deal of research. Based on my interviews and research, I created a model of reentry designed to help students utilize their study abroad experience and hopefully, alleviate some of the negative feelings associated with reentry. Currently, I am looking to pursue a career in International Education and Study Abroad so I can help students realize the full capacity of their time overseas.
Interview with Camaron Cabrera, GlobaLinks alum
GO: Why did you study abroad with GlobaLinks at the University of Newcastle?
Camaron: I decided to study abroad with AustraLeran because they were really helpful when I started the picking process. I likes the program they offered which included the adventure week to start. I picked the University of Newcastle because I wanted to be close to a big city, Sydney but I didn't want to live in the big city. I have grown up 45 minutes away from Los Angles my whole life and wanted to really try something different, so Newcastle allowed me to do that and still be able to see and go to Sydney.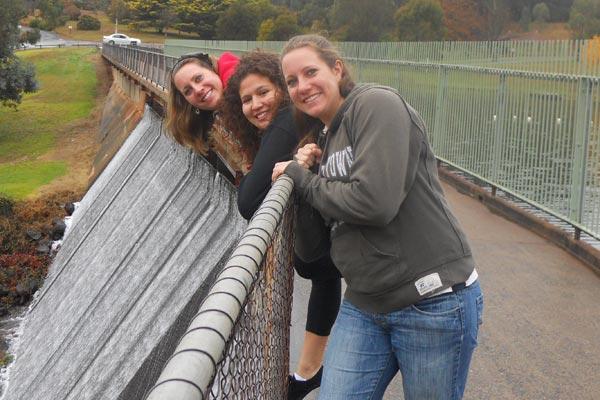 GO: What made your study abroad experience unique and special?
Camaron: This study abroad experience was unique and special to me because I was the first person in my family to really leave and live in another country. This is shocking because I am second youngest out of 7. This was a big deal and it allowed me to experience other parts of the world and encounter many different cultures while I was abroad.
GO: How has this experience impacted your future?
Camaron: This experience impacted my future in many ways. Personally it allowed me to really grow and learn about myself in a way that never could have happened while being in my home town. I got the opportunity to live on my own and learn what I can do without people there to help me. Professionally this helped me learn how to interact with new people and environments. This is a big thing for me because I was not used to this kind of situation and actually would avoid it all cost in my everyday life.
<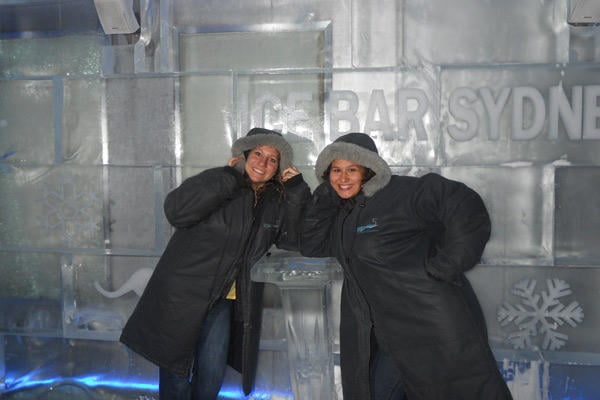 While abroad I didn't know anyone and had to break that barrier. This is not always an easy lesson and I believe that if I had not gone abroad I never would have been comfortable with that type of situation. And last with my future this experience has allowed me to make some awesome friendships that I know aren't going any where, plus now I have a good reason to go back to Australia to see people.
Interview with Jillian Pedrani, GlobaLinks alumna
GO: Why did you study abroad with GlobaLinks at University of Newcastle?
Jillian: Ever since I was little, I knew that I wanted to go to Australia, whether for vacation, to live there, I just knew that I wanted to see it. When I came to Quinnipiac and found out about their study abroad program, I knew that I was going to Australia with Australearn. I looked through all the brochures and pamphlets in the office with all the information about the schools in Australia. First, I looked at those that offered courses in Public Relations, which is my major. Then I looked at the size of the school. I picked the University of Newcastle, talked it over with my parents, and never looked back.
GO: What made your study abroad experience unique and special?
Jillian: This study abroad experience was everything I could have ever hoped for. I was given the opportunity of a lifetime, to make new friends in various places, to grow and learn and become a new person. I was able to experience a country that had a different culture from our own. Yes, the speak English, but that is about where the similarities end. I was able to go shark cage diving, something that I would have never thought possible.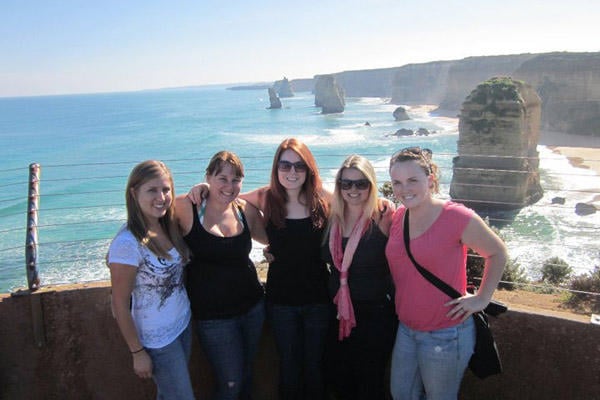 GO: How has this experience impacted your future?
Jillian: Personally, I have grown. I survived 5 months on my own, and changed with each new experience. Now, when I feel like there is something that is going to be challenging, I look back on my experience in Australia, say to myself "I accomplished so much just by taking the flight by myself. I can do this." It might sound silly but it works.
Professionally, I can now show employers that at the age of 19, I was able to sustain a life for 5 months without the help of my parents. It shows how mature I am, how I am not afraid to take risks, that I am resourceful, independent, and intelligent person I am. Academically, Australia's coursework seemed harder than here in America. I worked relentlessly to keep my grades up, to assure my parents that they didn't allow me to go on this amazing journey without seeing results. I came home with all A's and B's, and one C in guitar, which just made me know that playing an instrument is not my forte.
Going abroad forced me to be more outgoing than I usually am. It pushed me outside comfort zones, which seemed scary at first, but was more than rewarding in the end. My friend once told me that she admired me because I wasn't afraid to jump in a volleyball game with people I didn't know. She told me that I was brave, which is funny because back home I would never do that. Now, I know that I can and I don't think words can express how grateful I am for my time abroad.
Further Info
About GlobaLinks
GlobaLinks Learning Abroad, originally titled AustraLearn, was created by Cynthia Banks in direct response to requests from an Australian university to assist U.S. students who wanted to study abroad in Australia. They have been in operation since 1987. Since then, AustraLearn became the largest provider of study abroad programs to more than 25 universities in Australia and added new partner institutions in New Zealand and Fiji.
In 2008, AustraLearn expanded its reach to more regions of the world. EuroLearn and AsiaLearn were created as additional programs of GlobaLinks Learning Abroad to accommodate an increasing demand from students and advisors for structured, well supported, and affordable programs in destinations worldwide.
All of Their Programs