TEAN: Study Abroad in Thailand
View Other Details

Pricing

What's Included

Accommodation

Activities

Airport Transfers

Classes

SIM cards

Wifi

What's Not Included

Airfare

Meals
11 travelers are looking at this program
TEAN provides an unbeatable study abroad experience in Thailand's cultural capital of Chiang Mai. Along with taking courses in Southeast Asia studies, students can dive deep into Thai culture thanks to Chiang Mai's affordable cost of living, hundreds of Buddhist temples, vibrant markets, emphasis on art and architecture, and welcoming people.
Your semester and summer studying in Thailand includes a TEAN orientation program, cultural excursions, academic field trips, plus special opportunities to volunteer around the city. TEAN students also benefit from the guidance and support of on-site Resident Director and academic staff throughout their stay.
Visit the TEAN website to learn more and apply online!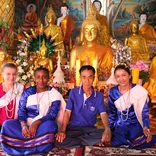 Experience the thrill of studying and living in Bangkok, Thailand's sprawling capital city and a global hub of culture, commerce and cuisine. Though Bangkok is a major metropolis, this semester program is the least expensive of all TEAN offerings and offers students a surprisingly affordable cost of living. Study at Mahidol University International College (MUIC), the English-speaking arm of the esteemed Mahidol University and take a variety of classes in English along with your Thai peers.