TEAN: Study Abroad in Gold Coast, Australia
3 travelers are looking at this program
TEAN has partnered with Griffith University and Bond University to offer students a once-in-a-lifetime opportunity to live and study abroad in Australia. Students can look forward to enjoying beautiful beaches, learning to surf, sunny weather, plenty of fresh seafood and authentic Australian hospitality. Participants also enjoy a wide array of courses (both universities offer comprehensive academic programs with Business Schools that are AACSB accredited) and amazing housing options, like premier housing right on the beach!
Included in the program is a 5-day Orientation Excursion in Cairns where students visit the Great Barrier Reef, organized cultural activities throughout the semester, and an optional Spring Break excursion to Thailand or New Zealand (how amazing does that sound?!).
Discover Australia with TEAN as your guide - check out the TEAN website for more info!
With a welcoming student population and five campuses in Queensland, Griffith University offers TEAN students the opportunity to take advantage of a wide range of course offerings while studying at the university's largest campus on the beautiful Gold Coast. Griffith has leading programs in environmental studies, education, political science and an impressive internship program.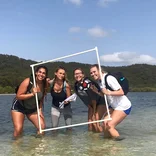 As one of the only universities in Australia with an academic calendar similar to the U.S., Bond University allows students with difficult schedules to spend a semester abroad and still be back in time for summer obligations. Students can study an array of subjects thanks to the university's comprehensive course offerings. Bond participants study with students from around the world and have amazing housing options, including TEAN's accommodation adjacent to campus or even beach housing.