Join VIDA in Guatemala as a volunteer in their field clinics! Experience the culture and history of Guatemala, its beautiful mountains and gorgeous southern coast! VIDA Programs in Guatemala are typically 1-2 weeks in length.
Participants in the medical programs will gain experience working with patients while learning basic medical examination techniques. Volunteers will work alongside a staff of licensed doctors to provide communities with the services they need. Volunteering with VIDA will give you a chance to learn more about public health and experience the rich culture of Guatemala.
There are also opportunities for volunteers interested in dentistry to help facilitate mobile dental clinics. Volunteers can shadow experienced dentists. Depending on their level of experience and education in dentistry, volunteers may even have the opportunity to perform procedures under the supervision of mentors.
Visit the VIDA website to learn more about medical volunteer programs in Guatemala!
Reviews
Alumni Interviews
Meet Casey Bloechl, VIDA - Guatemala alum
Casey Bloechl is a 19 year old female from Elcho, Wisconsin. She attends the University of Wisconsin - Eau Claire and she is working her way towards a major in Psychology. From January 9th to January 17th she travelled to Guatemala City, Antigua, and Panajachel, Guatemala. After the trip she decided that she wants to add more Spanish into her education. She also decided to continue pursuing dreams of medical school. She enjoys reading, watching movies, making friends, and she is an adrenaline junky.
GO: Why did you decide to volunteer with VIDA in Guatemala?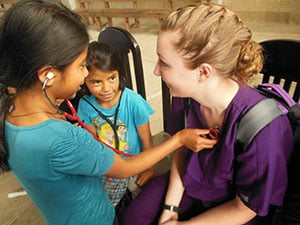 Casey: I knew I wanted to travel, but I didn't want to go away for too long, and I couldn't afford anything too expensive Doing something with medicine was important to me, because I am young, and I am still trying to decide what I want to do with my future. With medicine at the top of my interest list, this seemed like a great opportunity to help me decide.
GO: Describe your day to day activities as a volunteer.
Casey: We would wake up, eat breakfast, load the bus, and drive to the city where we would set up our clinic. Once we arrived we would set up the pharmacy on tables and find a room where we could interview and examine patients. During this examination we asked questions about the patient's medical history and we took weight, blood pressure, heart rate, and respiratory rate. Other physical examinations that volunteers were allowed to conduct included urinalyses and glucose tests. One day I listened to a babie's heartbeat inside the stomach of a mother.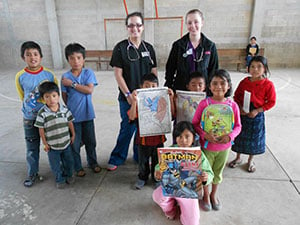 GO: What made this experience unique and special?
Casey: This volunteer opportunity is unique because the group of people that work for VIDA know how to do their job really well. On days when we weren't volunteering we got to go ziplining, and also out on the town to restaurants and bars. We also took a dance class one night, and had a really good time.
GO: How has this experience impacted your future?
Casey: Personally: I appreciate being able to put toilet paper in the toilet, I appreciate the extensive amount of food available in the US, and I try to meet everyone with an open heart, the way the Guatemalans did to me. So, I am just more appreciative in general. I also learned how to travel safely and how to barter.
Professionally: I learned that I enjoy working with patients, I like to have variety with my job, nothing repetitive, and I learned that it is good to network from people everywhere.
Meet Jessi Coryell, VIDA-Guatemala alum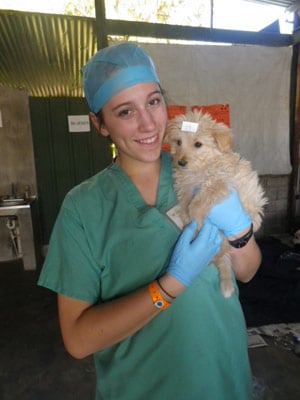 Jessi Coryell is from Minneapolis, Minnesota, United States and currently attends the University of Minnesota: Twin Cities. She has volunteered with VIDA twice in the past two years. Her first trip was December 27th, 2011 - January 9th, 2012, and her second trip was on the exact same dates the following year, from December 27th, 2012 - January 9th, 2013. She is studying Animal Science with an emphasis in Pre-Vet, enjoys the Spanish language, and hopes to travel to every country in Central and South America after Graduation.
GO: Why did you decide to volunteer with VIDA in Guatemala?
Jessi: I decided to volunteer abroad with VIDA in Guatemala for the second year in a row because of the amazing opportunity it provides. For my first trip to Guatemala, my eyes were opened in a way I thought was not possible. Not only was I able to strongly participate in the Veterinary clinics, but I was also very culturally submersed. Working directly with the people and communities of Guatemala was the most exciting and eye opening experience I have ever had.
Also, traveling and volunteering with the VIDA program has been a part of the University of Minnesota's Pre-Vet club for over 5 years now. I was fortunate enough to have been able to participate in the past two trips, and have full intentions to participate in many more.
GO: Describe your day to day activities as a volunteer.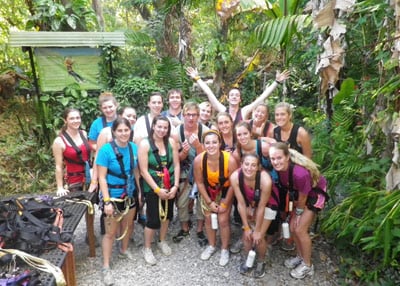 Jessi: Each activity day varies quite a bit. I remember on my first trip, we participated in a historical and interactive tour of the city of Antigua which then led to a tour of the Jade museum of Antigua. We learned about the history of Guatemala's government, as well as some history of the Mayans. On another day, we traveled by boat to a small town called San Pedro where we hiked to the top of a mountain, which the locals call "Nariz Indio" or "The Indian's Nose". On my second trip we went platform jumping into Lake Atitlan off of a 35 ft platform. Then later in the day, we traveled to a small town called San Lucas where we visited a Women's Conservatory and learned about the process of spinning cotton and dyeing clothing using plants, fruits, and vegetables. At the end of that day, we went zip lining where we saw monkeys, waterfalls, and the most beautiful view of Lake Atitlan that you could possibly imagine.
GO: What made this volunteer abroad experience unique and special?
Jessi Coryell: This volunteer experience is so special to me because of the amount of hands on work that is allowed. Between practicing sterility in a surgery or assisting in surgery by taking vitals and drawing up drugs, you are doing things that an individual of my status would not be able to do in the states. Although you are assisting in these surgeries, you are ALWAYS under Veterinary supervision, so there is never a need to be nervous or worried. This also gives you the opportunity to ask questions at every step of the way.
The medical staff that is on the trip also made both of my trips unforgettable. The approachability and patience of each and every staff member that we worked with is what allowed for me to grow and learn so much. Participating in these trips also allowed me to be proud of what I choose to do with my life. Knowing that we are coming into these communities and educating the people of animal health, and how animals should be treated and respected is the most rewarding feeling.
GO: How has this experience impacted your future?
Jessi Coryell: Growing up, I always knew that I wanted to be a Veterinarian. But as college continues and graduation gets closer, the stress can sometimes be overwhelming. Going on these trips has helped me see that all of the hard work and determination will someday soon pay off. VIDA trips have helped solidify what I want to do with my life. Also, assisting in surgeries opened my eyes to the surgical side of Veterinary Medicine.
Another way these trips have impacted my future plans is the cultural submersion that occurs while traveling. In high school I studied Spanish for all 4 years, and really enjoyed it. When I traveled to Guatemala, I often times caught myself blurting out Spanish anywhere I could, especially with the locals! My passion for learning and understanding the language grew immensely, and I have full intentions of now studying the Spanish language. I have hopes of becoming fluent, and travel around Central and South America after graduation! The culture and language has greatly impacted my life!
Meet Sonam Maghera, VIDA-Guatemala Alum
Sonam Maghera, 20 years old, is a student from Toronto, Ontario, Canada. Sonam volunteered with VIDA from August 13th, 2011 to August 25th, 2011.
GO: Why did you decide to volunteer abroad with VIDA in Guatemala?
Sonam: This trip provided me with the unique opportunity to witness health care in areas of the world I have not travelled to. I've never had the chance to travel anywhere outside of Canada or the United States and thought this would be an amazing opportunity to not only travel but help others at the same time. There is something extra special about going down in person to help out; getting to see the difference you make first hand.
GO: Describe your day to day activities as a volunteer.
Sonam: As a volunteer, we had a variety of jobs throughout the day. First off, we would set up and pack up the clinics. This would include gathering chairs, taking out supplies, setting up the pharmacy etc. The clinics took place in houses and public buildings offered to us by the citizens of the village. After setting up the clinic area, we would work in groups seeing patients and their families. Our main responsibility was to take their vital signs (heart rate, blood pressure, weight etc) and patient history. A translator was provided to each group through which we could communicate to the patient. Once we had gathered the vitals and history, we would call over one of the working doctors to overlook the information and provide the patient with a diagnosis and a prescription, if required. If the patient was prescribed medication, they would be able to obtain their medication free of charge from our pharmacy. Aside from seeing patients, each volunteer had an opportunity to work in the pharmacy with a doctor filling patient prescriptions. A typical clinic day would look as follows.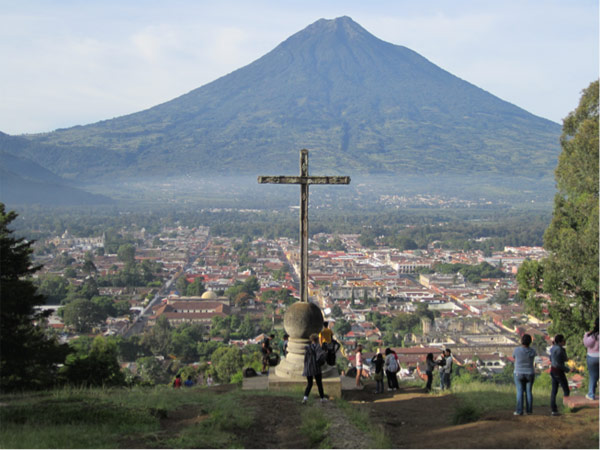 GO: What made this volunteer abroad experience unique and special?
Sonam: It was the people! The VIDA in program in Guatemala was well run and organized, however, it was the people who made this experience one I will never forget. I grew so close to not only my fellow students, but to the staff accompanying us (doctors, translators and trip leaders). I remember the endless jokes being passed around in the bus on the rides to and from the clinics, waking up at 4am with some of the staff to see the sun rise over lake Atitlan while dancing until 3am in Panajachel the night before. It didn't feel like there was a distinction between student and staff, but rather everyone came together as one unit and enjoyed being in each other's company. Believe it or not, a year later, I'm still in close contact with many of them.
GO: How has this experience impacted your future?
Sonam: This experience was an eye opener to say the least. During my time with VIDA in Guatemala, I first handily got to experience the consequences of inadequate health care. I was exposed to severe illnesses such as breast cancer in a man, an arrhythmia in a twelve-year-old girl and the end stages of leukemia in a seven-year-old boy. I specifically remember an older woman who came into the clinic complaining of severe stomach pains thinking she had a minor infection.
After assessment, we discovered that she had also been rapidly losing weight and vomiting frequently. Due to her presentation, the doctor believed that she may have gastrointestinal cancer and informed her that she needed to go to the hospital immediately. As the patient was being informed, I saw the smile on her face fade away and the look of worry emerge in her eyes. I found myself in that moment, wishing that I had the knowledge and ability to treat her. Although these realities were emotionally challenging, I was inspired by the resilience of these people and I left with a heightened sense of reality and sensitivity. It was during this trip I began to understand what it feels like to make a difference, to give people hope, to be a doctor!
Meet Brooklyn Leitch, VIDA volunteer alum
Brooklyn Leitch is a student at the College of St. Benedict in St. Joseph, Minnesota. Her VIDA trip to Guatemala was March 3-11, 2012.
GO: Why did you decide to volunteer with VIDA in Guatemala?
Brooklyn: I decided to volunteer with VIDA because I wanted my spring break to be a learning experience. VIDA was a wonderful opportunity, in more ways than one. As a pre-med student, the medical experience was invaluable. I am also a Hispanic Studies major, so it was amazing to be able to use and grow my Spanish skills with patients, and to learn about another culture. Most importantly, I wanted to contribute and volunteer in a way that really mattered.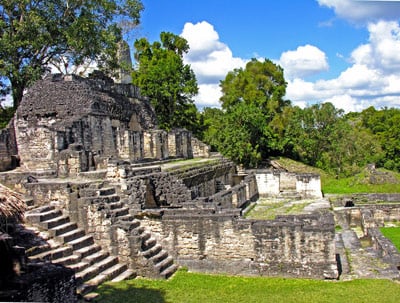 GO: Describe your day to day activities as a volunteer.
Brooklyn: On clinic days, we ate breakfast as a group and then climbed into the vans to travel to the clinic sites. The views along the drive were always incredible. Upon arrival, we helped set up the pharmacy and split into groups to see patients. Usually, there were two volunteers and an interpreter in each group. Also, one pair of volunteers worked the pharmacy. By the end of the trip, we each had done one shift (morning or afternoon) in the pharmacy.
When seeing patients, volunteers started with asking and recording background information (name, age, etc.), and previously diagnosed medical conditions. Then the patients would describe all of their symptoms and concerns. After taking vitals, we would call in the doctor and make our report. After the first day, this usually included our diagnosis and choice of treatment. The doctor would agree, or further examine the patient and explain what we may have missed. After clinics, we had case discussions and then evenings off to explore.
GO: What made this volunteer experience unique and special?
Brooklyn: This experience was unique because it combined volunteering and a bit of vacation. The activities on our two days off were fantastic. First we had a tour of Antigua, and then we ziplined near Lake Atitlan!
Furthermore, clinic days were almost more fun than our days off. Guatemalans are such friendly people, and they really appreciated the clinics. The kids go crazy for stickers!
Also, the VIDA staff was exceptional. I especially appreciated the doctors. They were very knowledgeable and happy to explain diagnoses and the pathophysiology of diseases.
GO: How has this experience helped you grow personally and professionally?
Brooklyn: My experience with VIDA has made me eager for more. I am hoping to volunteer with them again before I graduate. In addition, it affirmed my desire to volunteer internationally after I become a doctor. Seeing the difference that we made...it's just so important to help if you can, in any way you can.
Further Info
About VIDA
Volunteer abroad with VIDA in Central America! With VIDA, you have the opportunity to gain experience in three main fields: medicine, dental health, and veterinary medicine. As a volunteer with VIDA, you will work with local professionals in these fields in Guatemala, Nicaragua, and Costa Rica. Working with coordinators from the field, VIDA volunteers work to set up mobile clinics to provide easily accessible services to the people and animals of communities in need. Whether you are an aspiring health-care profession or just have a passion for helping others, VIDA will provide you with a meaningful service-learning experience.
All of Their Programs