South Africa has had a turbulent history, but with the help of volunteer programs like ISV's, the country is back on its path to development. ISV's volunteer program in South Africa allows you to make a positive impact on the quality of life for South African or the wildlife of South Africa! ISV offers volunteer projects in South Africa in many different areas, such as wildlife conservation, community development, children's programs, and environmental management.
In the community development and children's programs, you may be involved in building schools and playgrounds, urban renewal projects, water and sanitation development, or teaching lessons. In the wildlife conservation and environmental management programs, you could be assisting researchers in surveying and monitoring of flora and fauna used for conservation management or volunteering on a wildlife rehabilitation centre.
Reviews
Alumni Interviews
Felicity Hoy- Volunteer in South Africa
Felicity Hoy is originally from Albuquerque, New Mexico but has lived in Brisbane, Australia for the past 10 years. She is 28 and is currently studying Criminology at the Queensland University of Technology. Felicity is passionate about animal and environmental issues and justice. After her trip to South Africa, Felicity is considering studying Zoology or Biology (after finishing her Justice degree) so she can pursue a career in what she really loves - animals and conservation.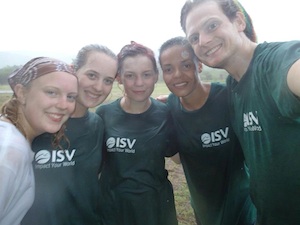 Highlights: The highlight of my volunteer experience was the volunteering! It was amazing to feel like I was actually making a difference in something I really care about. It's really great to care so much about anything, but sometimes it can feel as though there isn't much you - as one person - can do to make a difference. So it was really good to see and feel the tangible results of our work. Additionally, meeting like-minded people was a big highlight. My experience has shown me that that there are lots of people who care just as much - if not more - than I do about animals and conservation, and they are beautiful, wonderful, interesting people from all walks of life! It sounds so cliche, but this experience changed my life. Not in any huge and obviously discernible way, but in small ways that are important and real. I've definitely changed - and it's difficult to adequately put into words - but it's absolutely for the better.
Morning: Our typical morning as a volunteer in Swaziland began early! We woke early to beat the heat. Breakfast was usually around 6am and we endeavoured to leave camp by 6:30 or 7am. Some days, we traveled to the nearby game park to track leopard tortoises that had previously had GPS trackers and data recorders attached to their shells. Some days, we walked deep into the bush and set up camera traps to monitor baboon activity in the area. We worked Monday through Friday, so on weekends, we had free days which included sleep ins, tours of nearby villages and townships, meeting the beautiful locals, tasting the local cuisine (which is delicious!), lazy afternoons at the country club and game drives!
Afternoon: After working in the mornings, we went back to camp to have lunch. After lunch and depending on the weather (heat and/or rain) we went out again in the cooler hours of the afternoon for more tortoise tracking (usually for another attempt to find the tortoise who successfully evaded us earlier in the morning), to collect the 45 camera traps we set up earlier in the week or to repaint signs for the game park the we were camping in. We usually finished working around 4:30 or 5pm. Sometimes we went back to camp; sometimes we went down to the local pub for a beer!
Evening: Evenings in Camp Sara were lovely and relaxed! We had a cooking and cleaning roster, so while those who were on cooking duty prepared dinner, the rest of us had amazing showers after our hot day. The showers were open air, atop a cliff and they looked down onto the beautiful African landscape that was the game park we camped in. After dinner, we went around the table and did 'Compost and Daisies'. After compost and daisies, we played board games, wrote in our journals, roasted marshmallows by the campfire or headed to bed.
Meet Zoe Williams, ISV - South Africa alum
Zoe is an 18-year-old from rural Western Australia. After attending boarding school in Perth, she went on to full-time study at the University of Western Australia. She loves horse-riding, writing and all things in the world's wilderness. Her trip was from January 7, 2013 to February 2, 2013
GO: Why did you decide to volunteer with ISV in South Africa?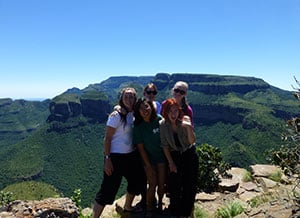 Zoe: I had never been to Africa and when the opportunity came up, I took it gladly. The idea behind ISV's 4-week program really appealed to me, two weeks of volunteering in conservation (or community) followed by two weeks of adventure-touring the amazing country of South Africa - it sounded just right for me - holiday thrills plus giving back to the global community.
GO: Describe your day to day activities as a volunteer.
Zoe: I was working in conservation in the remote north-east area of South Africa. Every morning we went out for a Bird Point Count - which is identifying (by sight or sound) and recording each bird that was within a few hundred metres of us.
During the day we examined the vegetation in the reserve, measuring and analysing the grasses and trees to determine how well the reserve was coping with the number of animals within it. This kind of data gathering is used to make decisions on wildlife management and gain a better understanding of the eco-system. We were also lucky enough to fit in some community work as well, we ran workshops with local adults with regard to conservation and wildlife management, and we got to visit the school in the nearby village and work with the children.
GO: What made this experience unique and special?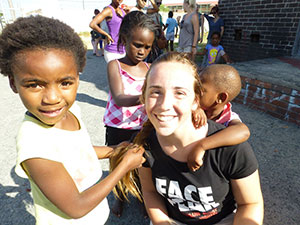 Zoe: There were a lot of things that made this trip worthwhile for me. First, I got to work with and get to know a large group of people from all over the place that were there for the same reason I was - to make a difference and have fun while doing it.
Second, I was doing something useful - when you're recording data on a clipboard in the field, you might not think that, but in hindsight, it's that kind of data that determines whether animals from a more crowded area will be killed, or sent to our reserve to balance populations - that, and it holds scientific value in the understanding of the unique African ecosystem. And thirdly, a huge part of this trip for me was about trying things I hadn't done before, and I can now say I have bungee-jumped, I have abseiled 112 metres, I have cage-dived with Great White sharks - and much, much more.
GO: How has this experience impacted your future?
Zoe: This experience has certainly broadened my horizons. I was already fully aware that, globally, there are environmental and social challenges beyond counting that need to be addressed - but there's nothing quite like going to a foreign country and really experiencing that from another person's point of view. Professionally, this experience has altered how I view each situation presented to me, as a history student and prospective teacher and writer. I'll never forget this trip, it has definitely changed me, and for the better.
Meet Anna Spence, ISV in South Africa alum
Anna Spence, from Auckland, New Zealand, is currently studying a Bachelor of Veterinary Technology in Palmerston North, New Zealand. She is 19 years old and enjoys a good adventure, animals and hiking. She has recently traveled with ISV to South Africa this past year.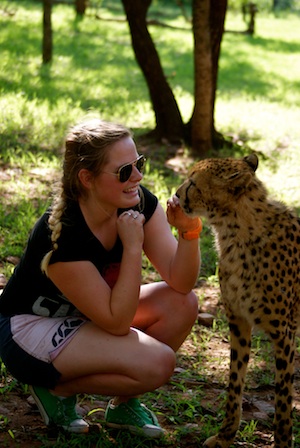 GO: Why did you decide to volunteer with ISV in South Africa?
Anna: I chose ISV because they came to my university and gave a brief outline to what the trip entailed. Then I further chose South Africa out of the options as I have always wanted to visit and I love animals, which the country is abundant with.
GO: Describe your day to day activities as a volunteer.
Anna: Each day volunteering was different but overall we arrived at 7 am to the centre and feed the cheetahs and other animals at the centre. Then the afternoon comprised of clearing out enclosures for animals, cleaning and general things to help around the centre. We also were so lucky to interact and play with some of the cheetahs that need to be friendly with humans and safe, so we always ended the day interacting with them.
GO: How has this experience impacted your future?
Anna: This experience has impacted my future greatly, making me want to work in South Africa with my degree, Bachelor of Veterinary Technology, and has definitely encouraged me to think more towards conservation work. Overall has really made me want to help South Africa in their communities and for their amazing animals.
Meet Deanna Patterson, ISV - South Africa Alum
Deanna Patterson is studying French and education at the University of Regina. She loves classical music, bike rides, Earl Grey tea, and a good book.
GO: Why did you decide to volunteer with ISV in South Africa?
Deanna: During my first year at university, there was a speaker at one of my lectures who talked about the programs offered through ISV. A year later, I was researching various programs and came across ISV again. I looked more closely at what they offered, the cost, what was included, how the program was set up, etc, and eventually decided that ISV was right for me. It was a decision I definitely do not regret!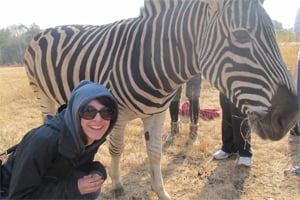 GO: What made this experience unique and special?
Deanna: Volunteering with the children of Langa really changed the course of my life. As much as they learned from us and were glad to have us spend time with them, their impact on me has been ineffable. I reflect back on my experiences in South Africa every day and am thankful for what it has given me.
ISV helps you with everything you need throughout the planning of your trip. They provide you with a ton of background information on your project as well as the country you will be working in, they get you in contact with your project leader in order to establish a connection before you leave, and they have a large online community with blogs from past and current participants, not to mention an excellent Facebook page to get in contact with other participants for your trip.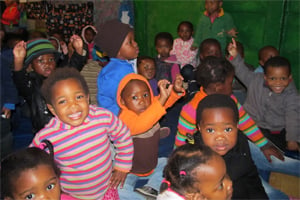 GO: How has this experience impacted your future?
Deanna: The work I did in Langa inspired me to change my academic route. I returned home with a week and a half left before the autumn semester was set to start, but I applied into another faculty anyway and was accepted. I am so happy with my studies and I am extremely grateful to Happy Feet because of it. They really showed me what I care about!
Living in another part of the world also made me realise how fortunate I am. Everyone at home is told how lucky we are to be North American, but it takes a completely different meaning when you experience it first-hand. Upon coming home, I resolved to be less wasteful. I am much more conscious of how I use resources. I walk as much as possible and carpool when I can. I no longer take things for granted.
Meet Kendra Wingerter, volunteer alum
GO: Tell us a little about yourself and your trip.
Kendra: My name is Kendra, I'm a 20-year-old Canadian student who participated in ISV's trip to South Africa in May and June of 2011.
GO: Why did you decide to volunteer with ISV in South Africa?
Kendra: I decided to volunteer abroad because I have always been curious about Africa, because it's such a different part of the world, but would never have felt courageous enough to do my first trip there without an experienced organization. On top of that because there is need in Africa, I wanted to help people who have less than I do. I'm an International Security major in university and have always been passionate about making a change in the world, and ISV was a great starting point to do that.
GO: Describe your day to day activities as a volunteer.
Kendra: During the volunteer portion of my trip, we would wake up at around 7 and have breakfast together at our house before driving to a nearby township to begin our work. The project I was involved in was to fix up a pre-school, so we did a lot of sanding, painting, water-tank and gutter installation, and art work. Between working we'd have break where we ate or played with the kids, which was a great opportunity to meet the locals and have an awesome time. The kids are so friendly and lively, and they love attention, so there was never a dull moment!
Plus everyone in my volunteer group became good friends quickly, so work felt more like play than work. Sometimes locals or student and teachers from nearby schools would invite us into their homes or classrooms, and we got to see a side of rural Africa that tourists wouldn't have the chance to. After work we'd hang out at the beach or a cafe, and maybe grab dinner out somewhere or else have a BBQ or home-cooked meals back at our house. Every once in a while when we had a few days off we'd have a party at our house or go to the local bars for a night out!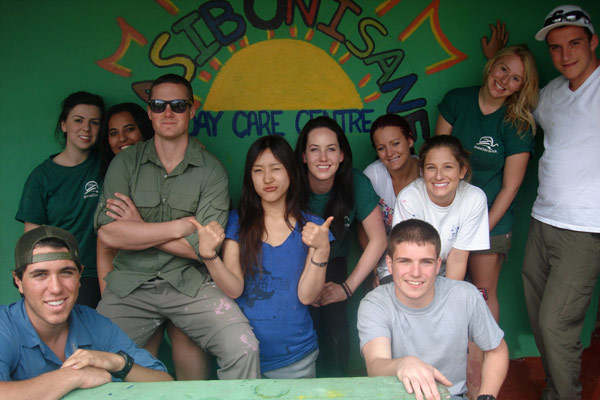 During the travel portion of my trip with ISV, every day was different. To sum up the highlights we went caving, surfing, on microflights, on a safari, sailing, chilling at the beach, cliff-jumping, camping (in a safari park), biking, horseback riding, visiting small villages, bungee jumping, zip-lining, rappelling down cliffs, sightseeing, on boat cruises, or to hang out and pet with elephants, lions, cheetahs, or monkeys. Everything I just listed was optional, so you will never be too far out of your comfort zone but you will never be left out either. It was so amazing to do all that stuff over the course of just a couple weeks, every day was a new adventure!
GO: What advice do you have for future volunteers?
Kendra: My advice for future volunteers is to not be so afraid of going to new places. I was nervous to go to Africa, but now I feel ridiculous for having some of the worries that I did. It's really just a fear of the unknown, and once you actually arrive there you'll see how safe ISV keeps you. Talk to the locals, they're the best part about the volunteer work! Also don't expect your bank card to work most places and bring a decent amount of local currency with you from home.
GO: How has this experience helped you grow personally and professionally?
Kendra: This experience has impacted my future by making me want to work in Africa in the future. I'm going to Rwanda this summer for a course on International Security and will be applying for internships in various countries throughout Africa in the fall. It was a huge motivator for me professionally because I found out how much I love Africa, and how much I want to help out there in any way I can. I've also definitely got the travel bug now, and I can't wait to be back in Africa!
Further Info
About ISV
Our mission is to create an environment that combines conservation, education, community development and recreation into the ultimate adventure travel program for participants who desire to make a difference by volunteering in communities abroad. ISV offers life-changing volunteer and adventure programs across 6 continents. Over 22,000 participants from around the world have experienced our volunteer, educational, cultural and adventure programs.
Many college and university students who participated in ISV Programs have also earned academic credit for their involvement. ISV is recognized as one of the highest rated volunteer and travel organizations in the world.
ISV is a non-profit organization in the USA, Costa Rica, Thailand and Ecuador. While our sending offices in Australia, New Zealand, UK and Canada serve the same purpose as our USA office (looking after students and sending them abroad), they are not registered as a non-profit.
Begin your adventure with ISV today!
All of Their Programs