Florence has inspired artists for generations with its meandering rivers and pastoral greenery. It serves as the perfect backdrop for reading great literature and pursuing academic journals, both of which you can do while studying abroad in Italy! AIFS has teamed with Richmond, the American International University in London, to provide students with a broad spectrum of classes, including philosophy, literature, marking, economics, and studio art.
Along with the various activities on campus, as well as internship opportunities, students can travel to Venice and Rome with the program and explore the rest of the gorgeous country. Students must maintain a 2.5 minimum GPA and be at least 18 to attend this program, but the rewards are bountiful, so join AIFS and study abroad in Florence!
Reviews
Alumni Interviews
Alyssa, AIFS-Florence alum GO: Why did you decide to study abroad with AIFS at Richmond in Florence?
Alyssa: I decided to study abroad with AIFS in Florence because of all of the great things I heard about the program. Probably the biggest thing that sold me on the program was the meal tickets.
GO: What made your study abroad experience unique and special?
Alyssa: I think my study abroad experience was unique and special because of a mix of the people in my program and the city I choose to study in. Florence was such an incredible city, not too big not too small. I saw so much history and learned on a daily basis without even realizing it. I was also so incredibly lucky to have been abroad with the people in my program. All 80 student were amazing people who I built strong bonds with. One of the hardest parts of leaving, was leaving the people.
GO: How has this experience impacted your future?
Alyssa: I think my abroad experience impacted my future on so many levels. As a person I have really grown and matured during my time abroad. I learned how to rely on myself more, instead of depending on my parents. Also you really learn and pay attention to the value of money, since you watch the value change on a daily basis. Professionally, I think my time abroad will be able to help me as a business major. I have had an experience that not all students get, which makes me stand out.
Interview with Ashley Erkoc, AIFS alumna in Italy
GO: Why did you decide to study abroad with AIFS at Richmond in Florence?
Ashley: I studied abroad with AIFS at Richmond in Florence because out of all the programs I looked into, AIFS had the most to offer. I wanted a program that would allow me to fulfill degree requirements while offering me classes I wouldn't be able to get through my own college. I also wanted a program with a meal plan since I wanted to save money where I could. When I saw that AIFS had weekend trips included in their tuition and that they accepted any scholarships you receive through your college, I was sold that this would not only be the best program for me to experience another culture, but AIFS also made it more than manageable financially.
GO: What made your study abroad experience unique and special?
Ashley: This experience unqiue and special because of the people I was able to create friendships with and get to know. Also, the teachers in the program, both in Florence and during orientation. I was so lucky to meet people from all over the country and learn more about about myself and the world as a result of these connections. To this day, there is a group that I stay in close contact with and we travel often to get together. The teachers in the program were amazing. Their patience with the language barrier was helpful as was their tips on what to try, not try, etc.
GO: How has this experience impacted your future?
Ashley: Personally, traveling abroad has changed me completely. The way I view the world and others has deepened. I learned more about myself and what I can handle being away from everything that is familiar to me. My relationships at home strengthened as a result of a different form of communication since we now had to take time and make an effort to stay in contact. Academically and professoinally, I have more to contribute because of what I have been able to see and experience. I didn't know how I would handle living in another country while everyone back home just continued on with their lives. Upon returning I realized, while everyone I knew did the same old things, I got to see places I never thought I would see. I came home more culture shocked than when I went to Italy. I have a strong desire to continue to travel and continue to explore and challenge myself.
Interview with Jeni Berecek, AIFS alum in Florence
GO: Why did you decide to study abroad with AIFS at Richmond in Florence?
Jeni: I chose the AIFS program at Richmond in Florence program because it offered classes that I was interested and fit into my schedule the best. The classes they offered in art history were exactly the types of hands-on, get-in-the-field classes that I wanted to take. The program is five weeks during the summer, which fit great into my schedule since I didn't have a semester that I could just go to Europe and still graduate on time. There were also scholarship and grant opportunities through the program and my school that made the trip affordable.
GO: What made your study abroad experience unique and special?
Jeni: One of the best parts of this trip was the great people I met and interacted with both inside and outside of the program. My friend and I chose this program together, traveled there together, were roommates, and shared all the great experiences together. However, we also shared this experience with some great friends that we met in the program and still keep in touch with to this day. The professors and staff at the Richmond school were so friendly and helpful as well.
One of our professors was the funniest older gentleman who would take our class all around the museums and streets of Florence and show us not only the art, but introduced us to locals, his friends, museum directors, and even his favorite bartenders. We could ask the staff anything from "Where should we eat dinner tonight?" to "How do I say this in Italian?" or "where should we go in Rome this weekend?" and they would help as much as they could.
Then there were the people of Florence themselves that made us feel so welcome in their city. From the young waiter at our favorite restaurant around the corner, to the older man whose cafe we would pass on our walk to school everyday, to our landlady who would take us out for gelato every week; interacting with these people made us feel like Florence was our home away from home.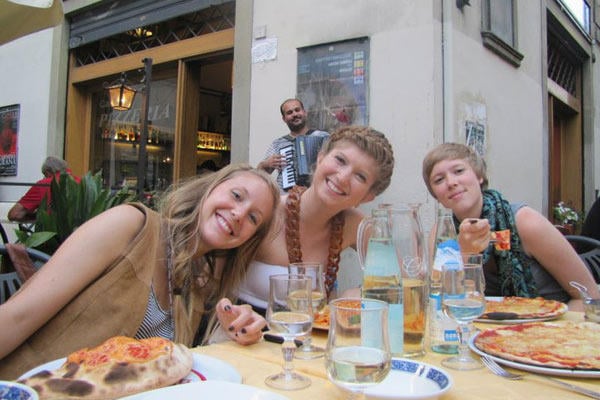 GO: How has this experience impacted your future?
Jeni: I can't list all the ways this experience has impacted me because there are simply too many. But I will say that this experience pushed me outside of my box in the best way and exposed me to a way of life so different from my own. The best part was that I wasn't just reading about the culture, or learning about it; I was living it. The classes taught me so much about art history in such a small amount of time because the information was not just presented to me, but rather surrounding me.
The subject matter was not just in class because it was part of my everyday which made it meaningful. This experience also taught me that sometimes I can't control every little thing and the best experiences and memories can come from spontaneous events that you never planned. Now I know that I am capable of adjusting to different ways of life and appreciating all kinds of people and places. I now make it a priority in my life to travel as much as I can and take advantage of any new opportunities that come my way.
Further Info
About AIFS Study Abroad
Founded in 1964, AIFS prides itself as an industry leader in providing summer, semester, and academic year study abroad programs. AIFS sends nearly 5,000 undergraduates every month to study abroad in one of 23 AIFS international campuses.
Programs are available in Argentina, Australia, Austria, Botswana, Brazil, Chile, China, Costa Rica, Cuba, Czech Republic, England, France, Germany, Greece, India, Ireland, Italy, New Zealand, Peru, Russia, South Africa, Spain, Turkey, as well as multi-country programs. AIFS offers Gap Year programs, along with internships and volunteer opportunities abroad. With locations throughout the world, AIFS College Study Abroad is able to offers high-quality, college-level courses in subject areas as diverse as Islamic Studies, French Cinema, business and engineering.
All of Their Programs