International Student Volunteers (ISV) works with grassroots initiatives to offer volunteer projects in Costa Rica. These volunteer programs directly benefit the local communities of Costa Rica. For volunteers in Costa Rica, ISV offers projects in wildlife conservation, community development, children's programs, and environmental management. However you wish to make an impact, there is a volunteer project for you with ISV in Costa Rica.
If you choose wildlife conservation, you could be observing the feeding behavior of variousm species, mapping habitats, monitoring dolphin populations, or taking beach patrols to protect turtle nest's. In Costa Rica's communities, you could be involved in recycling, reforestation, trail building, organic farming or habitat restoration. For more details about ISV's volunteer projects in Costa Rica, visit there website and sign up today for the experience of a lifetime!
Reviews
Alumni Interviews

Tiffany Westrom - Costa Rica
Tiffany Westrom is from Cedar Rapids, Iowa and is currently studying journalism and event management at Iowa State University. She is a storyteller who always has ice cream and warm weather on her brain.
Where: Costa Rica
When: June 10-July 10, 2012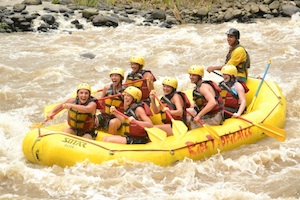 Highlights: The best part of the volunteer experience was the relationships that I formed. Our host family took us in like we were their own children. They were so genuine and hardworking, I found myself amazed by them every day. And it wasn't just our family who was like that; it was every person in the village. And don't even get me started on my fellow volunteers. The three people that I lived with during the volunteer experience were so great and I really enjoyed how close we got over such a short period of time. The rest of the group was awesome as well and I got to know many more of them during the adventure tour. My highlight of the whole trip was the adventure tour. To be able to rappel a waterfall, raft three and four class rapids, float down a river, zip line through the rainforest, enjoy hot springs and swim in two oceans and three rivers in one trip is just life changing. I've never experienced anything like it, and it was wonderful.
Morning: In the mornings we would wake up early to begin our hike. Our gracious mama tica (host mom) would have breakfast ready for us. Breakfast ranged from pancakes and eggs to cereal and coffee. And every morning we would have a different fresh fruit. With good food to fuel us, we would meet our guide for the day and start out on the hike. The hiking was sometimes a bit difficult, but the sunrise, the rainforest, and the monkeys made it worth it every time. My team was helping collect data about the nutmeg trees in the area, so we would hike anywhere from two to five miles to the trees or traps that we needed to collect data from. Some mornings, we would observe what animals interacted with the trees and other days we would count the seeds that were caught in traps. Our guides taught us so much about the land and the culture during those walks, it was hard to walk away thinking that they were anything but fountains of knowledge.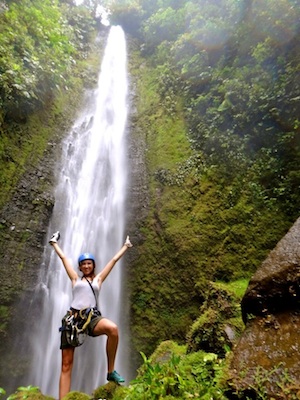 Afternoon: We would often get back from our hike before it was time for lunch at noon, so we would cool off in the ocean. You usually went on the hikes in teams of 3-4 with a guide. So, when each team came back we would meet up at the beach. After some good ocean time, we would have lunch with our families. Lunch was made up of rice and beans plus fresh vegetables and meat. After some free time to journal, nap, or kick the soccer ball around, we would meet up as a group again. In the afternoons we would work on a project for the village that we were staying with. In my case, we made eco-bricks out of their trash that could be used as building materials and we helped with a tree nursery.
Evening: Dinner was always fun. Every meal that we ate, we ate as a household. So, I would eat with three other people from the group for three square meals a day. At dinner, we would talk about the day's events. There was a lot of laughter and with each meal, I felt more like an actual family with these people who I had only met a few days prior. Dinner would consist of rice, beans, meat, and some Costa Rican cookies and sometimes Oreos or ice cream! We would play card games, hang out with our host parents and their little baby boy, watch Will Smith movies on their tv, and enjoy a shower. Our host dad was a prankster, so he would always be pulling pranks that would entertain us and make us laugh. Most nights we would be in bed by eight in order to be rested for the early start the next morning. I would journal for a half hour every night to make sure that I didn't forget any part of the trip!
Day in the Life of Rowena Nagy - Costa Rica
Rowena Nagy is from Tasmania, Australia and studies Journalism at the University of Tasmania. She enjoys reading, listening to music, spending time with friends and one day hopes to travel some more around the world, particularly around the UK and Europe.
Where: Costa Rica
What: Environmental Management with ISV
When: January 8th, 2013 - February 11th, 2013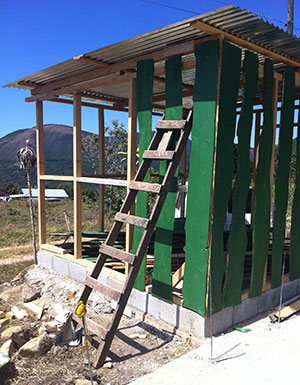 Highlights: The highlight of my entire trip was the entire thing. I made heaps of new friends, saw so many beautiful sights and had the best time of my life. Being able to travel around a new country which has so much to offer with so many wonderful people is honestly one of the best ways to do it and far better experience than travelling there alone. I really enjoyed my entire time there and I really cannot wait to go back one day.
Morning: My typical morning in Costa Rica began pretty early - I would get up around 6 or 6:30am and have breakfast which was usually around 7am and with my host sister and my host mother would also be up doing something around the house. Then I would get ready to go to work, which in the morning was building an eco house for coffee farmers in the town that we stayed in.
But first my group, project leader and I would meet at the Salon (community centre) at 7:30 and then we would all go up together and then begin working on whatever we were doing that day for the eco house. Work in the morning was pretty easy because nothing was ever beyond what we could do either individually or as a group and our morning was broken up by a break around 9:45 and then by lunch we would be done with the eco house for the day.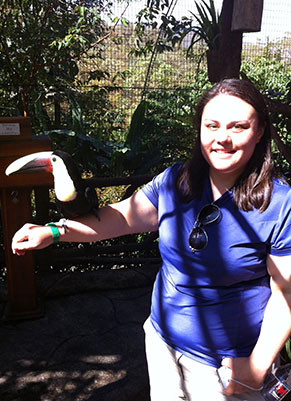 Afternoon: My Typical afternoon would start at noon with lunch with my group, project leader and one or two members of each of our host families who would make and bring us our lunch everyday. That would be from 12 to 1pm and then from 1 to 3pm we would make eco bricks for a small bridge we made on our last official day of work for the town. Then at 3pm we would finish work for the day and have a free afternoon where we could either go home, play soccer with each other and some local kids or go to the small shop near the salon and hang out there for a few hours. Then from around 5 or 6pm we would all start going home and spend time with our host families.
Evening: Evenings were pretty relaxing because I would usually shower, have dinner and then do something with my host family (usually just watch TV or talk with my host sister). Then most nights around 8/8:30 I would go to bed. But the first Monday and Tuesday there was church event that my host family and I went to in a town close by and the second weekend that I was there San Pedro (my host town) had a town festival which ran for the entire weekend in the evenings and my group and I went to that while it was on.
Meet Lisanne Gallant, another ISV Costa Rica alum
GO: Why did you decide to volunteer with ISV in Costa Rica?
Lisanne: It was simple enough - I was bored. I'm from a small place, for those of you who don't know where Prince Edward Island is, it's a tiny island in Canada (yes, Canada has islands), with a population of about 150,000 (and that's being generous). I love it here, but I had just started university, and wanted to go somewhere while doing something worthwhile. ISV was perfect.
GO: Describe your day to day activities as a volunteer.
Lisanne: Our days were awesome. We woke up in the morning to breakfast. We'd make our way to the kitchen area where the lovely ladies of the place had breakfast cooked up and ready to eat. A typical breakfast was beans & rice, warm milk + cinnamon (which was delicious), some bread-type things, and peanut butter. Oh, and plantains. Lunches & suppers were sort of the same - beans & rice, meat, some bread. And more plantains. Although on a few special occasions we got special Costa Rican dishes - those were amazing. And sometimes on hot days we got ICE COLD pop, those were good days. The people over there are truly amazing, so nice, so humble.
Our mornings usually consisted of helping out around the place, either cleaning up the property, painting, etc. Or sometimes we had ISV meetings, where our leader, along with the project coordinator, would teach us more about what we were actually doing out there - sea turtle conservation.
Afternoons was kind of the same deal - either helping around the place, or ISV stuff. When it rained though, well, we sort of got the morning/afternoon off... Those are the days you REALLY get to know your fellow ISV'ers (no electricity, no TV, no internet). It's strange, they become your little family. I got to know those people better in 4 weeks than some people that I've known for years.
Then there were the night shifts. These shifts would typically last 4 hours each, and go from dusk till dawn. There was about 8 km of beach to be patrolled, watching out for momma sea turtles coming to shore to lay their eggs. If you were lucky enough to spot one, you got to watch her amazing ritual. She goes into a type of trance when she lays her eggs - your responsibility is to catch the eggs and bring them back to the conservation where they'll be protected from poachers and other wildlife egg-snatchers.
So there's a pretty typical day. There was so much variation though, sometimes we'd go to the manatee observation deck (so cool), sometimes we'd take the boat into town (that's right, *boat*), or to another ISV site to help with whatever they needed over there. It was truly an amazing experience, and I'd do it all over again if I could.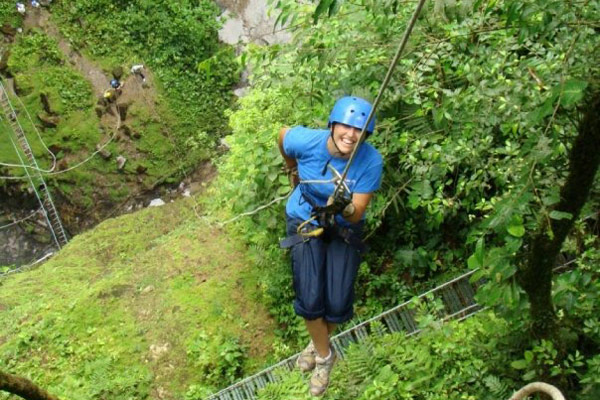 GO: How has this experience impacted your future?
Lisanne: I did ISV Costa Rica about 3 years ago, and I still ramble on about it. So, obviously it had a HUGE impact on my life. It allowed me to grow as an individual (corny I know, but true). It also implanted the traveler's bug in my system. I don't know if you know about this little guy - he tends to surface around spring time every year, making you unable to think or concentrate on anything but traveling. Ecuador, Brazil, France, Germany, Wales, Ireland, Italy, Mali.. The world is a big place, a very big place.
On the professional side, I strongly recommend doing something like ISV if you're interested in any kind of professional school. I'm a vet student (I did ISV during my pre-vet program), and this will set you apart from the others. This experience helped me so much during my interview, it allowed me to give a different spin on answers to typical questions, making myself memorable to my interviewers. And I got in.
Besides, who wants to be like everyone else? Boring.
Lisanne Gallant is a 22-year-old vet student at the Atlantic Veterinary College from Prince Edward Island, Canada. She volunteered with ISV in Costa Rica in July 2009.
Meet Katherine Sullivan, ISV Costa Rica alum
GO: Why did you decide to volunteer with ISV in Costa Rica?
Katherine: I decided to volunteer with ISV because I loved the idea that not only would I be able to volunteer, I would be able to enjoy awesome activities that the country had to offer! I chose Costa Rica as my first choice with ISV because they offered a amazing volunteer project, a rich culture to learn from, and beautiful scenery.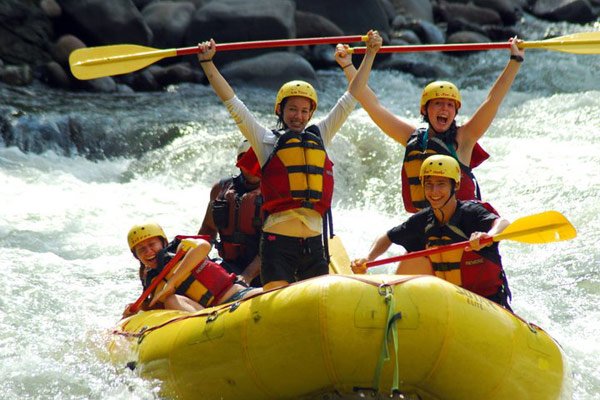 GO: Describe your day to day activities as a volunteer.
Katherine: As a volunteer, I woke up usually around 6am for breakfast served by my lovely host family, Dona Suzy, Don Jorge, and Magalee. I would pack my lunch during this time as well. Depending on the assigned day, I would either venture into the rain forest to find poison dart frogs or I would head out into Gulfo Dulce to research dolphins. When going into the rain forest we would look for as many poison dart frogs as possible while recording their location, environment, and species. This work usually lasted a majority of the morning and afternoon. While on the boat we would record the behavior and locations of any dolphins spotted. Usually I would be out an entire day on the boat. When everyone arrived back from their assigned work, we would all enjoy dinner at the house around 6 or 7pm.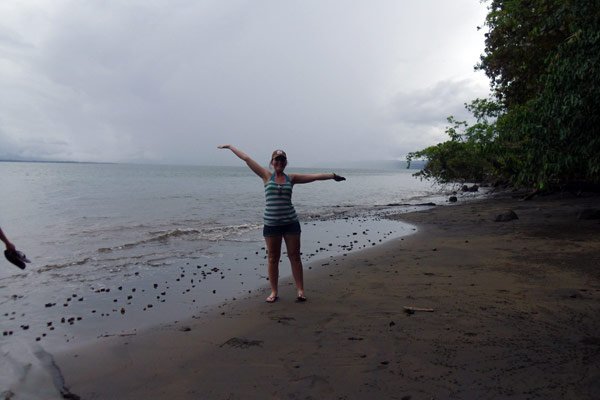 GO: How has this experience impacted your future?
Katherine: This experience has impacted me in such a huge way! Personally, I learned that there is more to the world than just the United States and that not everyone is the same. I got to see first hand what it's like to live off the land and not material things. The culture taught me to let go, live free, and to not worry as much. With my volunteer work, I learned that sustainability and hard work are needed to keep the environment rich and alive. Professionally, this experience taught me to be more confident. When I arrived home from my trip, I was a newly energized, better individual!
Meet Rebekah Apelt, ISV Costa Rica alum
GO: First tell us a little about yourself and your trip.
Rebekah: My Name is Rebekah Apelt and I travelled to Costa Rica with ISV on January 16th, 2012. I come from Brisbane Australia and am a 21 year old university student. What made ISV great for me and what will convince me to go with ISV again was not the amazing trip they sent me on but how well they looked after all the students especially those with prior injuries and problems. They made they experience so easy by organising everything for you and for first time travellers you can feel very safe knowing there're always people to help you.
GO: Why did you decide to volunteer with ISV in Costa Rica?
Rebekah: I was at university one day and needed a place to eat lunch so I went into a room that was normally un-occupied. when I walked in ISV representatives were talking about their programs so I stayed to listen and submitted my no commitment forms just in case, It did sound like a good idea at the time. I discussed it with my parents who looked at the 4 places I could choose from and said no to all but Costa Rica.
I did a bit of research later to see if there was a cheaper option or a better option then going to Costa Rica with ISV but found nothing to match the ISV program. So I paid my deposit and that was that.
GO: Describe your day to day activities as a volunteer.
Rebekah: ISV has a 3 stage trip, Spanish lessons for 1 week, 2 weeks of volunteering and 2 weeks of adventure tour.
Spanish Lessons were a great way to learn the language quickly. Amy (Another volunteer I met on the trip) and I stayed with host families who spoke a little English and defiantly challenged us to to learn Spanish faster. Classes ran for 4 days and we had 3 field trips.
Every morning for the week we woke up at 8 ish and walked the 7 blocks to the school, I was in a class of 6 people. Classes went for 4 hours and finished at one. The afternoon we used for Costa Rican dance lessons, cooking lessons and posting letters home. We had plenty of internet access so I was able to post photos online for this week.
On Saturday the school took the 60 volunteers to visit a volcano and eat some fresh strawberries. On Sunday they took us to an Island on high speed boats and let us do a bit of snorkelling. We also went out on a Wednesday Night to a festival called Ram Luna. These were all lot of fun and gave us some great cultural experiences.
My volunteer project was made up of 13 people. Our aim was to get research to make the forest and the golf a national park. We spent the first 2 days adapting the extremely muggy and hot climate that is not so different from North Australia. the rest of the 2 week experience involve us dividing to to groups of 3, 3 people would fix, or build the forest track, 3 people would walk the track in search of 3 types of poison dart frogs and the last 6 people would get in a taxi to the jetty and spend the day on a boat find and monitoring dolphins activities.
During the volunteer project the group stayed in eco friendly cabins, we were taken care of by a lovely host family who could not speak English, we were lucky to have 2 translators/project leaders with us. On 3 afternoons we did cultural activities, cooking, agriculture and fishing. They were a great experience to help the host family out for a bit.
After the last 2 weeks it was hard to imagine anything that could be better but the Adventure tour defiantly blew my mind. 32 of the volunteers got on to a private bus which was ours for the next 2 weeks. We moved from place to place every 2-3 days managing to make our way around most of northern Costa Rica. We started with white water rafting and water sliding, then came hiking and shopping, zip lining and waterfall repelling, a swim in hot springs and another hike to boiling mud, some more hot springs, horse back riding, canoeing, surfing lessons and last but not least massages on the beach. This was an intense but amazing 2 weeks of adventure and was defiantly worth every cent.
It was nice to have a 16 hour plane trip back home to sleep of the 5 intense weeks.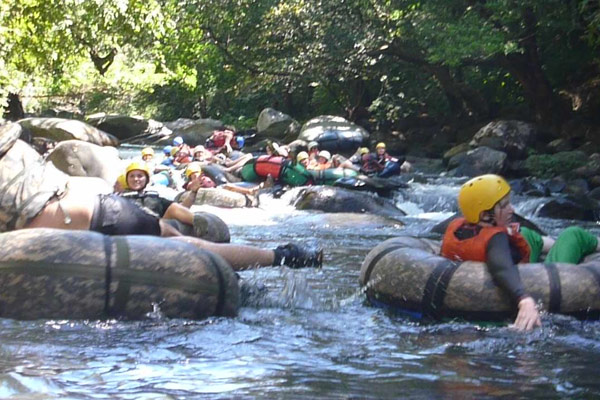 GO: What advice do you have for future volunteers?
Rebekah:
No where will it say that you will be going out to nice restaurants and need something more classy to where, but you defiantly do quite a bit of that during the adventure tour.
If you get travel sick take lots and lots of travel sickness pills because in Costa Rica they don't sell tablets by the packet they sell them individually so you get 2-4 tablets every pharmacy visit.
Take a back pack and not a bag on wheels, you don't always have the option of an elevator and the ground may not be anything more then mud. Leave plenty of room in you pack because some how you end up with twice as much as when you left, even if you don't buy anything things get harder to pack neatly as time goes on.
Costa Rica does sell sunscreen, shampoo, conditioner, and lots of other things so don't feel you have to take everything with you from the beginning. you have lots of time to buy the things you need.
If you love milk chocolate don't be surprised not to find any in the supermarkets.
If you love sweetened condensed milk then you are in luck because they put it on everything.
GO: How has this experience impacted your future?
Rebekah: This was my first trip overseas and it taught me a lot. This trip has defiantly made me want to see more of the world and meet lots of new and exciting people. It has also shown me other ways of living with out all the technology that we have in Australia and how to live more eco friendly. The Adventure tour pushed me past my comfort zone and showed me were my limits were.
My Future will defiantly be made up of lots of over seas volunteering and traveling.
Meet Rhian Evans, ISV Costa Rica alum
GO: Tell us a little about yourself and your trip.
Rhian: I volunteered in Costa Rica from Jan. 16 - Feb. 22, 2012. I am from Newcastle, Australia, and a student at the University of Newcastle. I'm 21 and currently in my final year of a combined B.Arts/B. Science Degree majoring in Biology, Politics and History.
GO: Why did you decide to volunteer with ISV in Costa Rica?
Rhian: I had wanted to do something more that just go to uni and do the same regular things, and then an ISV rep came into our classroom and talked (yelled!) about the exicitng opportunities possible with ISV, so I checkout out the website and saw that I could do volunteer work in conservation, and Costa Rica seemed like the perfect destination!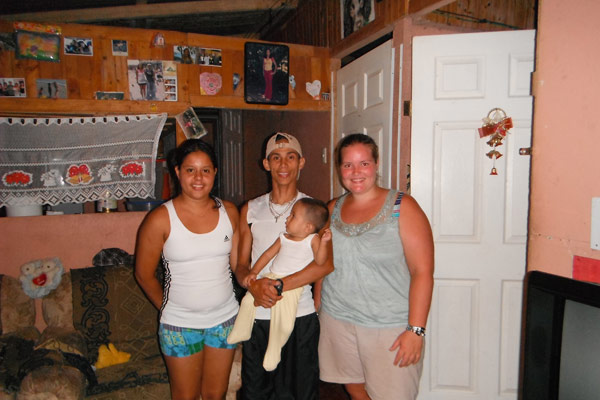 GO: Describe your day to day activities as a volunteer.
Rhian: I volunteered in a small town an hours hike from Drake Bay in the Osa Peninsula. There we assisted in data collection for the local researcher Pablo Riba, who was collecting information on the reproductive status of certain trees and the influences of frugivores on fruit dispersal.
A typical day in this town involved gettting up at 6:15am for breakfast at 6:30, then making our way to the meeting area to start at 7. There, you were assigned to 1 of 3 activities: hiking with a local to make observations of any animal or bird relevant to the study, hiking to town with the other research assistant Juan - where we checked mesh traps of trees around the town, or hiking with Pablo in the forest immediately surrounding the town. Each of these hikes (fairly strenuous!) left at 7am and usually returned before 11, when we had a chance to clean up and cool down a bit before lunch. Afternoons consisted of free time until 3pm, where the ISV group had a discussion on topics surrounding the research project, or a 'learning opportunity', where we played games, did beach clean ups or made things from recycled materials. It was then free afternoons again until dinner at 6:30 and bed was usually about 8:30! During the free time on my project, we had a beach 5mins walk from town, so spent most of the time there!!! But we also hung out with the family and played with the many many dogs running around.
GO: What made this experience unique and special?
Rhian: For me, this volunteer experience was particularly unique as I was able to live with a family in a very remote area of Costa Rica - an area that most people will never hear of in their lives. I was able to walk through and experience untouched areas of rainforest, see rare and beautiful animals like the Scarlett Macaw, and learn little customs and sayings "Que Paso Mai?!" (What's up dude?) from locals that have never left the area. I also knew that the data we were helping to collect was important - that no other similar studies are currently being conducted in central america - and that one day, that study will assist the government in future conservation efforts.
GO: How has this experience impacted your future?
Rhian: This experience has had a marked impact on all aspects of my life. As my first overseas experience it opened my eyes to entirely new cultures, language and ways of life. I now fully understand how differently people can live in different areas, as well as appreciate all the opportunities I have been given. Volunteering in conservation in this field was very worthwhile for me, and I know that biological conservation is a field I could work in - whether it be here in Australia, or overseas.
Meet Amelia Jones, ISV Costa Rica alum
GO: Why did you decide to volunteer with ISV in Costa Rica?
Amelia: I decided to volunteer in Costa Rica because I had heard about ISV, wanted to do a conservation project, and couldn't make up my mind about which of the amazing places I wanted to go. I ended up going to Costa Rica by random selection (on my part) and am so happy I did. I go to see so many amazing animals and meet many of the natives who were wonderful and extremely helpful--especially since I didn't speak much Spanish.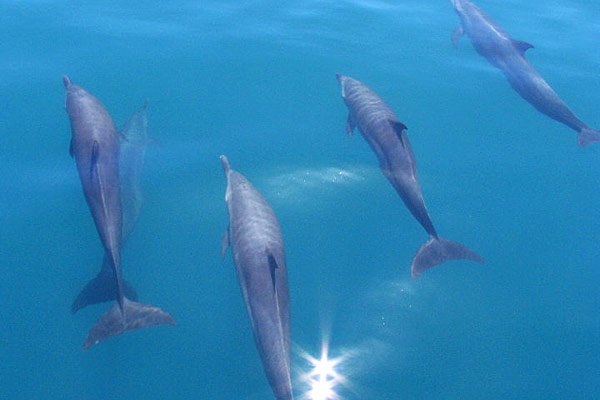 GO: Describe your day to day activities as a volunteer.
Amelia: On my project, Spotted Dolphin and Poison Dart Frog Research, I would rotate from day to day on the boat and in the rainforest. On rainforest days I would wake up, eat breakfast with our host organization (a Costa Rican family that owned the camp and who's son was a researcher) and other volunteers, and then venture into the forest and collect data with one of the researches. This would include GPS coordinates, time and date, number of frogs, and so forth. When out on the boat we would look for dolphins and collect data about their behavior, where we were, how many of them we saw, and so on.
Each day we would work for about eight hours and then go back to our camp, eat dinner (lunch was provided wherever we were), talk about our learning experiences, and then go to sleep. We got to go to beaches if we finished early on the boats, go into the towns, have internet access, pretty "normal" stuff. The data we collected was to help regulate and zone areas for protection of the wildlife there. For instance, frogs cannot survive without water so they need their rainforest habitat and the dolphins won't eat when being disturbed by tourists and drown when caught in fishing nets.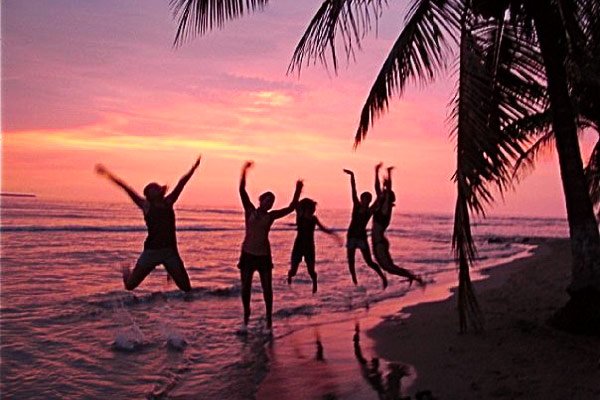 GO: How has this experience impacted your future?
Amelia: This experience has made me want to volunteer more often. Although I could've done way more than I did there, what I helped with was important. I may not have saved the world but every bit counts in the end. I also got to experience another culture and I feel that will more cultural diversity everyone is a better person, professionally and personally. You have to live like someone else does to know what their life is like and I am fortunate enough to have gotten the opportunity to do so. I am also very thankful for all of the things and affordances that I have had in my life, although not many I am truly blessed.
Further Info
About ISV
Our mission is to create an environment that combines conservation, education, community development and recreation into the ultimate adventure travel program for participants who desire to make a difference by volunteering in communities abroad. ISV offers life-changing volunteer and adventure programs across 6 continents. Over 22,000 participants from around the world have experienced our volunteer, educational, cultural and adventure programs.
Many college and university students who participated in ISV Programs have also earned academic credit for their involvement. ISV is recognized as one of the highest rated volunteer and travel organizations in the world.
ISV is a non-profit organization in the USA, Costa Rica, Thailand and Ecuador. While our sending offices in Australia, New Zealand, UK and Canada serve the same purpose as our USA office (looking after students and sending them abroad), they are not registered as a non-profit.
Begin your adventure with ISV today!
All of Their Programs