Panrimo offers unique and exciting internships in Prague. Prague is a great place for diverse internships in all different fields. Downtown Prague is filled with apartments, small businesses and large corporations, shops and theaters, music halls and museums, universities and hospitals, and a castle. Whether you're interested in photography, journalism, advertising, graphic design, art, or management, Panrimo will help you find the perfect internship in Prague.
Working in Prague with Panrimo is a great way to get international work experience and expand your horizons. With your fellow Panrimo interns and your interns, you'll feel right at home in Prague in no time.
Reviews
Alumni Interviews

Meet Tessa McConnell, Panrimo Czech Republic alum
GO: Why choose Panrimo?
Tessa: I decided to intern abroad with Panrimo because they let me choose and design my own internship that was right for me at a reasonable price. Instead of signing up for a package deal, Panrimo listened to my specific interests and customized the program to be unique to my professional and academic goals. No other study abroad providers offered such a specialized program.
GO: What made this intern abroad experience unique and special?
Tessa: This internship was incredible for me because I saw so many things that I had only learned about in class up until that point. Through the work that I did and the individuals I worked with, I got a brand new perspective on the world around us. What's more, I worked in an international setting, alongside people from many different cultures. I not only learned more about my field of study, but I further developed my inter-personal and communication skills. All in all, I was happy with what I gained from this experience in a professional environment.
GO: How has this experience impacted your future?
Tessa: This internship has opened so many doors for my future and really shaped the work I want to do in the future. Working directly with human trafficking organizations cemented my interest - enough to make me want to have a full career! I lived with other American students but spent the majority of my days interacting with my coworkers - sometimes they would even take me out for lunch. I was able to explore Prague and appreciated the opportunity to see the city from the working world's point of view.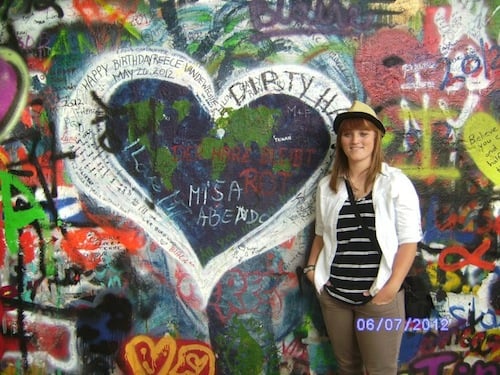 Further Info
About Panrimo
Panrimo is a company born of a friendship established between co-founders Paul and Tony while studying at Western Michigan University. Because of their mutual interests in travel, seeing new places, and the desire to avoid a monotonous college life, Paul and Tony put their heads together to come up with "Panrimo." Described as "an odd name for a serious decision," it salutes both Pangea (yes, the super connected super continent!) and the Latin word for explore, "rimo," thus denoting their underlying message- travel better, in a world that's connected better.
Panroamer alumni are guaranteed lifetime admittance into the Panrimo Travel Club - this includes access to free airport pick up in Panrimo's host countries, access to Panrimo coordinators in partner cities, letters of recommendation from the founders, visa and passport assistance, international travel advice, and access to Panrimo's excursions and cultural immersion activities - for life!
All Their Programs