Live the Language (LTL) Mandarin School is a one stop shop for students who wish to learn about China at a cultural level while improving their language skills. Comprehensive study abroad options allow students to mix and match the perfect opportunity for them, involving varying teaching styles and concentrations. Students can choose between three locations, with classes available in Beijing, Tianjin, and Chengde.
Options include 1-on-1 or group classes, to maximize each students desired exposure to the language and preference of the teaching style. Internship and volunteer options are also available. Accommodations are encouraged with carefully selected Chinese host-families to maximize each participants personal exposure to the language and culture. For all of the details on the available options, please consult the LTL website!
Reviews
Alumni Interviews

Meet Jay Bhatt, LtL Beijing alum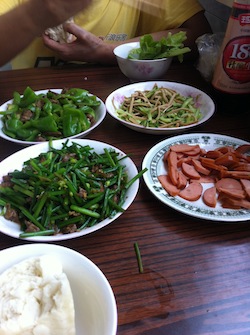 GO: Why choose LtL?
Jay: I had narrowed my choices down to a Chinese University in Beijing and LtL, but settled on LtL because of my correspondence with the school's director, Andreas Laimbock. Those conversations made me feel like LtL had an environment that would be fun and productive, and that they had a strong commitment to quality home stays, which the university did not provide.
GO: What made this study abroad experience unique and special?
Jay: Despite the fact that I've travelled a lot, the two home stays I did in Beijing and Chengde were mind-blowing. It is a cliche that travelers look for authentic experiences, but nothing is more authentic than living with a Chinese family that doesn't speak English. Also, having had a lot of experience learning languages in a variety of formats, I can also say that their quality of instruction is top-notch. This also applies to the ultra-immersive environment of Chengde, where there is no classroom: I was by myself and had the same teacher six hours a day, for three weeks, where she would force me to immediately apply lessons "in the field" while she observed.
GO: How has this experience impacted your future?
Jay: As someone who is good at languages but has done most of that learning in American academic environments, full in-country immersion has always been the Holy Grail. It is a priceless thing to say, "I like something, am good at it, and I gave myself the fullest experience possible in that field." Being in China with awesome instruction and support at LtL is nothing short of a dream come true.
Further Info
About LTL - Live the Language
Live the Language (LTL) Mandarin School offers the chance for students around the world to study Chinese culture and Mandarin Chinese language in one comprehensive program. During their time in China with LTL at one of the three locations (Beijing, Tianjin, and Chengde), students will be immersed in the Chinese culture firsthand, furthering their understanding and appreciation of the Chinese language. Students will better their Mandarin skills while experiencing true Chinese life with LTL!
Check out the LTL website for more details on their awesome programs in China.
All of Their Programs