Study abroad at the University of the South Pacific in Fiji with GlobaLinks Learning Abroad (formerly AustraLearn)! The main campus is located in Suva, on the southeast coast of Fiji's largest island. Choose from hundreds of courses from the following faculties: Arts & Law, Business & Economics, and Science, Technology & Environment.
Stay in a single bedroom in a conveniently located, furnished apartment with other students at the university, local and international. Spend your days attending classes and your nights exploring the beaches and surrounding water with other students looking to have an amazing memorable experience. Sign up today with GlobaLinks to get all the details!
Reviews
Alumni Interviews
Meet Stephanie Numata
Stephanie is 21 and from Alhambra, California and currently studies Information Systems at California State University, Long Beach. She enjoys traveling, cooking, playing basketball, and photography.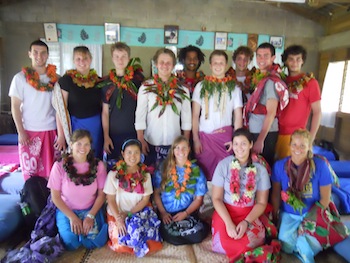 What was the highlight of your trip?
Stephanie: The highlight of the academic aspect of the trip would be taking the Fijian for Beginners course. I was able to learn the basics of the language. Although the main language in Fiji is English, it still helped me a lot while I was there. There are signs in Fijian that I could understand and also my local Fijian friends would talk to each other a lot in Fijian, so I was able to pick up on some things in their conversations. Also the class didn't just teach the language, it also taught Fijian customs and traditions. I learned so much about the Fijian culture.
I wanted to go to Fiji and immerse myself in their culture as much as possible. I was able to completely fulfill that by joining the basketball team at USP. I was very hesitant on joining at first, but I was so glad I did. I met so many friends through basketball. I saw my teammates almost every day of the week. We had practice a few times a week and games every Sunday. Also everyone from all the local teams would come together a couple nights a week to play pickup games at the school or church. So I was able to grow very close to them. There is a big basketball tournament called the Easter Games and teams from all over the island come to play in this week long tournament. I spent all week with my teammates and made many new friends from other teams. It was the best experience, and I am still close to so many of them.
Describe your typical morning.
Stephanie: I loved my mornings, I was able to sleep in every day until about 9am. I started every morning with a hot cup of tea with a view of lush green trees and the sun. I cooked breakfast or walked down to the local produce stand to get some fruit to eat. Then, some days I even had time to go into town to get some coffee or do some grocery shopping. Then I would go to class every day til about late afternoon. This is what my typical morning looked like during the week. During the weekends I would travel somewhere closer to the ocean, so my typical morning started off at 7am with a morning swim in the ocean. Then I would get breakfast at the hotel, and then lie on the beach for the rest of the morning.
What about your afternoons?
Stephanie: Every afternoon I would go to class then come back every day between classes to eat lunch back at my flat, it saves a lot of money because food on campus can get expensive. I was lucky to have enough time between classes that I also took an afternoon nap every day too. I definitely adjusted to the laid back Fijian lifestyle very quickly. During the weekend, my afternoon consisted of relaxing on a beautiful beach.
And evenings?
Stephanie: Most evenings I cooked dinner for myself and sometimes for friends. With a kitchen and fridge in the flats, I had so much fun cooking. Some days after dinner I would catch a movie at the local theater in town with friends. I joined the basketball team at USP to meet local friends, so I had practice three times a week and a game every Sunday evening. During the weekend, I spent my evenings watching the sunset on the beach. I also spent it talking and hanging out all night with my travel mates. The weekends were a lot of fun!
Meet Jessica Davis
Why did you decide to study abroad with AustraLearn at USP in Fiji?
Jessica: I decided to study abroad at USP because I wanted a real cultural difference. I didn't know a lot about Fiji and its culture and wanted to increase my cultural awareness. I wanted to choose the place I knew the least about and it was the best decision I could have made!
What made your study abroad experience unique and special?
Jessica: What made this study abroad experience unique and special was the fact that you had to learn a new way of life. Their culture is so rich. You really need to take a step back and let it all soak in. You get to experience life in a village with all of their rituals, you get to see how they live, eat and work. You are also able to learn and understand their daily customs. From different clothing to different food. there were so many mind opening experiences that I think everyone needs to experience at least once in their life.
How has this experience impacted your future?
Jessica: This experience impacted my future in so many ways. I'm a nursing student and I was able to keep my mind open to different patients with different cultures and not have a biased standpoint like some people who only grew up with one way of life. I was also able to take more changes and have more opportunities because of the independence this experience gave to me. I've also been able to share my experience and hopefully enrich other peoples lives with the amazing stories from Fiji about their culture that is so different from ours here in the states.
Meet Jessica Mew
Why did you decide to study abroad with AustraLearn in Suva, Fiji?
Jessica: I knew that I wanted to study abroad, but I couldn't decide where I wanted to go. Many of my peers were heading to Europe and I really wanted to do something different, some place that wasn't a popular study abroad destination. I knew that I wanted a country that spoke primarily English, because I didn't think I could learn a whole new language and become proficient enough to get around comfortably.
After hours of searching my university's study abroad website, I found it, Fiji! I decided at the moment that was where I wanted to go. When you think of Fiji, you think of the sun and the beach, right? One of Fiji's national languages is English, no one I knew had studied abroad in Fiji, and Fiji was my next destination.
What made your study abroad experience unique and special?
Jessica: Before heading to Fiji, I did little to no research on Fiji, and didn't even know it was a third world country. I knew that Fiji wasn't all sun and beaches, but I was extremely shocked when we entered the city of Suva. Living in a third world country is a definitely something that I think everyone should experience. It was eye-opening to see a world completely different from our own. For example, "Fiji time," means that people run at their own pace, often leaving things unfinished. This upset me and lots of other Americans, who are used to having things done now.
Technology is not as advanced in Fiji, and the cost to call/text to call home becomes pricey. In addition, in Fiji, I learned to appreciate what I had a lot more. There isn't a lot of shopping in Fiji, and I was so use to just hopping in my car and heading to the mall to kill time or to go window shopping. Instead, I was planning trips to local hideouts and making new friends along the way.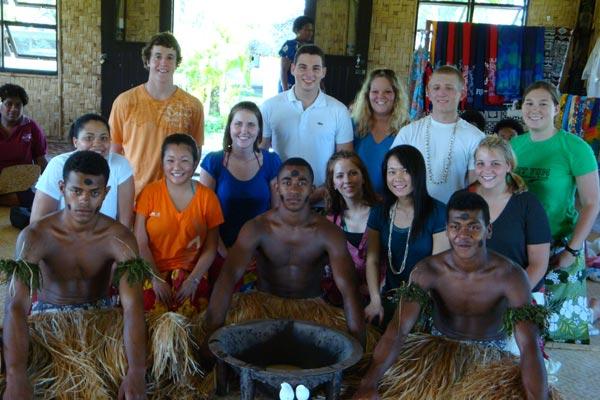 Fiji has so much to offer, from the history, politics, rugby, adventures such as zip lining, shark diving, surfing, sky diving, and of course the beautiful beaches! The country is small, but there are so many places that I wish I was able to see and visit. I feel like I spent most of my time traveling or planning my next trip. Fiji taught me a lot of things, appreciate how fortunate I am and what I have and to not rely on materialistic things to make me happy and to take life in a slower pace. I came back relaxed, unrushed, and ready to tackle the next steps of my life. Fiji was an eye-opening experience that I wish I could do all over again.
How has this experience impacted your future?
Jessica: Fiji created my travel's itch, and I ended up doing two more study abroad trips. I finally made my way to Europe, for a summer session in Scotland, and a 3 month internship in New Zealand, both with GlobaLinks. I took a few social work/sociology courses while in Fiji, and that fueled my interest in the field. Fiji lead me to do an internship in New Zealand, working for Child, Youth, and Family.
Currently, I am in a master's of social work program at the University of Southern California, and this all began with my study abroad trip to Fiji. After graduation, I hope to find a job abroad (I'm keeping my country list open!) helping families and children. Fiji has helped me develop what I value most in life, and has guided me into a career that I love. My study abroad trip to Fiji has done so much for me that I will never be able to fully explain, but it was definitely the best six months of my life!
Want to hear more about Jessica's experiences with GlobaLinks? Check out her EuroLearn interview about her study abroad experience in Stirling, Scotland at the University of Stirling, or her GlobaLinks Internship in New Zealand!
Meet Andrea Graetz
Why did you decide to study abroad with AustraLearn in Fiji?
Andrea: Getting everything together for studying abroad can be a confusing and difficult process. AustraLearn was very helpful and made that process much easier. The advisors at AustraLearn are wonderful as they are there for you with any questions or concerns you may have before, during, and after your study abroad experience.
By choosing to study abroad with AustraLearn, I received many benefits: I was greeted at my destination airport by my advisor who introduced me to my new country for the first week or so (filled with many fun activities) to help me feel comfortable getting situated. They also organize a bridging cultures program for your new AustraLearn family to participate in before starting school. In my case, we went to a remote village and painted a school, brought over books for the children and spent a few days learning about the Fiji culture through ceremonies, bush trekking, eating the local food, and spending time with the village members!
What made your study abroad experience unique and special?
Andrea: Getting to know and experience the Fiji culture was so special! The locals are very welcoming and excited to get to know you. Joining in on Kava ceremonies and the Meke ceremonial dancing at all of the villages that we were invited to are some of the most unique experiences I've ever had in all of my travels. I would not have gotten those experiences anywhere else in the world and I am so grateful that I choose Fiji and the University of the South Pacific to broaden my cultural knowledge!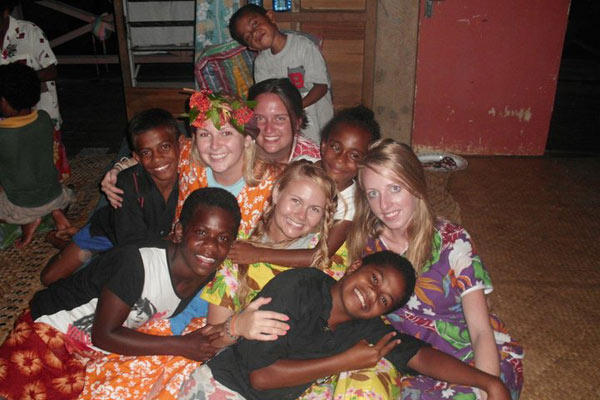 How has this experience impacted your future?
Andrea: My time at the University of the South Pacific has opened up so many doors for me. It not only made me a stronger person overall, but has determined me to travel more, meet people from around the world, and fulfill more of these once in a life time experiences. Due to my time in Fiji, I am now pursuing a Graduate degree abroad (in the UK). I feel that you learn so much more when studying abroad than you do by staying in your comfort zone. The experiences I had while in Fiji studying at the University of the South Pacific will forever be remembered and I reminisce of it often!
Meet Rylee Genseal
Why did you decide to study abroad with AustraLearn in Fiji?
Rylee: One day during my junior year of college I decided to go to my school's study abroad fair. I visited several tables, and everybody seemed to be marketing the same places. When I got to the AustraLearn table I saw the word "Fiji," and it immediately caught my eye for two reasons. First, I've always liked to sort of go against the grain, and I didn't know anyone who had been to Fiji before; Second, Fiji is the sort of place you see in movies and hear about in stories, and I just couldn't pass up the chance to see it for myself!
What made your study abroad experience unique and special?
Rylee: The thing I appreciate most about my study abroad experience in Fiji is that the entire trip really turned out to be a cultural experience. AustraLearn arranged for us to spend a few days in a remote Fijian village during our first week in Fiji, and that was such a great way for us to get accustomed to life in Fiji. During that visit I learned about the traditional Fijian kava ceremony.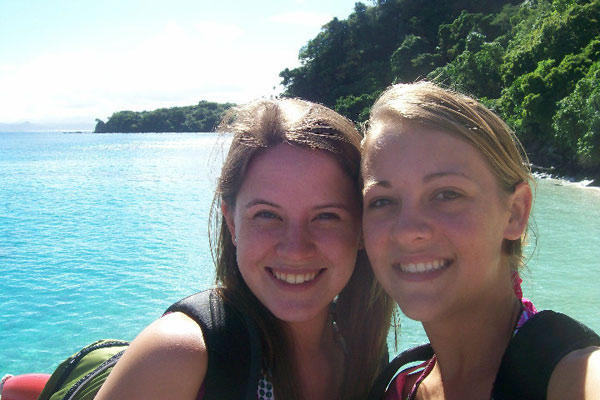 I spent time in the village school with third and fourth grade students. I took a ride down the river on a BiliBili bamboo raft. I attended a service at the village church which was conducted almost completely in the Fijian language. I went back to this particular village before I returned to the United States, and I'm pretty sure I left a little piece of my heart with its people. If there is one thing that I can say about Fiji it's that the generosity and kindness of it's people is rivaled by few other countries in the world.
How has this experience impacted your future?
Rylee: My time in Fiji really opened my eyes to a different way of life. Factually speaking, Fiji is considered a developing country, but when you're there you see in the people of Fiji a genuine happiness. They may not have iPhones, or laptops, or excessive money, but they don't need those things to be happy. I think of material possessions a lot differently now.
Meet Sarah Stevens
Why did you decide to study abroad with AustraLearn at USP in Fiji?
Sarah: There was a statistic floating about when I was considering study abroad programs that stated that 90% of American students who studied abroad went to Europe. I'm not particularly fond of doing things that everyone else does, so I started looking into less traditional destinations. When choosing my program, I also had to find a school that would enable me to take courses directly required for my major; I was to be in my last year of school and had certain requirements remaining in order to graduate on time. Thus, when I found the University of the South Pacific, it seemed ideal--a foreign paradise with a lifestyle starkly different from mine, the ability to complete graduation requirements, and a program through AustraLearn that seemed to have all of the logistics arranged.
What made your study abroad experience unique and special?
Sarah: It goes without saying that placement of the USP itself makes this study abroad experience unique and special--I still have people reacting with awe when I tell them that I lived for four and a half months in Fiji. Beyond that, I feel that this experience was special because of the nature of the university itself. USP is the primary higher education facility for twelve member nations, including Samoa, Tonga, Kiribati, and Tuvalu among others. I was able to meet students from all of these nations and learn the nuances of the culture of the different pacific island countries.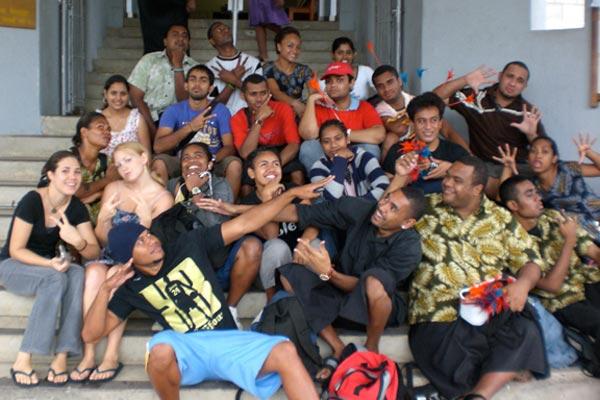 How has this experience impacted your future?
Sarah: Living in Fiji was my first real exposure to life in a developing nation and the longest that I had been away from home. This showed me two things: that I was capable of being apart from my family and friends for long periods of time and that I was able to handle life without all of the comforts and amenities to which I am accustomed. In learning those two things, I have since explored the world much further.
I am currently a volunteer teacher in Guyana and probably would not have embarked on such an endeavor if I hadn't first experienced living in a developing country through the safety of an educational institution. Furthermore, I met other students through my study abroad program from all across the United States. We have since stayed in contact and now I have a network of friends no matter which region of the states I am in.
Meet Rosie Jeffrey GO: Why did you decide to study abroad with AustraLearn in Suva, Fiji?
Rosie: People always ask me why I chose to study abroad in Fiji of all places. I wanted to go somewhere totally different then anything I was used to. I also wanted to go somewhere that was not a common place to go for the general student who studies abroad.
It is such a small country, not many people have even heard of it - aside from the water bottles and the gorgeous beaches. I think this intrigued me more than anything. I wanted to learn what the real Fiji was like, not just the resorts and beaches. I wanted to learn about the culture and the people more than anything, and completely immerse myself in a totally different country.
AustraLearn had a great program for studying at the University of The South Pacific. They helped with everything along the way, and we had a great two-week adventure and cultural program before starting our studies. We got to experience traditional Fijian culture, settle into our flats, and we were able to explore the city as well and learn about what we would be doing and encountering in our next four months abroad.
What made your study abroad experience unique and special?
Rosie: Going to Fiji as an American is typically for tourism purposes. But to go there and live there for four months, you become a local. That is what really made this experience unique and different from other study abroad programs. When I first walked through the streets of Suva, I was undoubtedly considered a tourist, but by the end of my time in Fiji I was not and did not consider myself a tourist.
Fiji is such a small island but it has a huge heart and the people there are also what really impacted me. The friends I met there were the nicest people I have ever met. They are so kindhearted and willing to do anything for someone else. That stuck out to me more than anything. Many of the people I met were so incredibly selfless and it was so rewarding to be able to be around so many people like that, it made me reflect on how I treat people and how I can better myself.
I also loved how culturally diverse Fiji was. On campus you would walk around and here all sorts of different languages and island dialects. It was really cool to be a part of the University and not just a tourist.
Has this experience impacted your future?
Rosie: YES. Going to Fiji taught me so much about myself and about other people. I have traveled before but nothing like this. This experience really taught me about how little I need in life to be happy. I have learned to appreciate the little things more in life and I cannot be more grateful for that.
Now traveling to less developed countries is constantly on my mind. I want to see and experience other cultures and I have a serious case of wanderlust. I also want to be able to help people and to volunteer in less developed countries. My future plans have changed drastically, and definitely for the better.
I love Fiji with all my heart and I know one day that I will definitely return to Suva City.
Further Info
About GlobaLinks
GlobaLinks Learning Abroad, originally titled AustraLearn, was created by Cynthia Banks in direct response to requests from an Australian university to assist U.S. students who wanted to study abroad in Australia. They have been in operation since 1987. Since then, AustraLearn became the largest provider of study abroad programs to more than 25 universities in Australia and added new partner institutions in New Zealand and Fiji.
In 2008, AustraLearn expanded its reach to more regions of the world. EuroLearn and AsiaLearn were created as additional programs of GlobaLinks Learning Abroad to accommodate an increasing demand from students and advisors for structured, well supported, and affordable programs in destinations worldwide.
All of Their Programs