UBELONG offers 1-week to 6-month volunteering opportunities in 5 Ecuador locations: Quito, Amazon, Coastal Forest, Humid Forest and Galapagos. There are over 20 projects in different fields, including: agriculture, caregiving, education, health and the environment.
Highlights
Affordable: Without compromising quality, the world's most affordable international volunteering opportunities.
Flexibility: Pick from 100+ projects across Africa, Asia and South America. Volunteer 1 week to 6 months. Start any week.
Support: Work one-on-one with a UBELONG Mentor throughout your volunteer experience.
Comfort: Housing and meals included, as well as 24/7 field support.
Network: UBELONG is based in Washington, DC, the capital of international volunteering.
Impact: UBELONG is a social venture led by international volunteers and university professors driven to make a real impact on local communities.
Trust: Every year, thousands of individuals of all ages and backgrounds, and from throughout the world, become UBELONG volunteers.
Simply, UBELONG is the world's premier short-term international volunteering program.
Reviews
Alumni Interviews
Meet Maximilian Mantius, UBELONG volunteer Ecuador
GO: Why did you decide to volunteer abroad with UBELONG in Ecuador?
Max: I decided to volunteer with UBELONG for a number of reasons. I originally heard about UBELONG through my brother who found out about them while living in the D.C. area. One of the founders of UBELONG knew I wanted to go abroad so he told me about UBELONG, and the affordability, a key factor in my decision.
I was in a funk during my first year of college and needed excitement to look towards. As a result, I took his consideration of UBELONG and began to research. I'm an environmentalist with a desire to explore tropical landscapes and help underdeveloped communities. I contacted UBELONG and got a response the next day with vital information. He listened to my interests and suggested the "Coastal Forest" program in Ecuador. I was more than enthused! I looked at the pictures on UBELONG's website, all the information I needed was there--living conditions, cost, and most importantly, information about the project.
I truly decided to volunteer with UBELONG because it really was trying to make a difference in underdeveloped communities. They had an environmental project in Ecuador, something that really caught my eye. Furthermore, the website was easy to understand, all staff members were extremely helpful in guiding me through options and any questions I might have had.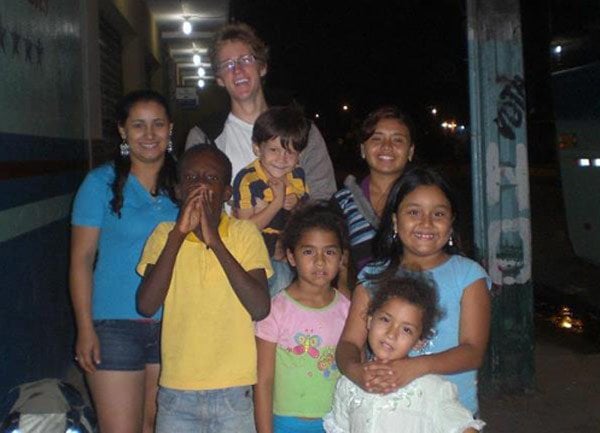 GO: Describe your day to day activities as a volunteer.
Max: As a volunteer, we traveled to different rural communities to help with different projects. My day to day activities as a volunteer were exciting--never the same day.
Going through a typical day, however, I would wake up around 7:30 in the morning, walk down the stairs of the fortress (I swear, the "volunteer house" in the "Coastal Forest" program was like a tree-fort, a hut...a humble, jungle abode...it was awesome). Traditional breakfast would be cooked while I chatted with fellow volunteers. Then, 8:00 a.m. came and it was time to work!
The volunteer project ranged from helping the local farmers in the area plant cacao seeds, build fences, build recycling and trash bins or clean up the beach, etc. I could go on. So the work was beneficial not only to the local community, but to myself. It helped we grow physically and mentally. In Ecuador, the people are so strong, I had to keep up, it was a challenge. About noon, we would all meet for a great lunch (chicken, rice, beans, typically) all cooked to perfection. After an hours break of work, we would go back out, partaking in a different activity.
Weekends were free time for the volunteers. I would hitch a ride into town, (attempt to) talk with the locals, head to the beach, surf a little (I rented the lifeguard's surfboard for a dollar) and/or relax in the little park of Muisne. Or we could take the many available buses to other towns in close proximity. Some weekends I would just relax and read at the reserve, something that is hard to do in the busy life back home. The gentle nights with a cool breeze provided a perfect situation while I drifted in the many available hammocks reading myself to sleep.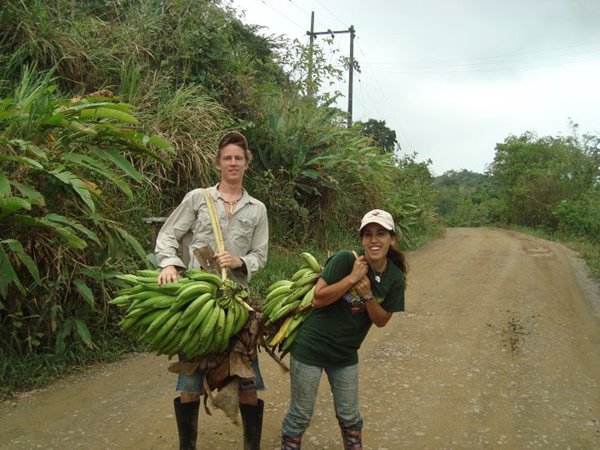 GO: How has this experience helped you grow personally and professionally?
Max: Personally, I had a lot of time to reflect on our riches back home in the U.S. and how unnecessary some were. Many of the kids I met in Ecuador (preschoolers and my age alike) seemed very content and happy with how little they had. I brought some of that humbleness back home here in the States. The experience helped me professionally by submerging me into a whole new city, (Quito was beautiful by the way) full of culture and energy. I was forced to speak Spanish (even though there were English speakers), bettering my social skills. Having to work with a whole new culture and people from all over the world--Germany, California, Norway and, of course, Ecuador--undoubtedly benefited me. The examples are genuine.
I would like to encourage people to volunteer with UBELONG. They are flexible, affordable and extremely helpful. They seek to make a positive impact. I do feel that people need excitement and something new in their lives, an international volunteer program in Ecuador will serve any person splendid. If you have a question, email Cedric and Raul and they will respond within days. I felt I really made a difference through the program in Ecuador. I now have friends in a new country, in a new continent, and we all keep in touch through the wonders of technology. I plan on returning and volunteering in the future with UBELONG; I highly recommend them as not only an organization, but as a friend.
Meet Denisse Alfaro, UBELONG Ecuador volunteer alum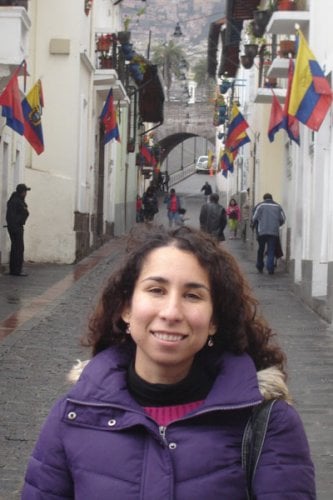 GO:Why did you decide to volunteer with UBELONG in Ecuador?
Denisse: I learned about UBELONG from a classmate at Johns Hopkins-SAIS. I researched the organization online, attended a happy hour and was very much pleased with the detailed information provided including program costs. I chose Quito, Ecuador as my destination because of the programs offered and because of its location in the Andes.
GO: Describe your day to day activities as a volunteer.
Denisse: I would spend the first half of the day helping the English teacher at a local school and in the afternoon, I would go to Santa Isabel, a small town in the outskirts of Quito and assist the local teacher in an after-school program. The schedule was flexible. However, people depended on your help and support. You're also looked up by the children.
GO: What made this experience unique and special?
Denisse: The whole experience was unique and special. I met really great local people and I made really good friends with other volunteers. Volunteering in Quito was very fulfilling. I was very happy being there.
GO: How has this experience impacted your future?
Denisse: At a personal level, volunteering is a very enriching experience. Volunteering in a developing country is definitely a reality check. Often, as human beings, we get so immersed in our daily lives and assume that the world is only made up by people in our surroundings and forget of those who encounter poverty. At a professional level, it helped me decide to further pursue my studies in Economic Development. I was so pleased with the volunteering experience that the following year I decided to do it again in a different country.
Meet Elizabeth Diaz, Ubelong-alum
Elizabeth Diaz is a 24-year-old alumna from the Ohio State University in the U.S. She is starting school again in June for her master's in education, and her goal is to teach primary school students in a bilingual (English-Spanish) classroom. She loves to travel and cannot wait to go back to Ecuador someday.
Highlights: The highlight of my volunteer experience was definitely working with local children. The children that UBECI serves work with their parents in the public markets around the city. They start working almost as soon as they can walk by helping peel vegetables or walk around the market looking for buyers. They are busy trying to help their families survive, so it is often difficult for them to have time to just act like kids. UBECI's main focus is to help these children enter into and thrive in the public education system, but they also try to create a safe space for the kids to come and just act like kids. The children are so grateful and happy when they see volunteers, it is really an amazing feeling. I volunteered for 8 weeks, and although it went really fast it was enough time to begin to get to know a lot of the children. I will forget their faces each morning that they would see our UBECI tent, books, puzzles, and toys.
Morning: I would wake up around 7:30am, get ready for volunteering, and then eat breakfast with my host mother. Breakfast always consisted of coffee or tea and bread. Lunch is the big meal there, so if you are used to a big breakfast, you might want to bring snacks to get you through. It is also really easy to buy fresh fruit and vegetables around town. (Just be careful to wash them with purified or bottled water.)
After breakfast, I walked about 20 minutes to the UBECI office. (UBECI is one of the local organizations that UBELONG partners with in Ecuador.) All the volunteers would meet at the UBECI office and travel to the projects together via city buses. United States currency is used in Ecuador, so it is a good idea to have a large supply of quarters (for the public transportation) and small dollar bills.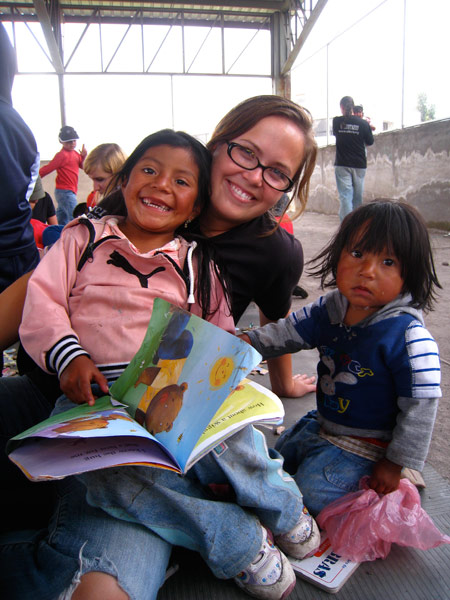 Afternoon: My afternoons were spent volunteering at an after-school program near one of the public markets just north of the city's historical center. When I first started I worked mainly with the younger children (about 2-5 years old). Along with another volunteer, we would read to the kids and play with them. After about an hour or so, one of the UBECI staff members would do a short lesson or arts and crafts project with them. After I had been volunteering for about a week, I started working more with the older children (7-11 years old). I would help them with homework and then teach short (30-45 minute) English lessons.
Evening: I would leave the after-school center around 4:30pm to go home. I walked 15 minutes to a bus stop and then took a bus about 25 minutes to my host family's home. I would hang out and talk with my host family during the time before dinner. That time was also good to use the Internet and walk around the neighborhood. It was not safe to walk around my neighborhood after sundown, so I would have to be inside by 6:30 or 7 at the latest. Dinner was usually around 7:30 and always consisted of soup and then a second course of meat (pork, chicken, or beef), rice, and beans or a salad. It was a really nice time to sit around with my host family and talk.
Meet Nick Tycom, UBELONG Ecuador volunteer alum
GO:Why did you decide to volunteer with UBELONG in Ecuador?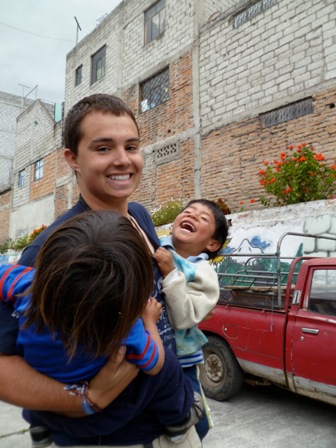 Nick: I saw the program in Quito as an opportunity to make a substantial difference in the health and well-being of children there while, also being able to immerse myself in the Ecuadorean culture and landscape. Even though I did not have a large amount of experience in the field of public health research (the specific project I volunteered in), I knew that with concerted effort I could be successfully make a change in the health of the markets I was working in and also gain experience in the healthcare/public health field.
GO: Describe your day to day activities as a volunteer.
Nick: The daily volunteering experience was fantastic! Three meals were provided from our home stay mom, so the day began with a breakfast of bread and butter with tea around 7:30. We would then take a bus to the home office of UBELONG's partner organization in Quito, and would meet up with all the other volunteers and workers. We would then depart as a group to whichever market we were working in that day since we worked in a different outdoor market each day. One thing every volunteer becomes proficient in is using the public transportation system!
Once we arrived in the market we would set up our play area for the children's program and would go our into the market to get the kids. Most of the children we worked with we're the kids of vendors who work in the market, and were generally in the age range of 1-14. We would then do different activities with the children, ranging from playing games, to reading and learning english, to drawing and working on math.
My specific project with UBELONG was to conduct a preliminary health assessment in the markets and conduct a research project on creating health education programs for the children in the markets, so I spent much of my time conducting interviews and making observations. A majority of the volunteers would do all the activities with the children in the morning, then go to lunch either back at their home or at a nearby restaurant, and then come back to work with the children again in the afternoon. We would normally return home for the night at around 5:30 or 6 and would have dinner with our family and then relax (or for me personally, work on my research paper).
I also loved being able to travel on the weekends! I was able to go to the rainforest, mountain bike and raft through the Andes, climb the tallest active volcano in the world, go to the largest market in Ecuador, stand on the equator, and much more in my short 4 week stay! The life of a volunteer is never boring.
GO: How has this experience impacted your future?
Nick: Volunteering abroad was one of the most rewarding experiences of my life. I definitely gained much more than I was able to give during my stay. Firstly, to be able to be immersed in the culture and live with a family was such a wonderful way to experience a country. Seeing all of the difficulties the families and children we worked with face on a daily basis has left me extremely grateful for all that I have been blessed with and passionate to give back in any way I can. My experience also showed me that it does not take a professional degree or fancy job title to be able to make a big difference abroad - all it takes is a commitment to help and a willingness to put forth your best effort while you are there! Professionally, I can honestly say that this was very influential in opening my eyes to the potential the field of healthcare and public health holds, and has given me in the field experience of how healthcare effects people's lives daily. My time in Ecuador also helped shape my long term goal of running a nonprofit focused on bettering the health of the most vulnerable abroad.
Meet Stephen Allegra, UBELONG Ecuador volunteer alum
GO:Why did you decide to volunteer with UBELONG in Ecuador?
Stephen: This past summer I spent around two months in the Congal Coastal Forest Reserve in Esmeraldas, Ecuador. I learned about UBELONG through my global health professor at my university. As part of my minor's field experience requirement, I had to choose a program for eight weeks which included a health project component. I found these qualities and much more in the program offered in the Coastal Forest Reserve. I admittedly, had my reservations about the being one of the first health volunteers to work through the UBELONG program here, but went with an open-mind and that was all I needed.
GO: Describe your day to day activities as a volunteer.
Stephen: Living and working on the northern coast of Ecuador was a significant lifestyle change compared to my usual summers at home in New Jersey. I shared a small biological reserve station bordering shrimp farms and an estuary with a few volunteers and local workers in the province of Esmeraldas on the Northern Coast of Ecuador. Our work activities were extremely varied from day to day. I assisted three days a week at the local hospital in a few departments including triage, outpatient, emergency services, laboratory, and in the delivery room. I usually shadowed one or two doctors who were in their last year of residency, which in Ecuador are usually spent in rural settings, or in the lab. I also witnessed three live births in the delivery room. With the two other days left in my week, I worked alongside the other volunteers and local farmers to promote environmentally friendly community practices. We assisted in cocoa harvesting, clearing land with machetes, planting corn, building fences, herding cattle, milking cows, and constructing trash cans. In addition to these projects, I assisted a Peace Corps volunteer with implementing three sets of sexual education workshops within the community for teenagers in order to discuss the social and physical repercussions of being sexually active.
Overall, my experience in Ecuador was one which I will always remember fondly. In addition to solidifying my passion for volunteerism, it was exciting to explore the many beautifully diverse places within Ecuador and eventually Peru, and my appreciation of Native South American cultures has grown immensely.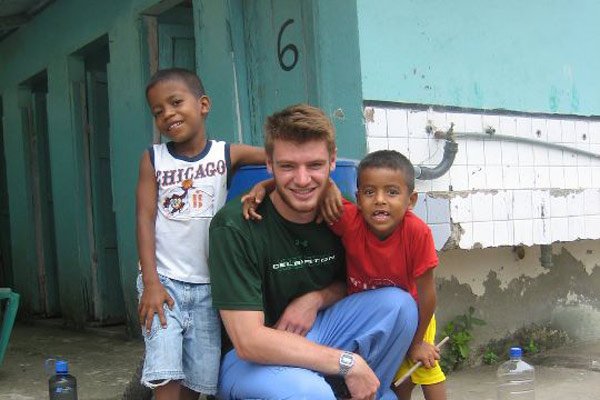 GO: How has this experience impacted your future?
Stephen: I was coming from my life at school where everything is so busy and fast-paced. I thought I could make an impact right away. But I learned that making a difference in Ecuador, or anywhere for that matter, takes time. You need to listen and be patient. You need to slow down and work with the local people and can't just impose on their culture.
First, I learned to be patient. It's a different place and I needed to let myself adapt. In another country, it was important to remember that cultural norms and pace of life are very dissimilar than back home. I simply had to persevere and not become frustrated if things did not work out as expected.
Second, I learned invaluable skills and information from other people. From my fellow volunteers to the locals, I met so many amazing people with a variety of backgrounds that I never was at a loss for company or discussion. There were a few German and Norwegian volunteers, as well as people from all walks of life at my station including even a college professor from Iowa. I also loved going on trips to explore the surrounding areas/towns and enjoyed meeting local people. I was really curious and intent on speaking with them, and I think that helped make my experience such a good one.
Third, I tried my best to learn Spanish. Even though I only needed the basics to get by, it was worthwhile to be able to speak with the locals in their language so I pushed myself. It was wonderful to be invited by the locals to watch soccer games and go to bonfires with them, and I thought if I could speak better Spanish that I'll enhance my trip so much more. Practicing was a daily hardship that I eventually became familiar with and as time passed my conversational skills picked up.
Overall, I became much more independent as well as motivated from this trip. I developed more confidence in my decisions and had to adapt to situations in which I had little to no familiarity. I became more of a self-starter in both my health projects and daily life. I enjoyed leading excursions to different parts of the coast on the weekends with volunteers and seized any opportunities to do new work for the reserve. Through this experience, I matured a great deal and developed self-confidence and the ability to step out of my comfort zone and succeed.
Further Info
About UBELONG
UBELONG is the most affordable, professional and supportive international volunteering organization in the world.
Volunteer abroad in Africa, Asia and Latin America from 1 week to 6 months.
We are based in Washington, DC and led by volunteers and leading university professors.
WHAT can you do?
Through our Volunteer Abroad program, for periods of one week to six months live in a community and volunteer on a community or environmental project.
WHERE can you go?
Asia: Cambodia, Vietnam and Laos
Latin America: Ecuador and Peru
Africa: Ghana, Morocco and South Africa
WHEN can you go?
Projects run year-round and you can join from one week to six months.
HOW much do you pay?
Costs start as low as US$350 for a 1 week placement.
Among other world-class services, you work 1 on 1 with a UBELONG Mentor and receive a Preparation Briefing, in-country orientation, housing, meals, project supervision and 24/7 support.
All of Their Programs