This year marks over 15 years of collaboration between Vermont-based Volunteers For Peace and grassroots organizations in rural Haiti! We have exciting summer and year-round opportunities in rural Haiti with volunteer work from construction, community development, work with youth, education about hygiene and sanitation, and much more! Visit our Volunteer Project List for specific project dates.
VFP works with community based organizations in several rural locations. Together with local leaders we decide on projects of benefit to the entire community. All our projects focus around clean water and hygiene, education, and sustainable gardening. In all locations our goal is to support the local community as well as young Haitians by sharing the value of volunteering and collaborative work.
Reviews
Alumni Interviews

Meet Tasia Duske, VFP-Haiti alum
GO: Why did you decide to volunteer abroad with VFP in Haiti?
Tasia: It was 3:30am; I was lying awake counting the glow-in-the-dark stars on my ceiling and thinking about what would make an extraordinary life. Earlier that day in a conversation around wellbeing, happiness, and summer plans a friend had said, "Think about your 90th birthday and all the years you've put behind you. What advice would your 90 year-old self give you about how to live life?" After thinking about it less than a second the words came out, "Make it extraordinary." Now, I was laying awake thinking, "what does an extraordinary life look like?" I thought of my sorority, Gamma Phi Beta, and our core values-love, labor, learning, and loyalty. I decided I wanted to fight for a common good, while building relationships, and experiencing a cultural exchange. An international service project fit that criterion.
I Google searched 'international volunteer programs' and Volunteers for Peace was the first organization I came across that was affordable on my student budget. After Googling any combination of Volunteers for Peace with "fraud, scam, disaster, etc." and finding zero results- I decided VFP was the one! I check out their Facebook page and inquired about a post regarding a project in Haiti for a kids' camp. VFP staff member, Chelsea wrote back instantly and I got good vibes from her. That's when I knew- a volunteer trip with VFP going to Haiti to interact with kids couldn't be anything less than extraordinary!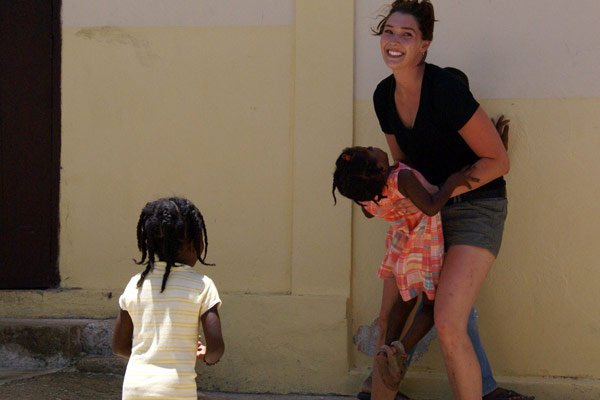 GO: What made volunteering in Haiti a unique and special experience?
Tasia: I'm dividing day to day activities into two categories: the week days at our kids' camp in LaVoutte and the weekends at CODEHA.
On average there were 4 international volunteers, including myself, working at the kids' camp in LaVoute. LaVoute was about 1 hour away from CODEHA (the community center that acted as our home base) and we left around mid-morning on Mondays to get there. Some traveled by car, while I always choose to ride on a motorcycle with a local volunteer. The drive was beautiful and exciting on the back of a bike. Once there, we set up our beds and luggage in an emptied classroom and went to play with the kids. Our camp was the pilot school for the "Clean Water for LaVallee" project and the teachers were taking a Community Health Promoter training, therefore we had a lot of freedom of what to do with the kids. We enjoyed playing circle dancing/singing games, doing yoga, duck duck goose, painting, and one volunteer even brought recorders for the kids to play music on.
As anyone that's been around kids knows, it takes a lot of energy to play with and entertain just one. Now think about 100 kids ages 4-16 and as you can imagine at times it was a little crazy. I'll paint you one picture: I was the only female at my camp so all the girls like to hangout with me. Personal space is different than the US- everyone is always in your bubble. I didn't speak much Creole and they didn't speak much English so communication was in gestures. Now one day I was making bracelets with the kids. There were 20+ kids in a 10 foot radius from me and we are all sweating in the hot sun. 40+ little hands were all over me and the supplies, pointing and poking while saying my name "Tasia! Tasia! Tasia!" I had my arms full of supplies trying to divvy it all out when one little girl decides she wants to braid my hair so she takes out my pony-tail and begins running her hands all through it. Just then a group of young boys comes around the corner tooting on recorders they'd gotten from Mark, another volunteer. "Toot, squuuuel, Tasia! Sqeuuuuk, Tasia, Tasia squeak!" etc, etc. As you can tell, it was a little hectic, but I wouldn't have traded it for the world. It was clear we're making an impact on them and vice versa.
A moment I'll never forget- I'm a yoga instructor and did several yoga activities with the children. One evening after camp we were walking around the town and a little girl, Liz, came up and "Tasia! Warrior I (went into Warrior I pose), Warrior II (pose), Triangle (pose), Mountain! (pose)." It was so beautiful. Moments like that, make all the craziness worthwhile.
The camp concluded around 4pm when the children went home. Local volunteers stayed with us at the school. The evenings we went on walks around the community and to a river nearby, we shared stories with the locals, played cards, and talked amongst each other.
CODEHA was mostly leisure activities, experience the community, and helping with gardening. I got up fairly early- 6am and practiced yoga. It gave me time to reflect on all I'd seen and experienced. We all had breakfast together in the morning and had opportunities to go to the market, a hotel that was close by, or stay and prepare dinner or work in the garden. There was a never ending supply of corn that needed to be sorted so we'd sit for hours, sort corn and share stories. A couple weekends we went on trips to the beach and a beautiful waterfall-I've never seen water so blue! We did a lot of exploring together and connecting with the local community members. Evenings consisted of typical camp "get-to-know-ya" games and we all became VERY close! Another volunteer brought a guitar so we often listened to music, drank homemade hot chocolate, and took in the simple beauties.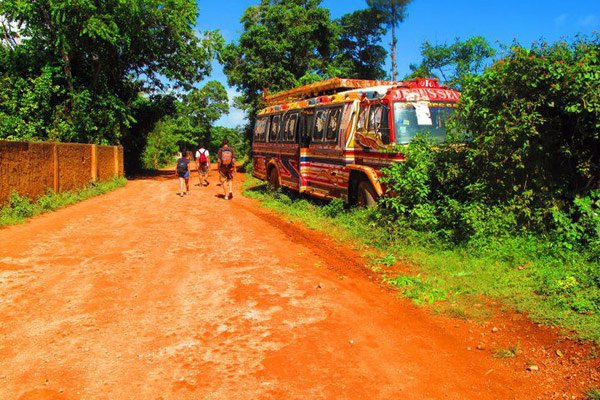 GO: How has this experience impacted your future?
Tasia: When I returned from Haiti, I was at home and my sister poured both of us a glass of cold water. As she passed me the glass, it really hit me on how much privilege I have in this world. A simple glass of water was so precious to some and expendable to others. My experience in Haiti has drastically reframed how I see the world. I feel as if I "get it" now. By that, I simply mean I see that there is so much more to this life than finding a job, a spouse, getting a raise, etc. I've seen how the acts of one person can change the world of many. As written in the Charter of Compassion, "Compassion impels us to work tirelessly to alleviate the suffering of our fellow creatures, to dethrone ourselves from the centre of our world and to put another there, and to honor the inviolable sanctity of every single human being, treating everybody, without exception, with absolute justice, equality, and respect." I feel a duty to live my life more compassionately.
Part of that, I've changed my concept of what a "career" looked like. I had the idea that a job consisted of waking up each morning to a "BUZZ... BUZZ.... BUZZ" alarm clock, commuting to a 9-5, coming home and relaxing from a stressful day etc, etc. Yet, it most certainly does not have to look like that. This realization has changed my career trajectory as I finish up my Masters in Clinical Psychology and begin thinking of life after grad school. While I originally planned to be a therapist, my eyes are now open to less orthodox professions. For example, since I love traveling, my education is focused around helping others process experiences, and I'm very active as an alumnae in advising Greek Fraternities & Sororities- I'm looking into jobs taking Greek Student leaders on international service trips. It's entirely possible to have a job doing something that you love, something you find meaning in, and still be able to pay off student loans!
Further Info
About Volunteers for Peace
Volunteers For Peace is a non-profit organization, founded in 1982, that offers placement in over 3000 voluntary service projects in more than 100 countries. Each year we provide almost 1,000 volunteers with invaluable opportunities to strengthen their ability to communicate in diverse groups, explore grassroots leadership opportunities, and build cultural understanding and connections around the world.
VFP offers service projects that arise from a grassroots, community based need for adults, teens, seniors, families and groups. Volunteers can choose between Short-Term Projects (Also known as Workcamps) where volunteers from 4 or more countries come together for a 2-3 week service project, or Individual Service Adventures & Gap Year Projects (Also known as Medium Term or Permanent Projects) involve working with VFP to create a personalized 2-week to 1-year experience.
All of Their Programs