If you're interested in conservation and the environment, volunteering in New Zealand with ISV is a perfect fit. ISV works in partnership with local conservation organizations including government and non government organizations (NGOs), private reserves and farms, and local grassroots community groups. While volunteering in New Zealand, you will be getting down and dirty to restore the beauty and natural resources of this green nation.
Your tasks could include: reforestation efforts, reintroducing endangered bird species, weed removal, planting trees, learning from the native Maori, limestone cave restoration, and pioneer mining. You could be placed on either the North or South island of New Zealand. Help ISV highlight and increase accessibility to beautiful natural environments for locals through your volunteer work in New Zealand.
Reviews
Alumni Interviews
Meet Sam Labadie, ISV-New Zealand alum
GO: Why did you decide to volunteer abroad with ISV in New Zealand?
Sam: Some representatives from ISV came to one of our lectures and started talking about this amazing experience they had overseas, and about the difference ISV's involvement is making. I remember wishing that I could go and do something like that, then I realized 'why not?' I went to their info meeting on campus, where they explained everything that we'd be doing at the different locations. The stuff about New Zealand especially caught my attention: white water rafting, jet boats, glacier hiking, aaaaand we get to help restore the environment! It made me so excited I couldn't sleep the next night!
GO: Describe your day to day activities as a volunteer.
Sam: We were in New Zealand for 4 weeks, 2 of which were for volunteering. My group (the luckiest as far as I'm concerned) were sent to Motuihe Island, just north of Auckland city. There were 8 volunteers including myself, plus one project leader working for ISV, and one Department of Conservation Ranger working for their government (both cool people). The ten of us were alone on this island for the most part, which was very cool, and everyone bonded instantly. We stayed at a house at the highest point on the island, where we took turns making meals and cutting wood for the fire. We'd throw breakfast together and be out the door by 8:30 am. We'd stop at the nursery to hear our 'Maori word of the day' and plan what to do that morning, learning the names of any plants we were going to be using. Loading our supplies into a trailer, we'd all hop on the back of a tractor and head out to a part of the island, maybe to weed Ramnus (which quickly becomes a swear word since it seems like its everywhere), or to plant native trees (like kawa kawa, manuka, or caro). We'd all break for 'morning tea' (usually a muesli bar), sometimes joined by fantails. Fantail birds are always easy to recognize by their fan-like tails (original name, eh?). Then, we'd continue until lunch. After lunch, we'd do something else, like digging up old fence posts, or beach cleaning (the beach cleaning allowed us to completely surround the island by the end of the 2 weeks). On rainy days, we'd do nursery work: plant seedlings into bigger containers and weed existing containers. After the working day was over, we'd all pile back onto the tractor and head home. On sunny days, we would all jump into ocean before dinner (it was their winter though, so not the warmest water you'd expect), someone would cut more wood and make a fire, and 2 people would be cooking. Once we were all curled around the fire, sometimes with a local treat our DoC Ranger would give us, our project leader would show us what the birds we saw that day were called and what they sounded like. After a day like that, rarely would anyone stay up past 9:00 pm though (I think our best was 10:00 pm). One night, we went out looking for a kiwi bird and found an old nest (no kiwi bird, but we did see a few morepork!).
We worked everyday (weekends too) except for 2 days off, where we went to Auckland. On one of those days, we detoured to Rangitoto for the first half of the day, it's a volcano! We got to explore lava caves and climb up to the rim of the dormant crater (reeeeally nice view from there), and we also got to see how our island compared to this one (we were doing pretty good too, we had much less Ramnus). By the time it was over, everyone was so attached to Motuihe that we stared at it as we left on the boat until it disappeared into the horizon.
GO: What made this experience unique and special?
Sam: This experience was extremely special, to each of us. We had to keep reminding each other 'Guys, we're in New Zealand!', because it all felt so surreal. We were pretty much alone, on an island, on the other side of the world. We were starting to know more about their culture and fauna than we did our own. The scenery was so otherworldly and beautiful. The people we were with became like family (or 'whanoa'), we were from all over (Canada, US, England, Ireland) and no one knew each other beforehand. It was amazing! And this is all before the adventure tour part of it, the last two weeks where we got to travel the length of NZ by bus doing a lot of neat stuff.
GO: How has this experience impacted your future?
Sam: After doing something like this, I can't wait to go travelling again, not as a tourist but as a traveller. Experiencing a country is so much different than just visiting one. It also makes you want to become more involved back home.
Sam Labadie, from Ottawa, Canada, is a 2nd Year Engineering Student at Carleton University.
Meet Kerri Onotera, ISV-New Zealand alum
Kerri Onotera volunteered from May 25th-June 26th, 2011 when she was 19 years old. She lives in Winnipeg, Manitoba, Canada and is in her 3rd year of university at the University of Manitoba.
GO: Why did you decide to volunteer abroad with ISV in New Zealand?
Kerri: I first heard about ISV through my university. They send student representatives to lectures at the University of Manitoba as well as many other schools in North America. This was a 2 minute presentation that got me thinking about volunteering abroad. I also have a friend who had travelled with ISV in Australia. After looking into ISV's website, the volunteer opportunity in New Zealand caught my eye but the adventure activities possible in New Zealand would make it a trip of a life time.
GO: Describe your day to day activities as a volunteer.
Kerri: I volunteered in Tawharanui Regional Park, north of Auckland. My job was labelled as a conservation job, but prior to going I had little idea of what that would entail.
Our general day is as follows: We would wake up at 6:30-7 am, prepare breakfast and our lunches for the day. Waking up at that time was not required but the sunrises each morning were unique from the previous day and completely breathtaking. We would meet with our volunteer coordinator and the Park Ranger. We would then discuss the day's goals and be briefed on the purpose of our work (relating to kiwi bird safety or to help remove unwanted rodents from the park) as well as any safety precautions.
Our work was different each day which was nice, that have some change. We removed trees that were encroaching on a predator fence, removed barbed wire that posed a threat to kiwi birds, helped prepare from a community tree planting day, built 2 solar panels, planted around 10,000 trees along with the aid of the community as well as a few other jobs around the park. The days were tiring but the jobs that we did were fun and required some physical exertion.
By the end of the day we were all quite tired but were required to have group discussions related to conservation and sustainability. After the day's work was finished we walked over to the beach to watch the sun set then got back to the volunteer house to cook dinner. Nights ended early but we often spent them watching the stars and chatting with our fellow volunteers and newly made friends.
On the weekends we were able to hike the trails around the peninsula, catch up on sleep or take a ride into a nearby town called Matakana. On Saturdays, Matakana was alive and busy with a farmers market, cafes and shops.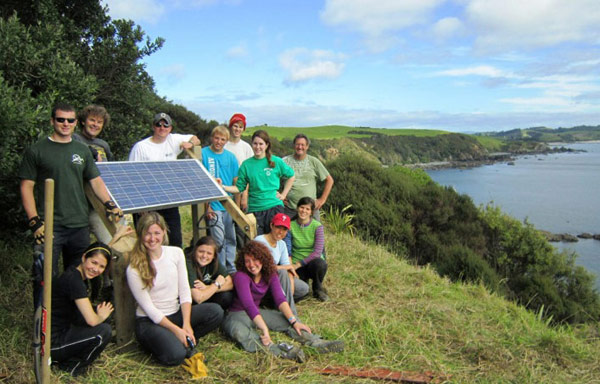 GO: What made this experience unique and special?
Kerri: Tawharanui is by far the most beautiful place I have been to. I went in New Zealand's winter but the entire park was green and lush. Working in a place that seems removed from the rest of the world where the beauty of nature is magnified, made working there such a pleasure. New Zealander's are truly passionate about conservation and adjusting to sustainable life, making it the perfect place do to this type of volunteer work. On the community planting days we were able to interact with different locals who were all more than friendly.
GO: How has this experience impacted your future?
Kerri: After spending 2 weeks volunteering at Tawharanui, I definitely live back home in a way that is more conscious of the environment. Living minimally at the volunteer house (no dryer for the washing machine and no plastic bags for groceries) has translated to every day life. I try to make sure I use energy efficiently, compost whenever I can and minimize waste products such as plastic bags. In a professional sense, I believe my volunteer experience will give me a degree of uniqueness in Medical school applications.
One of the best parts about volunteering with ISV was that at the end of the two week volunteer period we then proceeded to experience a 2 week adventure tour. This included sky diving, bungee jumping, underground caving, zorbing, white water rafting and many other things. Each on of my experiences in New Zealand were unbelievable and make me want to return as soon as possible.
Meet Alissa Azz, ISV-New Zealand alum
GO: Why did you decide to volunteer abroad with ISV in New Zealand?
Alissa: I choose to volunteer with ISV because they truly care about providing an educational and fun experience. Safety is their first priority and they have a great reputation. I really wanted to gain experience by volunteering and I also love to travel. I have to say that with New Zealand, the first thing that attracted me to the program was the adrenaline-packed adventure tour and it is definitely worth it! My volunteer experience greatly enriched my whole trip to New Zealand and gave me a better appreciation of conservation efforts made in the country, as well as educating me about sustainability and ways to continue to apply what I had learned when returning back home. I also felt like I was part of the community, especially with our encounter with the Maori, which was very special. I decided to volunteer to try a new experience, meet new people and do amazing activities, while learning about a new country. Finally I would just like to add, that I ended up enjoying my volunteer experience much more than I had anticipated, it's a very meaningful thing to do and you feel good about it.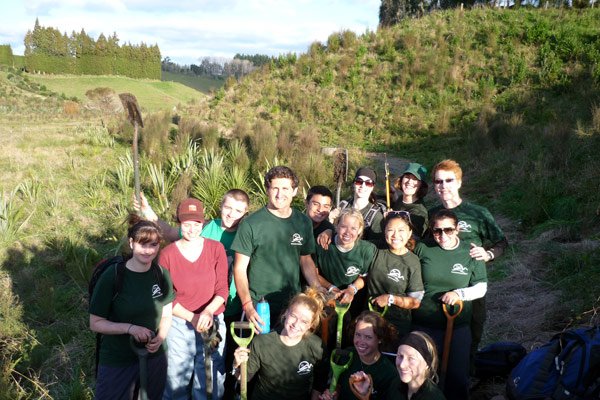 GO: Describe your day to day activities as a volunteer.
Alissa: We stayed our first two first at Aongatete Lodge, which was where we did our volunteer work. The lodge serves as a summer camp for kids during the summer, and we used it during the winter. A typical day of volunteering would include getting up early to help out in the kitchen, either preparing breakfast or setting out everything so that everyone could pack a good lunch (usually sandwiches) for the day. We were divided into three subgroups and alternated doing different tasks on different days; very organized. After breakfast our Kuaka coordinator would arrive and would instruct us on what we would be doing for that day. Most of the time we would have a short bus ride to get us on site. Most of our work involved tree planting and weeding, which I really liked and we also did track building and monitoring (tracking efforts to get rid of pests in specific areas). We would usually work until noon, have lunch and then work a few hours more. At night, we prepared supper and spent time in our groups doing educational activities and having discussions. When we were not doing that, we spent time in the common room/cafeteria and played games (i learned about 5 new card games) and listened to music and movies. That was for our first two weeks, then we travelled all over the place and stayed in the best hostels!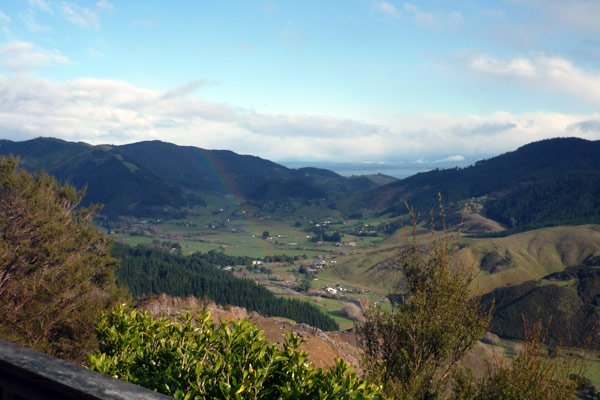 GO: How has this experience impacted your future?
Alissa: This experience has opened my eyes to different ways in which I can be involved in volunteering and also what concrete things I can do to play my part in helping the environment. Making us aware and helping us plan and apply sustainable development and responsible tourism was included in my ISV program. It has also opened my eyes and made me realize that I love to travel and would like to live abroad someday--and surely return to New Zealand. I met people from all over, made friends and I realized the importance of finding work that is meaningful to me. Academically, I would love to be able to find other opportunities to volunteer, maybe with people as well, like teaching for example. Personally, this was a very new experience for me, as I tend to be somewhat reserved, but this trip is all about teamwork so I loved meeting people and I also loved the idea of doing something new and exciting everyday.
Further Info
About ISV
Our mission is to create an environment that combines conservation, education, community development and recreation into the ultimate adventure travel program for participants who desire to make a difference by volunteering in communities abroad. ISV offers life-changing volunteer and adventure programs across 6 continents. Over 22,000 participants from around the world have experienced our volunteer, educational, cultural and adventure programs.
Many college and university students who participated in ISV Programs have also earned academic credit for their involvement. ISV is recognized as one of the highest rated volunteer and travel organizations in the world.
ISV is a non-profit organization in the USA, Costa Rica, Thailand and Ecuador. While our sending offices in Australia, New Zealand, UK and Canada serve the same purpose as our USA office (looking after students and sending them abroad), they are not registered as a non-profit.
Begin your adventure with ISV today!
All of Their Programs