Whether it be volunteering on our world-famous Lion Conservation Project in Livingstone, educating children in one of the country's most underprivileged communities on our Budget Teaching and Orphan Care Project, or volunteering on the unique Chimpanzee Orphan project in northern Zambia, we can guarantee that your time in Africa will be one that makes a difference and is never forgotten!
Nicknamed "the Real Africa", Zambia is rich with breathtaking natural scenery, unparalleled wildlife-viewing opportunities and some of Africa's warmest people. Not to mention that it is also home to one of the 'Seven Natural Wonders of the World': the magnificent Victoria Falls. We invite you to experience some of the best that Zambia has to offer through one of our unique and responsible volunteer programmes.
Reviews
Alumni Interviews
Meet Anthony Sandre, African Impact - Zambia alum
Anthony Sandre is from Windsor, Ontario, Canada and travelled to Livingstone, Zambia from August 20th, 2012 to September 3rd, 2012. He attends the University of Windsor and studies Chemistry and Biochemistry. He enjoys running, swimming and travelling!
GO: Why did you decide to volunteer with African Impact in Zambia?
Anthony: I decided to volunteer with African Impact because they are a very reputable company specializing in volunteer projects in Africa. African Impact is a very vibrant and fun company solely dedicated to making a difference and making sure that all their volunteers and staff are safe and having a good time. I also chose African Impact because all of the volunteers roomed together in one large building and travelled to and from projects together; this made sure that I never felt alone or uncomfortable.
GO: Describe your day to day activities as a volunteer.
Anthony: Each morning we would wake up at 7:00, have a typical breakfast of cereal and toast, and depart to project by 07:45. As a part of the medical project, we would either spend our time in the local clinics, at the Old People's home or out doing home-based care. Home-based care was truly fascinating - we were dropped off at the cusp of rural villages, armed only with a backpack of supplies, and we would move from house to house treating people with any and all kind of ailments. One of my most memorable moments involves cleaning and bandaging the old wounds of a male patient! The local clinics were always bustling with local people and always left us with a memorable morning; every Wednesday morning we would weigh over 100 babies at the Linda clinic!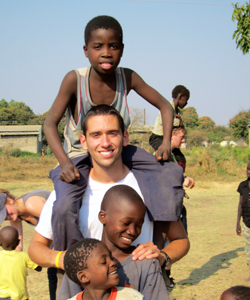 After eating lunch at 12:00 we would relax by the pool and catch some sun before it was off to afternoon project at 14:00! The array of afternoon projects that African Impact supported was truly amazing - these projects included: reading club, art club, after-school programs, YCTC, farming, HIV education at the local prison, football club and painting. No matter which project you are assigned, you are guaranteed to have a small group of children following you around and climbing all over you! A few of my favorite afternoon memories come from the after-school program and HIV education at the local prison. The after-school program included participating in games/activities with a whole bunch of children in an open field - all while kids climb all over you! The HIV education program at the local prison was truly amazing; not only were the prisoners very intent and appreciative of the information, it was a truly enlightening experience.
After arriving "home" from project at 16:30, all of the volunteers would hang out around the house or perhaps venture into town to the local markets. The local markets in town, like the Marumba Market, were great for finding unique items not typically found at the "tourist" markets, like quality Zambian football jerseys. The Curio market, a "tourist" market, was a 5 minute walk away from the Livingstone Backpackers and had everything from paintings to small wooden carvings - make sure to go towards the end of the day for the best deals! Dinner was at 18:00 and was always amazing - from home-made lasagna, to a full-out braai (Zambian barbeque) we were never left hungry.
After dinner, the Livingstone Backpackers became a fun and exciting place - the comfortable and relaxing atmosphere made it very easy for all of the volunteers to enjoy each other's company and get to know one another. Fridays were especially fun as most of the volunteers and staff got together to celebrate "happy hour." No matter what night of the week, there were always volunteers and backpackers alike sitting down by the bar enjoying a drink, having a swim in the pool or playing cards in the volunteer house! Whatever social scene you prefer, you are guaranteed to have a great time!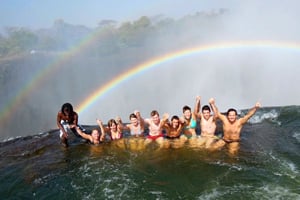 GO: What made this experience unique and special?
Anthony: This volunteering trip was unique and special because I was able to experience another part of the world that I may never see again. Zambia is a truly special place with an amazing landscape and even more amazing people, everyone was so welcoming and I felt right at home as soon as I arrived. While on project, I was able to get right into the action giving me a sense of satisfaction - I actually felt like I was making a difference. After leaving Zambia, I look back on the two weeks that I spent with African Impact and I have absolutely no regrets.
GO: How has this experience impacted your future?
Anthony: This experience has made me much more appreciative of all that I have in my everyday life. Volunteering in Zambia has made me realize that having your health and family, above all else, are the most important things in life. Also, I have come to the self-realization that whatever career I pursue, I would like to be helping those who are less fortunate than I am.
Meet Christos Habachy, African Impact - Zambia alum
GO: Why did you decide to volunteer with Global Volunteers in Romania?
Christos: I woke up one day wondering what it is I wanted do for Christmas and suddenly it hit me! I thought, why not try volunteer tourism... I would get to see new places, travel to real Africa, meet interesting people while at the same time I would be involved in something humanitarian. Believe it or not, it was a self-healing process, a wonderful trip and a beyond words experience. I didn't know African Impact until then, but after Googling "volunteer tourism" I reached the conclusion that this organization serves its purpose in a sincere and secure way.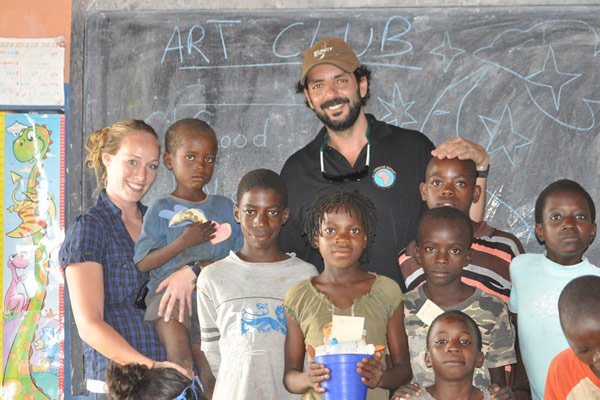 GO: Describe your day to day activities as a volunteer.
Christos: The day to day activities were pretty simple. We would wake up early in the morning, have breakfast, shower and then prepare for the days project. Depending on what your project was (medical, teaching, farming, old people, etc.) we would gather in the preparation room with the other volunteers assigned to the same project for the day and take all necessary equipment as well as discuss with them what it is we will be doing.
For example, I was teaching at an orphan's school in Livingstone, the Nakatindi. We would get our geography maps, our soccer balls, our pens and pencils, notebooks, picture books for children, and a few stickers to reward those children that come in time, and would later get in the van that would drop each volunteer at their project. We would spend the first few hours in the classroom and then we would take the kids out to play soccer..their favorite sport in the world. The first half of the day would end there. We would then gather by the volunteers house, have lunch, get some rest and head for the second half right after. That would either be Mwandi school, or the old peoples home where we would read the elderly travel books for example or play with them bingo and checkers. After finishing that half, we had the rest of the day free.
GO: How has this experience helped you grow personally and professionally?
Christos: There is more than one way this experience impacted my future, past and present on a personal basis as far as I'm concerned. First of all, I realized that these kids are happy the way they are. The Western world tends to think that we need to adopt a couple and offer them a better life. That's mistaken.
All they need is education. Education to move forward with their lives and do something. They don't need to leave their country, and believe me they don't want to. There are more lessons I took from these kids than what I gave them. And to that, all the volunteers agreed. The biggest one was that possession doesn't guarantee happiness as we tend to believe. A smile and a hug would do just fine.
Overall, it was an experimental trip for me, as it was something I had never done in the past. The experiment was successful. I'm leaving again in April for a different project, again with African Impact.
Meet Kayla Freemantle, African Impact Zambia alum
GO: Why did you decide to volunteer with African Impact in Zambia?
Kayla: The reason I decided to volunteer overseas was because I had always wanted to volunteer and have an chance to give something back. After consulting with a friend from college we decided to go volunteer together and thus began our research to find the right program for us. A friend from highschool had recently been involved in a volunateer program so I messaged her for more information which is how I found African Impact. After reviewing their website and the various programs they offer I felt confident in the organization and decided to send them an enquiry. The knowledge, accuracy and information on the website was really helpful and most questions could be answered through the website.
GO: Describe your day to day activities as a volunteer.
Kayla: Day to day activities vary but the basic schedule is the same. Every morning there is a house meeting at 6:45am. Here the manager, or intern in my case, goes over the board on which the days tasks are delegated.
The first activity begins at 7am and, depending on your task, a handler will come to the house and meet you to take you to workstation whether it be the Lion Enclosure, Meat Prep area, Bush or perhaps onto a vehicle if you are heading to a different site. Each activity your are placed on always has handlers or guides and sometimes management members so there is always someone to teach you, help you, answer questions and just have fun with. The first session is approximately 2 hours long and once complete you return to the house for breakfast cooked by the amazing house chefs. Second session begins at 10am and follows the same pick up/meeting arrangement with the handlers and lasts again approximately 2 hours. Occasionally you may have a double morning session where you will receive a packed breakfast, for example Dambwa Research you have lunch at the Boma on the Dambwa Release site grounds or if your are teaching at Maunga school on a Saturday Morning packed breakfast is provided.
After lunch the last session begins at 2:30pm again being collected by a handler and heading off to your workstation. This again lasts approximately 2 hours when you return to the house for dinner at 6pm.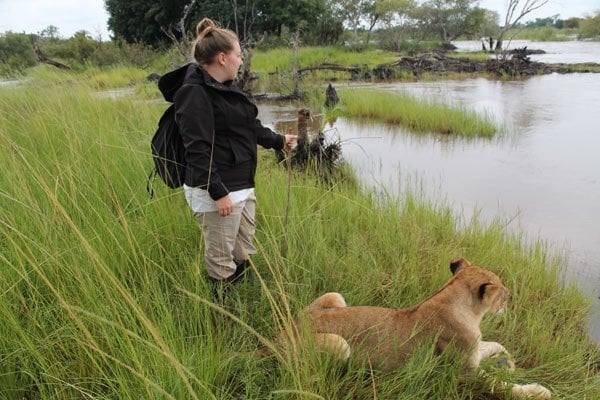 The evenings are free however if staying at the house there are limited grounds you can roam freely due to living within the national park and the fact that wild animals are roaming as well. Taxi's can be arranged for trips to town, our for dinner, optional excursions etc. There is also security at the house that can escort you to/from Bristol (another lodging area) or Thorntree Lodge (Guest lodge next door with a great deck and bar). There is also a TV with DVD player in the lounge and some board games for the evenings or free time. The various task you could be doing are Lion Walk, Client Lion Walk, Training Lion Walk, Meat Prep/Enclosure Cleaning, Enclosure Maintenance, Behaviour Enrichment, Dambwa Tour, Dambwa Research, Dambwa Enclosure Cleaning, Elephant Research, Lesson Planning, Conservation Club (teaching), Children's club (teaching), Tour of Tour, Town and Snare Sweeping. Of course there may be times when you have a session off or are away doing optional excursions.
GO: What made this experience unique and special?
Kayla: I think the people of Zambia have truly made this experience unique and special as all the handlers and guides were local Zambians and each of them make you feel welcome and part of the team, they are very friendly and encouraging as well. They are also very knowledgable on both their own and other countries so make sure you know facts about your own country as they will definitly ask.
The general public of Zambia that I had the chance to see were always friendly and said hello even when passing in the streets and those that ran the optional excursions were also great. Even the school children were very polite and eager to learn.
Not only locals made this experience special but the Management at Lion Encounter were also very welcoming, answered any questions you had, helped book tours and were a fun crowd.
Last but not least the other volunteers. There were 5 of us that arrived on the same day and we got on well which helped since I was traveling solo I knew I had people to do optional activities with, go for drinks or dinner etc. There were also some Univeristy students on site doing reseach who were locals but amazing people, so friendly, fun and encouraging. I can't not mention the amzing 7 Lion cubs I was able to work closely with and get to know, they could be doing absolutely nothing and bring a smile to my face!
GO: How has this experience helped you grow personally and professionally?
Kayla: This experience has impacted my future in many ways. It has made me look at life in a new light. Seeing how other people live with perhaps not as much as we have in the Western world really made me appreciate not only what I have but what I need. It really showed me that I can get by with the basics and still have fun, be happy and enjoy life. Through learning about the Lions themselves and the decrease in population it has opened my eyes to the need of this program and the value of the outcome of its success.
Professionally, being a travel and tourism college graduate, I have been able to see the direct influence of this industry to the economy of Zambia as without tourism the country would not be where it is today. If this program didn't exist and as a result the lions become extinct in Zambia the country will financially suffer through the loss of tourism as safari game drives and seeing African Lions is one of the major attractions of this country. Through this experience it makes me want to do more to encourage travel to the area and help promote the need of the Lion Rehabilitation Program and its success.
Further Info
Further Information About This Program
About African Impact
African Impact is an award-winning volunteer travel organization, offering meaningful interactive volunteer programs throughout Africa. We have come a long way from our humble beginnings at Antelope Park in Zimbabwe in 2004 where we started out with a single goal - to bring about positive change.
With over 8 years' experience, we are now the largest on-the-ground African specialists in volunteer tourism with operations offices in South Africa, Kenya, Tanzania, Zimbabwe and Zambia. We pride ourselves on doing things the right way, and are always seeking better, more sustainable ways to operate and offer responsible, safe volunteer experiences with long lasting positive effects on local communities and the physical environments in which we work.
We truly believe in making a difference and empowering our volunteers to do the same.
All of Their Programs