Volunteers are needed in Kenya to volunteer in a range of projects, including community development, sports education, HIV/Aids work, women's empowerment, teaching, and much more! IVHQ offers highly affordable volunteer programs in Nairobi and Kibera, the largest slum in Kenya, giving you an incredible opportunity to volunteer and make a difference in the local community.
Current IVHQ Volunteer Programs in Kenya:
Volunteer Teaching
Orphanage Work
Sports Education: Coach enthusiastic students a variety of sports in addition to classroom instruction.
HIV/AIDS Work
Medical Placement: Volunteers are placed in hospitals and dispensaries based on previous experience.
Music Program: Assist in instruction of the piano, guitar, and basic introduction to music. Volunteers should have a basic understanding of musical theory.
Women's Education Program
Highlights
Programs in Kenya start on the 1st and 15th of every month
Volunteer anywhere from 1 week to 6 months
All volunteer receive orientation upon arrival including a cultural and language introduction
Volunteers stay with a host family for an authentic immersion experience
Weekends are open for you to explore Kenya, and the East-African safari!
Learn more about IVHQ programs by reading the great reviews and interviews IVHQ alumni have left about their incredible experiences in Kenya
Reviews
Alumni Interviews
Meet Rayan Abdulwahed, another IVHQ Kenya volunteer alum
GO: Why did you decide to volunteer with IVHQ in Kenya?
Rayan: I have always dreamed of traveling to Kenya, but I didn't want to go just as a normal tourist. I wanted to visit the places that average tourists wouldn't normally visit, so I started searching for a good volunteering program. From around 5-6 different websites I found that IVHQ had a nice program with reasonable prices. I joined the IVHQ Facebook group and asked the past volunteers some questions. Two weeks later I was in Kenya!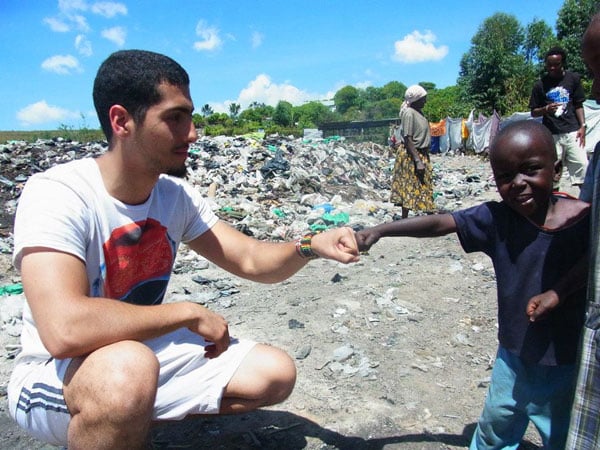 GO: Describe your day to day activities as a volunteer.
Rayan: I registered for the orphanage program so me and a couple of volunteers were assigned to an orphanage in the Nairobi area and stayed with the same host family. On weekdays, we all got up had breakfast and went straight to the orphanage where we had different tasks to accomplish. We started by organizing the orphanage's library to make it easier for the kids to find books to read. After the orphanage work, we had the rest of the day to freely explore our surroundings, buy souvenirs, or just have a friendly conversation with some of the locals. On weekends, IVHQ organizes some wonderful trips where we can go out and help others in need, explore different parts of Kenya and to simply enjoy ourselves.
GO: How has this experience impacted your future?
Rayan: It has certainly changed me from the inside. We all know that there are poor people living in this world we see them on T.V. and in magazines. But to be standing there amongst them, totally immersed, to be able to touch the children's little hands, breath the polluted air, and just take it all in is certainly an experience like no other.
Meet Domonique Young, IVHQ Kenya volunteer alum
GO:Why did you decide to volunteer with IVHQ in Kenya?
Domonique: It's been my lifelong dream to travel Africa. For as long as I can remember I've wanted to traverse its plains, experience its cultures and live with its peoples. As an adult, this translated into volunteering and as close as it gets to calling Africa home. My search started online, looking for an organization that was affordable, had a proven track record and offered placements in remote parts of Africa where culture and tradition is still lived. IVHQ ranked high on Google and offered teaching in Kenya's Maasai Land. I poured through a few reviews, picture galleries and joined their Facebook group, but was basically sold instantly. With more than 15,000 active members (at the time, now it's more than 17,000) surely they'd got it right? And they have.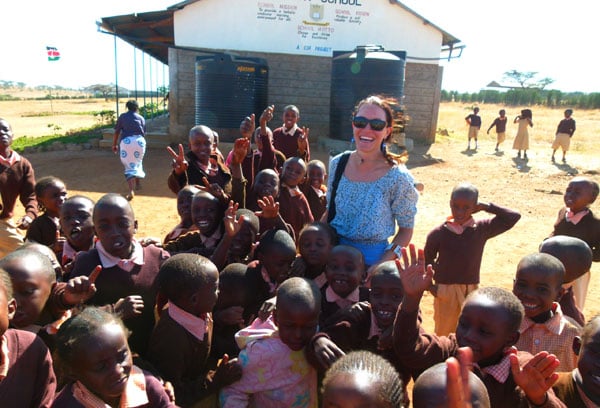 GO: Describe your day to day activities as a volunteer.
Domonique: Nick and I aren't teachers at home - far from it - so it's fair to say we were both apprehensive about what to expect. Any concerns however, quickly dissolved in the warmth we received from the teachers, students and parents alike. They were just happy to see us there and have an extra set of much-needed hands to help!
We were welcomed with a song and within 5 minutes the first class was ours. We started teaching about Australia, which was a hit, and geography soon became one of regular (and most popular) classes. We taught years 2 to 6 everything from maths and english to singing, baking, games and sport. The kids were so engaged and their zeal to learn was inspiring. Mostly, they just wanted to be with us and learn about where we were from and our games, foods and family at home.
We walked about 3km each way to the school and were greeted by their happy, smiling faces every morning. They'd also walk part of the way home with us. On weekends, we travelled independently, with other volunteers and visited other programs offered by IVHQ. If you go with IVHQ, don't miss their Outreach Weekend where you manage food handouts in a number of slums and camps across northern Kenya.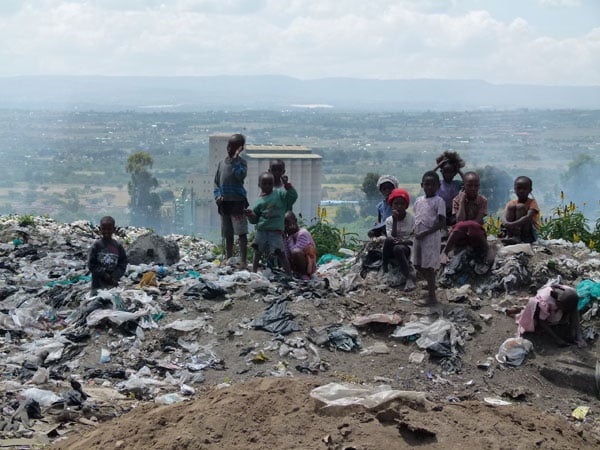 GO: How has this experience impacted your future?
Domonique: I've traveled to some far flung parts of the globe, but it took me a good couple of weeks to readjust to life after Africa. It was raw, and at times tough, but the people and kids really get under your skin. It reinforced why we sponsor our sponsor child Diouf in Uganda and how a little can really change lives. Nick and I are still in contact with our host family and the students in Kajaido and they remain ever-present in our hearts and minds. We'll go back one day, but for now we'll support them from afar.
Meet Sarah Colwill, IVHQ-Kenya alum GO: Why did you decide to volunteer abroad with IVHQ in Kenya?
Sarah: I have always had a real interest and passion for Women's education and rights and would really love to work for an NGO. So I decided that I would like to volunteer abroad working in this particular area to see if it was something that I was both good at and interested in when put into practice. I did a lot of research into which organization to go through and initially found a lot of large organizations that charged a lot of money for a small amount of time volunteering. When I first thought about volunteering I decided that I would only go with an organization where I knew where the money that I was paying was being spent, with the majority of which going to the projects that I would be working with rather than on third party admin fees.
When I found IVHQ I was really pleased that they seemed to tick all the right boxes! The price that they charged was considerably lower that most other large organizations, and also gave a breakdown of what the fees were for which I found really helpful. They were also amazing with correspondence whilst I was still in England, with personal emails being sent in answer to my often long and detailed questions! Responses were really helpful and it really made my decision to go much easier! And the Facebook group really helped settle my nerves, as you can contact previous and current volunteers with all your questions and get their first hand account. I decide to go to Kenya for the simple reason that they had a Women's Education program that sounded really interesting and just what I had been looking for! It's the best decision I ever made!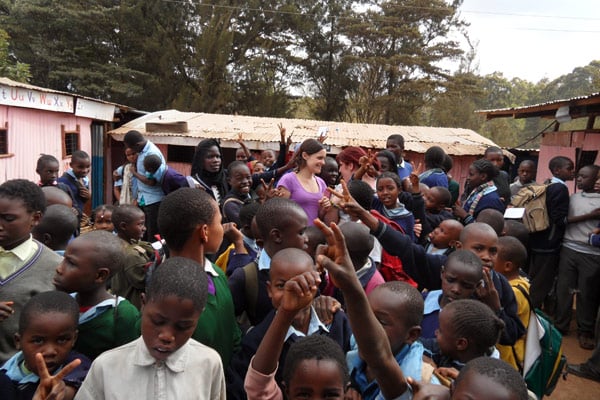 GO: Describe your day to day activities as a volunteer.
Sarah: Describing a typical day as a Volunteer is quite difficult as days are really varied and diverse. I stayed with both a host family and in the volunteer house during my 6 weeks in Kenya, so on a morning I would get up and have breakfast and chai with the family, or the other volunteers and my host sisters, and then I would start my day.
I was based in a high school and a Primary School in Kibera slum for a lot of my placement, so I would walk to the school and deliver sexual health and life skills classes to the students there. They were the most amazing young people I have ever met! However, we often went and held one off classes in other schools as and when they were needed or requested, answering questions that the young people had and making sure that they had all the correct information. Some of the questions I will never forget! We held Women's outreach days where we saw that there was a need for them. It is really a case of getting involved and adapting to where you see a need in the community. The staff were amazing with giving support and help constantly throughout the program. From personal problems when you just need to talk, to getting projects up and running and delivered. My Women's Education coordinator was amazing and was constantly there to help and assist and turned into not only a colleague but a friend!
One thing that I would defiantly recommend for all volunteers to Kenya is the Outreach Weekend. It is a brilliant way to see what long term projects and help the team give to the community as well as a great way to see a bit of Kenya. The day often ended with having dinner with my host family or with the other volunteers and host sisters. It's a great time to sit around and talk about your day and catch up. And there is loads of free time on a weekend to either get involved with other projects or to do a bit of sightseeing, of which the staff were always really helpful with giving tips or helping to arrange. I think at the end of the day, you can do as much or as little as you want as a volunteer and it is definitely a case of you get out of the experience what you put in!!!
GO: How has this experience impacted your future?
Sarah: I know that it sounds like such a cliche but I most definitely left my heart in Kenya! I loved everything about my volunteer experience, from the work that I was fortunate to be able to get involved with, to the amazingly wonderful people I met including the staff, other volunteers and the community. I think the biggest way that it has impacted on my future is that it has re-enforced my passion for Women's Education and International Development, and given me more of a drive for working within the charitable sector.
I'm currently back in England working for a large cancer related charitable organisation, and am determined to go back to Kenya at some point in the future. Hopefully my experiences gained will assist me in finally getting my dream job in an NGO working with Women's education. My time spent volunteering in Kenya has changed me as a person and helped me grow and develop, and I don't think that I can ever be the same person that I was before volunteering. Volunteering in Kenya was life changing and I'm so happy that I made the decision to go!!
Meet Laura Erdman, IVHQ-Kenya alum
GO: Why did you decide to volunteer abroad with IVHQ in Kenya?
Laura: To answer why I decided to volunteer with IVHQ in Kenya, I must first tell you why I decided to volunteer with IVHQ. Before embarking on this adventure I did my research. I looked up dozens of volunteer organizations and emailed most of them. Between the reviews I read online, as well as my personal experience with IVHQ I can tell you they are one of the best out there!
Not only do they have unbeatable prices, but also they were THE best as far as customer service. Of all of the organizations I emailed they were the only one to not only email me back with a personal response (as opposed to the dozens of automated replies I received) but also responded within a timely manner. This is a huge deal when you are looking at spending thousands of dollars to donate your time in a foreign country! I wanted to be sure that the organization legitimate, and also valued my experience with them!
Once I decided on IVHQ, deciding where to go was easy. I am not sure why exactly, but Kenya just called out to me. I remember looking at the world map they have on their website and my mouse hovering over Kenya and it was decided. I knew that was where I wanted to go. Reading the reviews for the program there, as well as talking with volunteers via Facebook only made my excitement grow! I could hardly wait until my trip!
GO: Describe your day to day activities as a volunteer.
Laura: My day to day life was not that of the typical IVHQ volunteer. I say this because during the majority of my time volunteering I lived at the volunteer house in Nairobi where I saw many people come and go, and I promise you we all had very different experiences. The most important factor in the experience was the person's attitude. Volunteering anywhere is what you make of it, and that is especially true when you are in an unfamiliar setting. I am one of those people who like to get involved in everything, therefore during my time in Kenya I helped out with several projects. My main program was a food distribution program in Kibera. This was a project that had been started just a few weeks before I arrived so it was still in the early organization phase. This meant that I spent time not only in Kibera working with other volunteers, but also time with the Fadhili staff helping to shape the project into what it has become.
Working closely with the staff was a wonderful gift! It allowed me to get involved with many other projects that were going on during my time in Kenya such as several medical camps, as well as a food aid relief mission to Ludwar which was most defiantly the best week of my life.
So, to answer your question, I don't know that I could describe my typical day. Each day varied depending on what project I was helping with. I will say that one thing that was regular was that we had tea with our host "sisters" every morning before all the volunteers parted ways to work on our respective projects! (a routine that I have kept now that I am home..the day just doesn't seem complete without a cup of tea in the morning) After morning tea I would take a nice walk to the office to either meet a group to go to Kibera with, or work on other miscellaneous projects that were in the works.
As I said earlier there is a huge amount of flexibility surrounding these projects. You are paying to be there, so they strive to make the experience the best it can be. Volunteers are allowed to change placements every two weeks, so if you are truly not happy where you are, they will find a fit for you. Though I cannot imagine someone not being happy with their placement, I traveled to many different projects and I loved every one of them!
GO: How has this experience impacted your future?
Laura: The experiences that I had with IVHQ this summer affected me not only personally, but also professionally. In June I will be starting Physician Assistant School, something that I am certain would not be happening without my time in Kenya. I say this not for the typical thought of "volunteering looks good on a resume", but because this trip prepared me for grad school in a way that nothing else could have. The experiences I had at the medical camps and at the clinic in Kajiado reminded me of why I want to be a healthcare provider, as well as gave me wonderful experience working with a medically disadvantaged population! During my undergraduate degree, I entertained the idea of becoming involved with Doctors Without Borders, or something similar after I attained my masters degree and after my experience in Kenya I am certain that is in my future! My time in Kenya was something I originally thought of as a once-in-a-lifetime opportunity, but now I realize was the beginning-of-a-lifetime opportunity - and I am thankful for it everyday!
Further Info
About IVHQ
IVHQ (International Volunteer HQ) provides safe, unique, meaningful and extremely affordable volunteer programs in 20 developing countries around the world, with a constantly expanding base. Programs are available in Asia, Africa, and Latin America, where IVHQ works alongside local NGOs to provide meaningful volunteer opportunities. Currently, IVHQ has programs in Mexico, Guatemala, Costa Rica, Colombia, Ecuador, Peru, Brazil, Ghana, Kenya, Uganda, Tanzania, South Africa, Morocco China, Nepal, India, Cambodia, Vietnam, Thailand and Sri Lanka.
Whether you're taking a volunteer vacation, a gap year, or on a career break, IVHQ has a wide variety of programs ranging from 1 week to 6 months to fit anyone's schedule. Browse through the programs below and visit the IVHQ website for more information.
All of Their Programs