Volunteer in Tanzania with IVHQ! With diverse NGO partnerships in Tanzania, IVHQ is able to offer a variety of highly affordable volunteer programs in Tanzania. A diversity of volunteer programs are available for volunteers, including teaching, orphanage work and medical programs. Volunteers are free to join to the program anywhere from 1 week to 6 months, giving you flexibility to plan your volunteer vacation, gap year, or career break.
Current IVHQ Volunteer Programs in Tanzania:
Teaching
Orphanage Work
Medical Placement: Healthcare facilities aren't readily accessible for many Tanzanians, and this IVHQ volunteer program helps bridge this gap by placing medical volunteers in villages and townships where they are needed the most.
Highlights
Volunteer programs in Tanzania can be joined anywhere from 1 week to 6 months
Programs in Tanzania start on the 1st and 15th of every month
Last year, over 300 IVHQ volunteers joined projects in Tanzania, with numbers growing every year!
All volunteers receive a cultural and language orientation upon arrival
Volunteers will either stay with a host-family or a volunteer house depending on placement.
Join other volunteers or explore Tanzania on your own during your free time!
Learn more about IVHQ programs by reading the great reviews and interviews IVHQ alumni have left about their incredible experiences in Tanzania
Reviews
Alumni Interviews
Meet with Shannon Fisherkeller, IVHQ Tanzania alum
GO: Why did you decide to volunteer with IVHQ in Tanzania?
Shannon: I decided to volunteer because most of my life I have traveled, done volunteer work and see amazing things, but I had never been to Africa and I had never done such a trip independently of my family. When I found IVHQ's program, and saw how low the fees were, I was shocked!
It did take me a good amount of time of talking to others that had done the program before (via their well-used Facebook page) to convince me that this was not a scam, just a company who really wanted to be able to both help small volunteer organizations contribute to their communities AND give young people an affordable way to participate.
(It is good for a potential IVHQ volunteer to note the IVHQ itself partners with local organizations, they themselves do not start programs in the country. However, the means that they charge lower fees and are also able to actually put some of the fees towards your placement. Meaning the kids actually got some of the money I paid, this does not happen in most other volunteer situations. They do have representatives from IVHQ check in on the program often, to make sure that all is well.)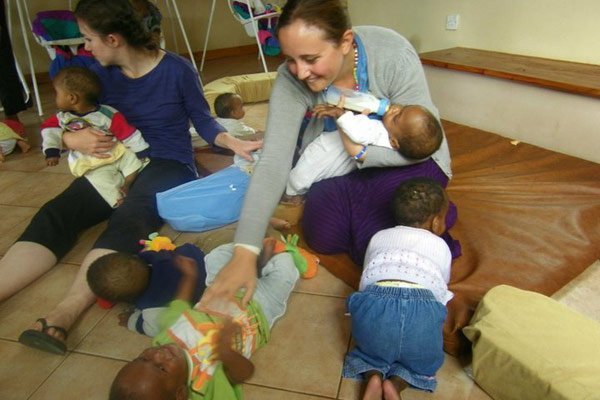 GO: Describe your day to day activities as a volunteer.
Shannon: I worked at a baby orphanage, which was different from many of the other volunteer's placements, which tended to be primarily in schools. I took two dala-dalas (local "buses") to work 5 days a week, and occasional weekends, pretty much by myself. There was someone to help me get there the first few times, but as soon as I was comfortable, I was okay to be on my own. Daily life consisted of being there with the children, playing and feeding for several hours. It was tiring, heartbreaking and empowering all at once.
GO: How was this experience unique and special?
Shannon: This experience was unique because I feel like for the first time in a long time, I was surrounded by like-minded people. I lived in the volunteer house with people from all over the world who had a desire to travel, help children and have fun! It was just as easy to engage in a conversation about clean water for a village as it was to have a laugh with them. We went out to clubs almost every weekend, so there was a good deal of partying that we did too. We were well supported in getting safe taxis and going out in a safe way. The kind of people who volunteer seem to be the kind of people who have their head on straight, and still want to have a bit of fun.
We were also given opportunities to go on weekend trips, like safaris, Zanzibar and to visit the Masaai village of our house's guard, which was in itself a life changer (In one sentence: I drank goats blood....).
GO: How has this experience impacted your future?
Shannon: I have gone to get another degree in childhood and education, and have taken classes in childhood studies (which often involves studying lives of children in poverty or non-Western contexts) as a result of going to Tanzania. It has also really sparked my interest in voluntourism with young adults, which I hope to incorporate into a career someday! It changed my life. I had a whole new perspective on what it means to be human, what it means to be American, what the world can really be like.
I also met some wonderful people who I have kept in contact with and have visited from all over the world! For someone who has never left the country, there are plenty of people to learn from (both locals and well-traveled volunteers). For someone who has seen the world, this is seeing the world in a whole new way. I would be happy to answer any questions anyone has about the program!
Shannon is from the San Francisco bay area of California. She went to Arusha, Tanzania in the summer of 2010 when she was 23 years old, right after graduating from college with a BA in Child Development.
Meet Alyssa Spence, IVHQ Tanzania alum
GO: Why did you decide to volunteer with IVHQ in Tanzania?
Alyssa: I decided to volunteer with IVHQ for a couple different reasons. First, was the extremely affordable price. In total for program fee, flights, spending money, and side trips I spent the same as other companies were looking to charge me for just the program few.
Second, was the fact that I got to read past volunteer reviews and through their Facebook group got to ask questions that past volunteers answered. I also got to meet the other volunteers I would be in Tanzania with which was nice because there were familiar faces once I got to the volunteer house.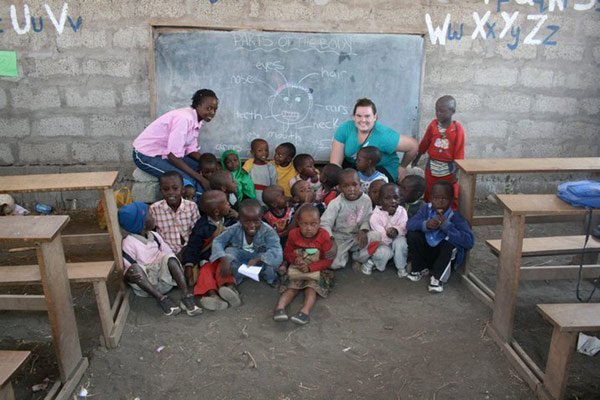 GO: What made this volunteer abroad experience unique and special?
Alyssa: I think what made this volunteer experience unique and special was the children and the Tanzanian culture. I was able to visit children's homes and meet their families, really seeing how the people lived here. It was definitely an eye opener. The children were always so excited to see me and never wanted me to leave. People are so welcoming and love to show you their culture. The other volunteers there made it unique as well. We were a group of like-minded individuals who got along really well.
GO: How has this experience impacted your future?
Alyssa: Well, since returning from Tanzania I've enrolled in Swahili (the language of Tanzania) class at the university I attend. I am really more aware of the world now and I've become addicted to volunteering. I'm going to Peru with IVHQ in May and hope to return to Tanzania next summer. I sponsored one of the children at the orphanage I worked at and I plan to continue sponsoring her for the rest of her elementary and high school years. I fell in love with Tanzania and I hope to return and live there for a few years after graduating.
Meet Rhianna Blanch, IVHQ in Tanzania volunteer alum
GO: Why did you decide to volunteer with IVHQ in Tanzania?
Rhianna: I wanted to volunteer with IVHQ because they were the most affordable volunteering organisation that I could find. They also replied back to my email inquires very fast and also provided loads of helpful information about the program. IVHQ also had a Facebook page where I was able to talk to other people that have done this program.
GO: Describe your day to day activities as a volunteer.
Rhianna: My day would begin around 8:30am at the orphanage. I would teach math in the morning until about 10:30am and then I would have morning tea with the headmaster and the orphanage coordinator. Once the kids had finished their porridge and I finished my morning tea, I would play games with the children, run around with them and in general talk to them. After morning tea I would then go back to class and teach English for the rest of the afternoon. Lunch was about 1pm in which I ate with the headmaster and coordinator. After lunch, I would then play with the children until it was home time at about 2:00pm.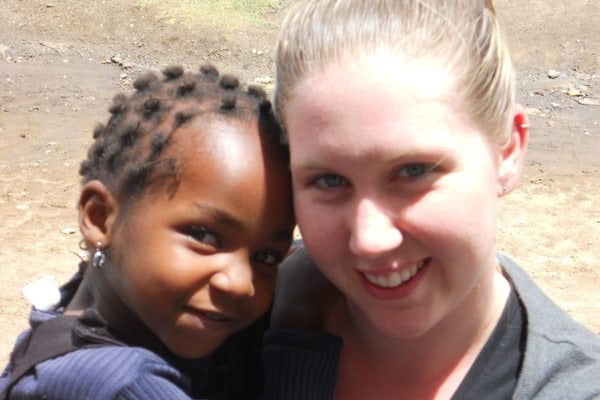 GO: What made this volunteer experience unique and special?
Rhianna: The most unique part of this experience was that we were able to get to know a lot of the locals at the volunteer house as IVHQ employs locals to work at the house. I meet some amazing people through this, some I still keep in contact with now.
The children were also the most special part of the volunteering experience. They are the most amazing like kids in the world. I also often had a number of local community members coming up to me off the street to say thank you for helping the children. It was very special to know that the community was thankful.
GO: How has this experience helped you grow personally and professionally?
Rhianna: I have definitely learned to appreciate the 'little things' now. I am very thankful that I live in a wonderful place. I have also sponsored one of the little girls in the orphanage (which will make this my second sponsor child). The orphanage often contacts me to let me know how she and the other students are going.
I definitely look at things such as poverty, sickness and homelessness in a different way now. Its easy to see how these kind of things all effect each other and the outcomes are often really devastating.
Rhianna Blanch volunteered in Tanzania from November 14th-29th 2011. She lives in Rockhampton Queensland, Australia. She's a 21-year-old full time university student studying psychology and working part-time as the manager of a psychology practice.
Meet Melvin Jimenez, IVHQ Tanzania alum
GO: Why did you decide to volunteer with IVHQ in Tanzania?
Melvin: I was looking for an volunteer organization that was secure, because that was my main concern, and a friend of mine had already traveled with IVHQ but he went to Kenya. He gave me all the information and when I look into it I felt it was well organized, everything explain and as soon as I applied they were helping me all they way through until I left Tanzania.
GO: Describe your day to day activities as a volunteer.
Melvin: The problem was the distance, we had to walk like 20-30 minutes to the dala stop, then a 20min ride to town and then more walking to the school. But once we were things went ok. We arrived and reported to the teachers, then the two of us that were there had a braille class where we learn how to write and read. By 12 we had a lunch break of bread and chai and afterwards we spend the rest of the day with the three blind children. What I did was I made lists with English and Swahili words so that they could learn English and I could learn Swahili. By the end, we made a cardboard with a person silhouette and we add pieces of paper where we wrote, in braille, the names of the parts of the body. Another thing we did was, we made bracelets with bells and the children's went crazy when we gave it to them.
GO: What made this volunteer abroad experience unique and special?
Melvin: Going to a country with a different culture was already a unique experience. What I appreciate the most was all the people I met. Not only the volunteers were great, I made a lot of good friends, but also people in Tanzania, the teachers and coordinators were always there to help me and they all made the whole experience as easy as possible. Teaching blind children was just something that I never expect I would do and although at first I was afraid, as days gone by I was really enjoying everything I did. And of course in my free time I travel around Tanzania and that was quite an experience meeting other travelers and more volunteers around the country.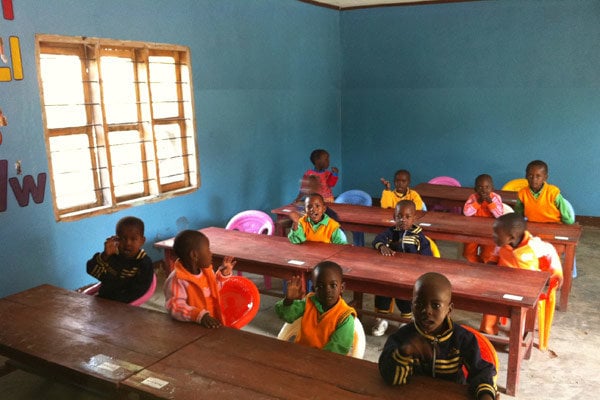 GO: How has this experience impacted your future?
Melvin: Many of the volunteers were teachers so they had some experience but I'm not a teacher so I have to figure it out how to become a teacher. Personally I think it makes me a better person, it helped me to solve problems and survive in an environment which was a lot different from the place I come from. Although I felt really secure all the time, you could not escape from the insecurities of any big city so I had to learn to move by myself there and take care of myself. The whole experience definitely changes you in many ways and it opens your mind and prepares you to new challenges.
Melvin is from Mexico City, and he volunteered in Arusha, Tanzania from June 15 to July 22, 2011. Melvin was a 22-year-old film making student at time he was there.
Meet Megan Sloter, IVHQ Tanzania alum
GO: Why did you decide to volunteer with IVHQ in Tanzania?
Megan: I was disappointed by the lack of affordable study abroad opportunities at my school for people interested in education, so I started looking into volunteer options I could do on my own over the summer. I wasn't sure if I could actually make it happen when I began researching, so I looked for cheap programs that would allow me to travel somewhere I had always wanted to go but had never thought would happen, and ultimately decided on Africa. I started looking at different countries that I'd like to travel to in Africa and Tanzania had it all - safaris, mountains, beaches, and people in need. IVHQ is an affordable program that some friends had used to go to different countries and had liked, and it also had a teaching program, so I was sold!
GO: Describe your day to day activities as a volunteer.
Megan: As a volunteer, my day began early in the morning with breakfast at the house with all the other volunteers, then we would go our own ways to our various placements around the city and rural neighborhoods - hospitals, orphanages, schools, etc. An hour (2 long walks and 2 buses) later, I'd arrive at my classroom full of 16 eager 4-6 year-olds. I taught for anywhere from 2.5 to 3.5 hours in the morning, working on math and English with the kids, would have lunch and recess with them, and then either travel to other classrooms and schools associated with my program after lunch or head back to the house.
It was difficult because the students had no English background and few resources (I was teaching in a class alone) but it was also a challenge everyone else in the house faced, so we would share lesson ideas and make plans together and give feedback on how things were going - it was great having the support to go home to! Sometimes I would meet other volunteers in town for the afternoon - there were always projects to work on and supplies to buy at one of our placements! Nights at the house usually involved sitting around outside with my housemates or going out to dinner a few times a week to try new local places and get a feel for the city.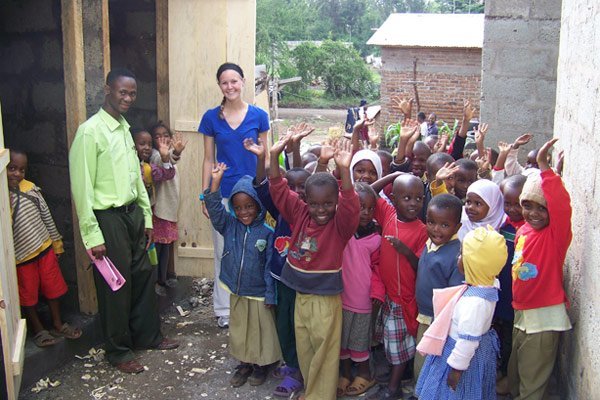 GO: What made this volunteer abroad experience unique and special?
Megan: It was special because I went there knowing nobody on the entire continent and left with family. I lived with and met so many great people, was challenged, and was able to make a visible difference in the lives of my students. There were always people at the house who wanted to travel and explore, so each weekend there was a new adventure to go on - anything from waterfall hikes in the mountains to safaris to beach holidays. Trying to describe the experience is nearly impossible, which has just made me hold on that much tighter to the memories and the friendships from the trip.
I think it says a lot that 7 of the people I lived with are going back this summer and many end up returning after their first trip - I know that I plan to return as soon as I can! The culture is so unique and the people want to share their lives and culture with you, so if you go into it with an open mind and open heart, the experience can be life changing.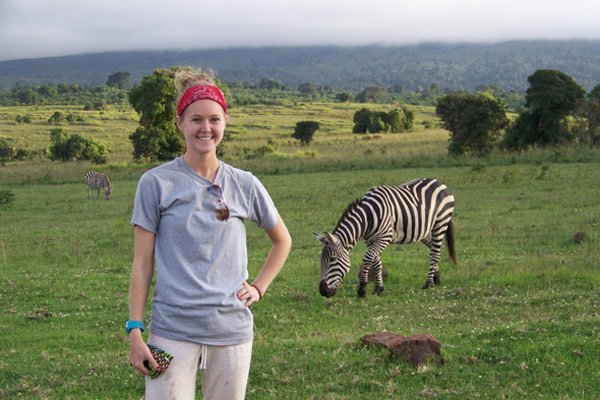 GO: How has this experience impacted your future?
Megan: I hope to return to Tanzania again in a year (two years after originally having gone) and would love to keep it as a place I return home to every few years. I've remained involved with a non-profit organization I got involved with while teaching there (Cheti Sponsorship Program) and am now proudly sponsoring the education of a former student to get her through primary school.
I've also decided that as I continue my travels throughout my life, I want to do it as much as possible through volunteering. The experience of spending 3 months in a place and living in the culture is so much more rewarding and powerful than being a tourist jumping from country to country.
Professionally, I got experience teaching a classroom all on my own (no resources, no supervisors, language barriers, etc) before going into student teaching my last year of college - it made me so much more confident being in a modern American classroom - I had resources and advisers and anything I could possibly need! I also decided I wanted to teach abroad for a few years and am now signed on to teach in El Salvador following graduation. I'm so excited for the next adventure, but it would have never been something I would have felt like I could do without having this previous experience in Tanzania.
Megan Sloter went to Tanzania in the end of April through beginning of July in 2011. She is from Charles City, IA and lives in Mt Vernon, IA. Megan, 22-years-old, was a full-time student at the time of the trip and now is an Elementary teacher.
Further Info
About IVHQ
IVHQ (International Volunteer HQ) provides safe, unique, meaningful and extremely affordable volunteer programs in 20 developing countries around the world, with a constantly expanding base. Programs are available in Asia, Africa, and Latin America, where IVHQ works alongside local NGOs to provide meaningful volunteer opportunities. Currently, IVHQ has programs in Mexico, Guatemala, Costa Rica, Colombia, Ecuador, Peru, Brazil, Ghana, Kenya, Uganda, Tanzania, South Africa, Morocco China, Nepal, India, Cambodia, Vietnam, Thailand and Sri Lanka.
Whether you're taking a volunteer vacation, a gap year, or on a career break, IVHQ has a wide variety of programs ranging from 1 week to 6 months to fit anyone's schedule. Browse through the programs below and visit the IVHQ website for more information.
All of Their Programs