Why did you pick this program?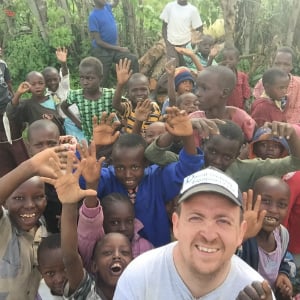 I have been concentrating on fundraising for charities in the UK over the last few years. I have seen footage on the television of deprived people living in awful living conditions for a number of years and I have always wanted to help, but I didn't know how to. Although many people don't have the same philosophy as me, I feel we are very lucky living in the UK.
My brother and father had visited Nakuru, Kenya, in previous years through trips organized by Derby County Community Trust with African Adventures and they suggested that I join in 2014. After doing some research on African Adventures, I could see what they had achieved and what they wanted to achieve in the future. I had no doubt whatsoever that they were the right organization to travel to Kenya with.
African Adventures provides consistent, long-term support to various communities in Africa. They don't stop after one visit. I think that it is very important to give continual assistance, helping to build on the progress made by other volunteers and the African people. It helps give children the chance of a better future through more accessible education.
African Adventures do not send staff to work at their partner projects in Africa. All the projects that they are partnered with have been set up by and are run by local people, and this is very important to African Adventures; they do not want to dictate their needs, they simply want to support them to develop. The local staff at the projects are extremely welcoming and have become friends; they know that we have no hidden agendas and we just want to help. We come as one into this world.
What do you tell your friends who are thinking about going abroad?
DO IT! Don't think about! DO IT! Apart from getting married to the love of my life and having children, it's the best experience of my life. You learn so much about the world and about yourself. It changes you for the better!
What is one piece of advice you'd give to someone going on your program?
Open your mind and embrace everything that is given to you. At first I was apprehensive about what to do when the children approached me, this is a new experience for me, at home there are restrictions and limitations on what you can do and rightly so. But in Kenya, they are so happy to see you, they want to feel wanted and loved. So, I cuddled them back, held their hands, gave them high fives, it's what they want, seeing their huge smiles just from that, gives you a warm feeling inside. This sums up my two trips perfectly.
What's your favorite story to tell about your time abroad?
I loved the interaction with the children I met in Nakuru, even when not at the projects. The children in Kenya have so little and yet they are grateful for what they do have. On my last visit I took 250 small teddy bears with me to give to the children, and seeing their faces when they caught a teddy was priceless and made me so humble; they were so happy.
One of my favorite moments is going back for the second time and seeing a boy called James that I met the previous year. Like in a clip from a movie, both of us saw each other and ran at the same time, I picked him up and swung him round, giving him a massive cuddle. He said that he was scared that I wouldn't remember him. I reassured him that I have never forgotten or would not ever forget him.
What's one thing you wish you would have done differently?
I would like to learn more about the culture of the Kenyans, learn more Swahili. I would also like to try to understand the Kenyan people more in general in their day-to-day life and how their religion helps them.
Describe a day in the life of your program.
After an early breakfast, a typical day involved us driving through the city to the location of St Trizah's new school site, where we were constructing the building from scratch. During the short trip we would wave and greet the local people, looking at the beautiful scenery as we went. A day on site consisted of us constructing new classrooms using the different techniques, tools and methods that the Kenyan workman are used to. Lunch was delivered to the site and we would enjoy some down-time after working hard all morning.
Mid-way through the afternoon, we would leave the site after a hard day's work and normally stop back at the current school site to see the children, spend some quality time with them and listen to their life stories and their hopes for the future. In the evening, we would have dinner and spend a lot of time discussing the day and learning from each other's experiences.