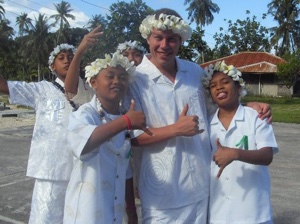 Why did you pick this program?
I picked this program because of the commitment time. Compared to the other program I was looking at WorldTeach was a yearlong commitment and I can do anything for a year. When having to choose American Samoa I had never heard of it before but a quick google search and I was hooked. Not to mention the program was a deposit that was fully refundable at the end of my time, so in essence, FREE.
What do you tell your friends who are thinking about going abroad?
If you re going to go abroad, don't be a tourist, be a local. The best way to do this is through a program like WorldTeach where you work and live in a community and can spend long enough to really be there and make a difference in your own life and in the lives of others.
What is one piece of advice you'd give to someone going on your program?
Bring an extra pair of Goggles and some great hiking sandals. If you are really adventurous and ready to get the full experience go to an outer island where it is a truly different experience.
If food constraints are an issue think about setting up a mail buddy that can ship you non perishables from home or the main island that you may not be able to find if you are on an outer island.
What's your favorite story to tell about your time abroad?
I really enjoy the water. One of my most favorite things is being out on a boat. My dad had lived near the ocean when he was my age and had some old snorkel things that I took with me. He really encouraged me to try to spear fish. So a local friend took me out and we worked on spear fishing for a couple of days. Even with a beautiful reef and plenty of fish it was difficult for me to do.
As I was swimming I saw a large flounder. It settled on the bottom and hid. I may have trouble hitting a moving target but I had this one. I set my sling and let it fly. I was so excited I got the fish. When I turned around everyone was cheering for me.
I was so proud that I had caught dinner. When I looked back at my fish all I could see was a shark swimming toward it. I was so upset I started yelling and trying to move as fast as I could towards shore. When I finally made it with fish in hand all I could think about was that I wasn't worried about the shark getting me, I was worried about my fish. It was then that I knew it was going to be a wonderful adventure.
Why do a trip of service when you could just visit?
For me doing a program like WorldTeach allows you to get more out of your time than if you were just a normal tourist. There is so much you miss, and those places just for locals that a service oriented program allows you to experience.
Why not teach a class of amazing students and spend your afternoon on the beach; or spend a night on the beach participating in local customs like the palolo rising? Being a part of a global community through these kinds of programs allows you to become local. That is what it is all about.