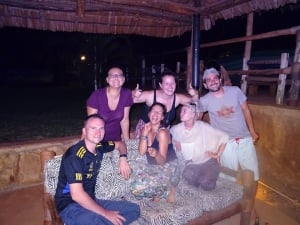 Why did you pick this program?
I had previously volunteered with African Impact in Zambia and was familiar with the program. I was very concerned with choosing a reliable program because I had read that some voluntourism programs are detrimental to the places they try to help. I also have always wanted to go to Tanzania, so when I saw that they had a volunteer option in Moshi, I jumped for it.
What do you tell your friends who are thinking about going abroad?
Do it! It is the best way to travel. I am not one to just sit on the beach all day. I like to experience a culture and meet new people. This program allowed me to mix my travel desires - climbing Mt. Kilimanjaro, going to the Serengeti, seeing Zanzibar - with my volunteering. I was able to 'see the sights' while at the same time really getting to know the country I was in.
What is one piece of advice you'd give to someone going on your program?
Try to learn a bit of Swahili before you arrive. This isn't necessary (all of the program coordinators speak English and they will actually give you some Swahili lessons), but it makes a big difference to the people you work with because it shows you care. I bought a phrasebook and made some notecards of common words so I could quiz myself until I knew them.
What's your favorite story to tell about your time abroad?
I was able to take a day off from volunteering to travel to the Serengeti and stay there overnight. During late October the wildebeest migration is at the northern border of Tanzania, and the animals must cross rivers to complete their migration cycle. Thousands of animals wait at the riverbed until a single wildebeest makes the jump in, then the all follow to the other side. I was able to see one of these famous river crossings and even snapped a picture of a crocodile as it wrestled with the wildebeest in the river.
What should I pack?
African Impact provided information about what to pack, but also suggested that extra space could be used to bring supplies. I brought a 50lb duffle bag full of supplies like books, games, and office supplies. I asked for donations from places I had worked at and shopped the clearance bins at local stores to find cheap, but really useful supplies. We have things readily available to us in America that they just don't sell anywhere in Moshi.