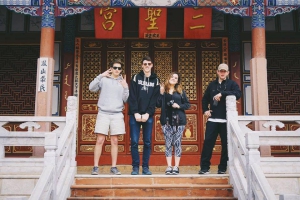 Why did you pick this program?
From the moment I started studying Chinese my freshman year of high school, I became infatuated with everything about the culture and the language. Then, when I was able to go on a 10-day trip to China during my sophomore year of high school, I fell even more in love. Since then, I had always planned on studying abroad in China in order to immerse myself in all things China. I knew that being there for an extended period of time would not only improve my language skills, but would also allow me to gain a better understanding of the culture. I chose the IES Beijing Center after my Asian Studies advisor recommended the program to me. She personally had visited the center and gotten it approved for University of Michigan credit, and she believed it was the best program available.
What did your program provider assist you with, and what did you have to organize on your own?
IES was very helpful! They provided us with a pre-program orientation packet, which included packing lists, airport instructions, and many other important resources. I did however have to find my plane ticket by myself, but Delta and other large airlines offer plenty of flights.
What is one piece of advice you'd give to someone going on your program?
Don't stress the little things! Before going, I was anxious about all of the little details, like how would I get to and from the airport, how would I buy school supplies or groceries, or how I would get a subway ticket. Everyone worries about these little things, but don't let them bog you down! IES is ready and willing to help you with all of these things. In fact, our orientation answered most of these questions before I even had to ask!
What does an average day/week look like as a participant of this program?
A typical day at the IES Beijing Center started with Chinese class from 8am to 10am, with a quick break in the middle. After, most students would continue onto language elective courses, which included everything from Chinese slang to studying Chinese films. Then, we'd have time to ourselves to relax, catch up on homework, or eat lunch until Area Studies courses on some afternoons. These courses, taught in English, were 2-3 hours long but usually very relaxed and entertaining. After classes ended, we would have free time to do whatever we'd like, including homework, exploring the city, napping, or anything else that came to mind!
Going into your experience abroad, what was your biggest fear, and how did you overcome it and/or how did your views on the issue change?
Living in China is easier than expected! Before going, I was terrified of what my living situation would be like. I was also afraid of living in a place that was so different from my current situation. Honestly though, living in China was so much easier than I had expected it to be, and if you're having a rough time adjusting or just having a bad day, the RAs and professors are always there to help you however they can.
What did you do in your free time?
A lot of people ask me about what I did in my free time! I enjoyed doing a range of activities. Some days, friends and I would arrange trips to local landmarks such as the Lama Temple or the Temple of Heaven. On other days, if we felt like doing less touristy activities, we would find time to go shopping, see movies, or explore any part of the city that we hadn't gotten to see yet. Beijing is full of endless activities - you'll never NOT find something to do.