What inspired you to take a gap year in Salamanca, Spain with Aspire by API?
Charolette: I was looking for a different route to continuing my education. I had decided that I wanted to study abroad in Spain, and so I began looking into different programs. I fell in love with API because everyone was so organized in the office, also everyone was so nice. I felt like it was a really secure match for me and I knew I would be taken care of and helped along the way. I chose to go to Salamanca, Spain because it was a smaller city of most students my age. I am so happy that I chose to go there, because everyone from Salamanca speaks such clear Spanish. I learned a lot, and it was nice to be able to walk everywhere I needed to go.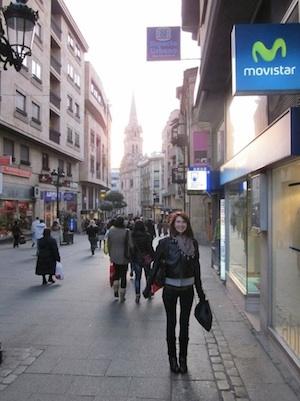 What were some highlights of your travels?
Charolette: I was in Salamanca for nine months, so I was able to travel a lot. API has certain places already included in the program. With API we went to Paris, Rome, Sevilla, and Barcelona, as well as some other smaller Spanish cities. I made some really great friends while I was in Spain. We traveled to Amsterdam, Dublin, Brussels, all over Spain, the UK. Once I made Spanish friends I was invited to travel with them to their homes. One of my favorite trips was visiting the family of my dearest friend, Sandra, in Barcelona. We had such a great time. I spent a lot of weekends in Salamanca. There is always so much to explore in a city, and Salamanca is no different. I really got to know all of the different parts of the city, and I liked to look for different cafes in parts of the city that were less visited. Salamanca is such a fabulous and beautiful city, and it is hard not to want to be out in it, exploring.
How has this experience impacted your future?
Charolette: My time abroad has had a huge impact on my life. Firstly I have made amazing friends from all over the world, that I know I will be in contact with for years to come. I also have a much more directed view on what I want to accomplish in life. Coming out of my gap year, I have a very clear view of what I think my education should look like, and of the directions I might take to get there. Being able to speak Spanish, has also opened many doors for me. I am currently working for an organization that's offered me a position largely in part to my Spanish conversation abilities. Living in Spain enabled me to grow up from my high school days and become an active member of the greater world. I was changed a lot from my time in Salamanca, completely for the better. I would not give back any of my time spent in Spain, because it has made a huge impact on who I am and what I will do with the rest of my life.