First tell us a little about yourself and your trip.
Bob: My name is Bob Rackleff. My trip went from June 9 to September 21, 2011. I live in Tallahassee, FL, where I was an elected Leon County Commissioner 1998-2010. I was a Washington DC-based political speechwriter 1974-81 -- including two years as one of President Jimmy Carter's speechwriter -- chief speechwriter at Time Inc. in New York, then a self-employed corporate writer after 1986 in Tallahassee. I'm 68 years old, married, three grown children.
Why did you decide to volunteer with AJWS in Uganda?
Bob: I completed 12 years as a Leon County (FL) Commissioner in late 2010 and looked for a new challenge of useful work. I have long been active in social justice activities, beginning in the late 1960s civil rights movement in north Florida, and I wanted to do something like that overseas, using my long experience as a writer and communications professional since 1967.
My wife has been an emergency medical coordinator with Doctors Without Borders since 1995 and, while on mission in post-earthquake Haiti, noticed the AJWS presence there. In early 2011, she suggested that I contact AJWS, which I did, and decided to apply for a volunteer assignment in Africa.
When I was accepted for a June-September 2011 term, my original assignment was to be a communications consultant with the Gay and Lesbian Coalition of Kenya, based in Nairobi. However, that NGO experienced internal problems, the AJWS staff decided against sending me there, and instead assigned me to the National Association of Professional Environmentalists (NAPE), a Ugandan NGO based in Kampala.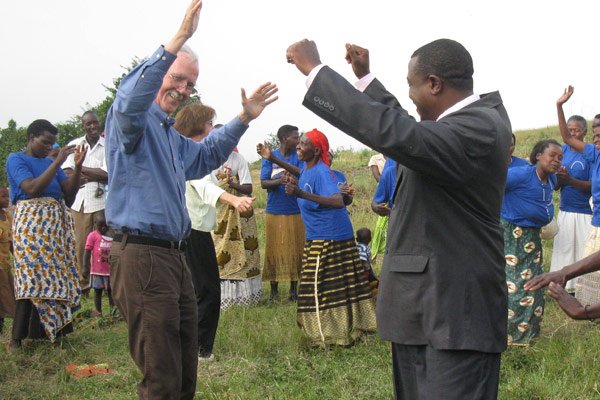 Describe your day to day activities as a volunteer.
Bob: Another AJWS volunteer and I shared a 2-bedroom apartment within a half-hour walk to the NAPE offices, a walk that included many new sights and sounds each time. My neighbors were friendly and welcoming, but were greatly amused that a muzungu (Swahili for white guy) was on foot; only poor people walk, goes the popular wisdom there.
My assignment was primarily to reinvent the NAPE website, which had been been barely functional for years, and the NAPE staff of 17 was eager to let me loose on the task -- and I went to work the first day. The offices are in a walled compound in a poor neighborhood and had relatively good services -- electricity (with backup generator for frequent outages), sewer and water, and internet service. My MacBook Pro laptop from home served me well, as did the Orange wireless modem I bought locally that provided access to the Internet everywhere I took my laptop in Kampala. I kept in touch by buying a cheap but adequate cell phone purchased for about $20 after I landed at Entebbe Airport. Cell phone service is ubiquitous, inexpensive and reliable -- much better service and price than AT&T here -- I phoned my wife in Florida daily at a cost of about 6 cents a minute. You can buy minutes virtually anywhere -- from street vendors, kiosks, shops.
Except for the occasional field trip or outside meeting, I spent work days at my laptop, writing new content for the website and organizing new features. I also helped with political strategies, press announcements, event planning, and research. I proposed management systems to administer the website efficiently. I conducted writing skills training for staff. I drafted a phased schedule of technology upgrades, such as migration to a faster internet service provider and more capable software, remote online backups for all office computers, and improved printing and copying. I also proposed a sustainability task force for the NAPE compound -- including rainwater retention and rain gardens (it rains a lot there), planting more shade trees and photovoltaic panels to reduce electricity costs. During my last week, I bought an avocado tree and planted it in the compound.
My office hours were weekdays from 8:30 am to 6 pm (when everything is locked up) -- so I frequently brought work home, including weekends. When not working, I usually wrote a weekly email to friends back home, describing Uganda, my immediate surroundings, my work, and assorted navel-gazing. I wrote 15 emails, totaling about 45,000 words, which I might expand into a book-length memoir. I wanted to tell friends what I was going through, but I also wanted a record so that I could remember details about this important life experience.
Traveling up Entebbe Road into central Kampala 12 kilometers away was a chore, so we usually stayed in our neighborhood on weeknights. We had no car, so we depended mostly on matatus (Toyota 14-passenger minivans) that are inexpensive and reliable, but also uncomfortable and slow going; they stop and start frequently to pick up and discharge passengers. We occasionally used more costly "special hires," similar to taxicabs but have no meter and require bargaining the fares each time; we had one driver on call, who was quite good about picking us wherever we were. AJWS strictly prohibited us from riding a "boda-boda," motorcycles that can weave through traffic jams but have a disturbing accident record; despite often strong temptation, we avoided them.
What made this volunteer experience unique and special?
Bob: The experience was extraordinary for numerous reasons:
This was my first time living overseas for an extended period since serving in the U.S. Navy in the mid-1960s -- and only time in sub-Saharan Africa. It was way outside my comfort zone culturally and intellectually, yet familiar in many ways.
Uganda's culture is fascinating and complex and a healthy antidote to retirement (which I refuse to acknowledge) in 21st century Sunbelt America. Its government is a hybrid of authoritarian and democratic behaviors. Its people work very hard, improvising myriad ways to make a living, adjusting to new crises and opportunities. You can see the perils and promise of rapid urbanization in Kampala's slums which, for all their miseries, were starkly better than life in rural Uganda.
My daily life was total immersion in the life of ordinary Ugandans and their conditions, although I could retreat to my comfortable apartment or an expatriate shopping center or restaurant when I needed a break. This challenged repeatedly both romantic notions of the nobility of poverty and any cynicism I occasionally fell into about the undeniably serious problems around me. Everything I saw defied easy explanation.
I worked with a group of gutsy trained professionals who are serious about their mission -- which includes publicly opposing the President of Uganda and his enforcers. Many had graduate degrees in science or public administration from European universities, even though they also were usually the first generation of their families to live away from the farm. Their dedication is admirable.
Although threatened by short-sighted development practices, the natural beauty of Uganda is stunning -- from Lake Victoria and the Nile River to the fertile plains of the Rift Valley and mountains along the east and west border. It was a strong incentive to do a conscientious job to help NAPE strengthen its environmental protection programs. It was also a great object lesson about what America could face if it ignores the long-term environmental impacts of global warming and destructive development.
The economic dynamism of sub-Saharan Africa was plain to see, countering the popular impressions of Africa as a hopeless continent. The emerging middle class and increased economic opportunities there suggest a much brighter future.
How has this experience helped you grow personally and professionally?
Bob: The experience affected me in ways I am only beginning to understand. Here are some impacts I know about:
The experience whetted my appetite for more international work, and I've pursued new opportunities with several U.S. foundations and NGOs; no success yet, but still trying.
It taught me that I can be adaptable and culturally sensitive.
It reminded me how much I like to work, so I've pursued new job opportunities in writing and advocacy.
The experience helped deepen my commitment to the Jewish duty to pursue justice -- learned both from my own reflections and from the company of fellow AJWS volunteers, all who had grown up in Jewish families. I grew up in a plain vanilla WASP family. I converted to Judaism three years ago at age 65, so I have a lot to learn; this helped.