Why did you decide to volunteer with CCS in Brazil?
Scott: I knew I wanted to volunteer abroad and I knew I wanted to go to Brazil because I spoke Portuguese. I looked for companies that had volunteer opportunities in Brazil. CCS had a program in Salvador, Brazil and it looked interesting. I was a little skeptical to give so much money to a company I had never heard of. They had an information session nearby given by a recent CCS volunteer that went to Africa. I attended and heard about her good experience. That convinced me to go ahead and sign up. I am so glad I did.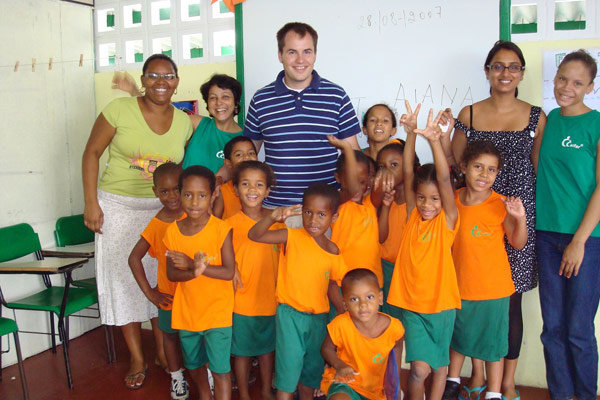 Describe your day to day activities as a volunteer.
Scott: On a typical day, I would wake up and get ready before heading downstairs for breakfast. The home base where all the volunteers live has a cook. The made local food but they would take requests and I taught the cook to make American style pancakes.
After breakfast, we would all get into the CCS van that was going to our placement. Our van had volunteers going to a Madre Teresa which was like a day care organized by some Sisters of the Catholic Church. We dropped those volunteers off first and then headed to a school called CEIFAR. I taught two English classes. The first one was for younger kids 7-9 and the second one was for kids 10-13. I got a little material from our house manager at CCS but I had to develop lesson plans myself. I did have other volunteers with me most of the time.
After classes, the kids would have lunch and then go home. As they were eating lunch, we would pack up and wait for our ride. The van would pick us up and head back to the home base where lunch would be waiting for us.
After lunch we had the opportunity to attend a culture or language class depending on the day, or go on a tour. On the tours, we would take the vans to historic parts of the city with a tour guide they hired.
After the classes or tour, we had free time. We would check out the city on our own or find other activities in the area. The house manager recommended events and activities for us to attend. We had dinner provided every night and after dinner the volunteers would often go out to the historic center of the city to hear live music, or go dancing.
I felt like I wanted to do more volunteering so the staff arranged for me to volunteer in the afternoons at an orphanage. The cook would make me a sack lunch and the van would pick me up from CEIFAR and instead of taking me back to the house, he would take me to the orphanage. I had less free time but I really enjoyed spending time with the kids.
We had weekends free. Meals were still provided on weekends but I usually found myself traveling to tropical islands or other amazing places and didn't spend many weekends at the house.
How has this experience helped you grow personally and professionally?
Scott: The biggest impact the experience had on me was personally. I gained perspective, made lasting friendships, saw amazing places, and felt like I was able to make a difference. The principal of CEIFAR took me on home visits one day since I spoke Portuguese and I got to see the homes of several of the students. It was humbling. It's amazing that people can be so happy with so little. My experience in Brazil is one of my most highly valued experiences of my life.
Some volunteers were able to get some kind of credit for college through the program but since I was done with school, I didn't. There was even a freelance writer that volunteered for 4 weeks and wrote about the program in a major publication.