Why did you decide to volunteer with DWC in Rwanda?
Shannon: I found DWC at Club Days at the University of Victoria where I talked to the volunteers in the booth about what they were doing and why. Dan (our leader) told me that DWC was a small, local organization based out of Kamloops that works with in-country host partners to fund and work on projects chosen by the community. I immediately liked the small scale of DWC in that you know exactly where your money is going and that the community has chosen the project based on their needs. There are so many large scale organizations that go into developing countries and build hospitals that they assume are needed but fail to train nurses and doctors and administrative staff, and the hospital quickly is abandoned. What is the point of all that time and money spent for it all to go to waste? I wanted to know exactly how I was going to make a difference.
With DWC, I learned the projects have already been planned out by the community and in-country partner, and that the local people would be working side by side with us to complete the project. I longed for an experience where I would interact daily with the locals and live the way they do, so I could really learn about the culture and people of Rwanda. DWC filled all my criteria in a volunteering experience and within 5 days of being introduced to Rwanda, I was signed up!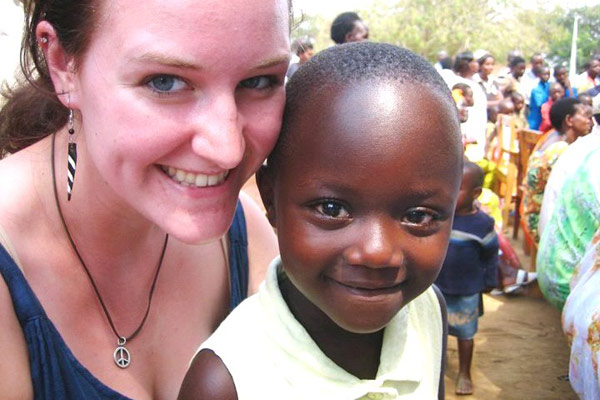 Describe your day to day activities as a volunteer.
Shannon: We were up early each morning to have breakfast (usually egg, bread, coffee, African tea and occasionally fruit) around 7:30. We aimed to be on the work site around 8:30 - the women and children always beat us there and would be waiting for us! The first few weeks we were assigned teams and tasks - but we soon found that each volunteer should be matched with a task that they were suitable for. For example, the strong men worked the brick making machine because it required a lot of strength while the women mixed cement, dug trenches, cut grass and carried debris away from the site. Once we were given the opportunity to choose our own tasks of the day, everyone was happy and our progress became visible.
We would have 'banana break' or Umuneke (banana in Kinyarwandan, the local language of Rwanda) break twice a day, and take an hour for lunch to eat and hide from the hot midday sun. After work, we would have free time to do laundry, relax and explore Gashora, or sometimes we would go and have a couple drinks with the locals at La Reference, our favorite watering hole.
Dinner was around 7 (if I remember correctly) at La Palisse, where we were staying: red sauce with meat (beef, chicken or goat), rice and cassava (a root vegetable) were common meals for dinner. We had free time after dinner where we would sometimes have group meetings, a sing-along with the boys who had brought guitars or just relax in our dorm area after a long day of work.
The work was very difficult, especially under the hot sun - but seeing that little bit of progress on the site each day, and seeing how happy and grateful the locals were to have our help, made every sunburn, every bead of sweat and every callous worth it.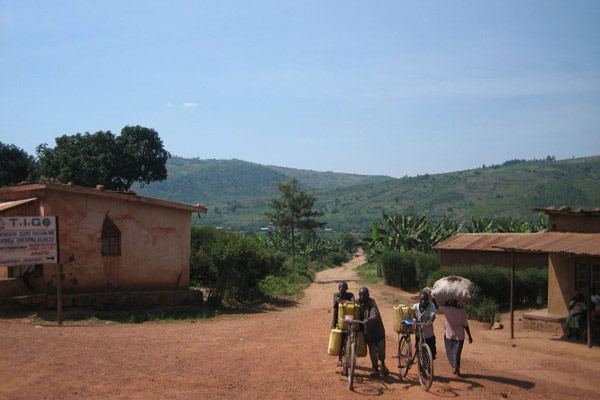 Tell us about a highlight from your time volunteering in Rwanda.
Shannon: To get to work each day, we walked about 20 minutes along a red dirt road which had many houses that ran alongside it. The children from the houses would see us walking to work and run out as fast as they could yelling "MUZUNGU MUZUNGUUUUUU!" (Muzungu means 'white person') until they caught up with us and then they would grab our hands and walk to the work site with us asking us, "How are you/what is your name?" everyday. Each day they would meet us on that walk (we walked that route 4 times a day) and ask us the same questions. They didn't really care what the answers were they were just so happy to see us and talk with us and touch our pale skin. They were fascinated by us - it was incredible to see them so happy!
They also loved when we took their picture. Most of them had never seen themselves in a mirror, or a photograph, so when you showed them their face on the digital camera screen, they would squeal and scream with laughter. Once they understood the concept of the camera, they would do these hilarious poses and stunts, trying to show off for you so you would take their picture. Playing with the children was wonderful - they are so trusting and fun. Even after a hard day when you were exhausted or sick, there were so many ways to cheer you right back up again and remind you why you were there - the children definitely made it worth it.
How has this experience impacted your future?
Shannon: After returning home from Africa I made the decision not to go back to school right away - I couldn't afford it, and after such amazing experiences travelling, I didn't want to tie myself into an academic career again. In Africa, the people dream of getting to go to school and if they are especially lucky, university. Seeing how much Rwandan people appreciated education made me realize that I did not want to go back to school unless I fully appreciated it as much as they did. Once I returned home back to Canada, I had a lot of student debt to pay off so I needed a job. I absolutely loved talking about my experiences in Africa and I wondered if I could find a job that could intertwine with my love for travel and alas, a month later I was hired as a receptionist at a travel agency in Vancouver! I have been here for a year now and I love my job. I love being able talk, read, think about and breathe travel all day long, and get paid to do so! I can't imagine myself being in any other industry.
Personally, going to Africa was the best thing I have ever done for myself. It is such a personal experience - no one else can live that for you, and it changed me for the better. It made me realize how little I needed to be happy. With only my backpack on my shoulders, the world was my oyster and I was the happiest I have ever been in my life. I would absolutely volunteer with DWC again in a heartbeat. To read more about my great African adventure, check out my blog at www.travbuddy.com/penny__lane. Thanks for reading!