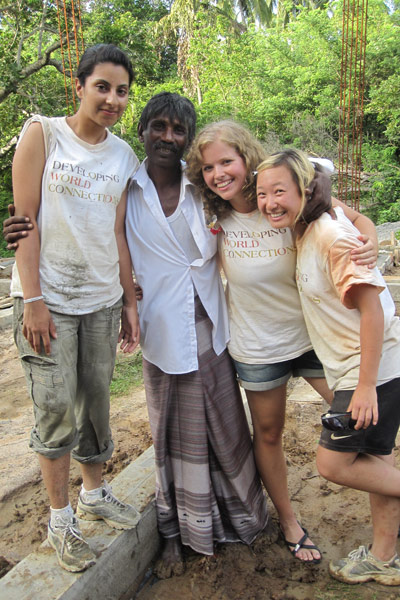 Why did you decide to volunteer with DWC in Sri Lanka?
Karen: I hadn't found a job for the summer yet and my room-mate saw a presentation in one of her classes about the opportunity to volunteer abroad. I did some more research and thought it sounded like a great opportunity to travel and to give back.
Describe your day to day activities as a volunteer.
Karen: We had a very large group and so we had two different projects. Each morning the van would come to pick up the first group at about 7 AM and return around 7:30 AM for the second group.
The first project was building a second trade school for an existing project. Our duties were to start the foundation. First we dug the trenches of the foundation with picks and then we had to mix the cement by hand and pour it into the lined trenches one bucket at a time. We were such a motivated team that we were able to finish the entire foundation during our time there. They said that the project as a whole was going to cost a third as the other building that they had already completed!
The second project was rebuilding a temple wall for a Monk who had been a good connection for them in the past. This also involved digging the trench for the wall and then transporting bricks and cement to build the wall. After it was completed we plastered and painted the wall. While we were working at the temple there was a family down the street building a new home for their son and his new wife. Once again, because our team was so big, we were able to help this family as well by plastering the inside of the home and painting it with them. It was great to be able to work right with locals and the families who really appreciated the help. We worked six days a week, but on Saturdays it was only a half day.
What made the volunteer abroad experience unique and special?
Karen: I will never forget how rewarding it was to accomplish so many things in such a little amount of time. There were 15 of us on the trip and it was a rare connection that brought us all together into a tight knit group of people. We worked really well as a team while working side by side with local people. We had the rare opportunity of getting a look into the lives of people in Sri Lanka; something that not many people will be able to experience. On our days off we got to experience many different things including: seeing sea turtles laying their eggs, visiting an art school for deaf children, being invited to play in a volleyball tournament against school teams, watching a parade and partaking in celebratory events around the community, and so many more. The hospitality of Sri Lankan people cannot be met; it was truly an honour to be welcomed into so many different peoples lives.
How has this experience impacted your future?
Karen: On a personal level, this experience has given me a look into the lives of people in extremely different positions than I am in my life. It has made me reflect on what is important and has shaped how I want to experience the rest of my life. It has also brought me in contact with friends that I would have never met otherwise, both in Canada and Sri Lanka.
On a professional level, I have had many employers comment on my volunteer experience and have been impressed by the amount that I have gotten involved with different programs over the years. Sri Lanka was such a rewarding experience that I have gotten more involved in my own community as well.