Why did you decide to volunteer with Edge of Africa in South Africa?
Danielle: I have had the pleasure to have been involved in international volunteering before in Romania in 2006 and Zambia in 2008. On both these occasions the work was with charity organisations and I was a member of a team travelling together from Northern Ireland. From these two past experiences I had very specific and high expectations of what I wanted my next voluntary trip to involve.
I was very apprehensive that I was travelling alone on this occasion and therefore one of my objectives was to find an organisation that would be host to other volunteers and therefore I would not be alone on the project. I also wanted to ensure that I would be apart of a project that was helping in the bigger picture rather than volunteering for the sake of volunteering. I am very passionate about helping those less fortunate and therefore was very worried about my time, efforts and money going towards projects that were simply profit makers for a company rather than helping the local community. I wanted to ensure that the project that I would be involved in included some form of combination and also was a sustainable project that could make a difference. I was 100% sure that I wanted to spend my time in South Africa as I have visited the country before on holidays and absolutely love it. And lastly I was determined to travel with an organisation that would provide an opportunity to see some of Africa at the same time.
I spent weeks trawling the internet looking at various volunteering organisations until I came across Edge of Africa in a simple internet search. After reading about their projects I become very excited about the prospects and immediately made contact via email. The staffs were very prompt to reply to all emails, answer my questions and put my concerns to rest. They also directed me to their face book page to read reviews and put me in touch with past volunteers. I choose Edge because they seemed to fit my ethos and objectives of my trip. My parents were also happy about the trip as they were familiar with the location of the volunteering and knew the area was safe and beautiful.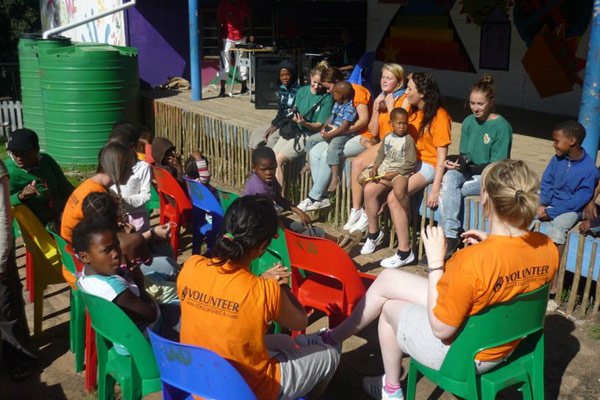 Describe your day to day activities as a volunteer.
Danielle: Every day each volunteer's schedule was displayed on a communal whiteboard so we each knew exactly where and what we would be doing. We would normally leave the house at 8.30am and the driver would take all the volunteers to their various projects. I would have been taken to the Build our Schools project which was at the time a Pre School needing regeneration. As I was the only volunteer on this project for a couple of weeks a local woman from the town accompanied me or a member of Edge staff would have came as I had initially voiced that I didn't want to be working alone on any project. On some days other volunteers did come to the site with me, I thoroughly enjoyed working in a large group as it felt like we were achieving so much as well as being so much fun.
At 12.30pm we would have been collected again and taken back to the volunteer house where we each prepared our own lunch. Depending on the project most volunteers would return for lunch and therefore everyone was able to catch up on what people were involved with in the morning. At 2pm (Tuesdays and Thursdays) the community volunteers would then be taken to a youth centre called Mad About Art. The centre was inspired by HIV and aims to educate the children through games. The Edge volunteers were able to assist the centers own employees and local volunteers in playing with and educating the children. Other days we would have gardened at the local hospital, returned to the building project or went to the Swop Shop.
At about 4.30pm the volunteers would be collected and return to the volunteer house were dinner would have been prepared for us. This was the end of the volunteer day and the evening can be spent relaxing, and for those teaching, preparing for the next day.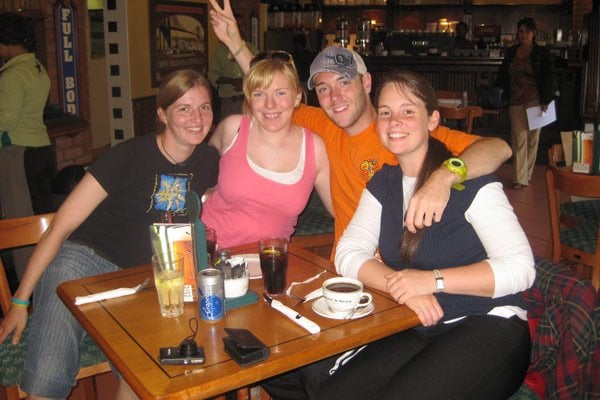 How has this experience helped you grow personally and professionally?
Danielle: From this particular trip I consider the staff from Edge rather than the projects have inspired me more. The staff at Edge of Africa are extremely passionate, inspirational and simply awesome people. They are very ardent to all of their projects and were able to explain how each project was sustainable and helping the local community. For Example I wasn't very keen on the teaching assistant project in the pre schools as I felt that it was simply an easy project for the organization to run where they can place volunteers. However the Edge Staff explained to me how the children being exposed to our language is so valuable as they can pick up words which will help them when moving into the next level of schooling.
The staff helped to change the way that I consider certain things and from this I therefore feel that I got the most out of my time on the projects and with Edge. Personally this trip has helped me to become more confident and helped me to realize what I can achieve when I have a passion for something. The other volunteers were also amazing people who I enjoyed getting to know and I am still in touch with some of them.
After this experience I am determined to return to Africa, either South Africa or another country within Africa. I would love to spend a considerable length of time such as 6 months to a year volunteering, whereas before this trip I would never have considered going anywhere for longer than a month. This trip has made me realize that I have a true passion for volunteering and would love to find an intern role with an organization. The Edge staffs were so awesome to me that I would love an intern role where I could help other volunteers in the same way.
Check out a video Danielle made about her trip in South Africa!