Why did you decide to volunteer with Starfish Volunteers in Thailand?
Ruth: I had decided I wanted to volunteer with my son, 9 years old at the time, and wanted to find suitable volunteer activities as well as an organisation that would accept young children. I contacted a few organisations and the only one to accept young children was Starfish. That was step one. Now I had to check out Starfish to see if they were as good as they sounded online! I wrote to Steve at Starfish who responded with an incredible amount of helpful details. The questions I asked him were possibly a bit different to those he was used to answering, as I was traveling with my son and until then they had only had volunteers age 18+. It didn't take long for me to feel that I had made a really good decision, and that I was going to be volunteering with a really great, dedicated, responsible and well organised company and that we were going to have an amazing time.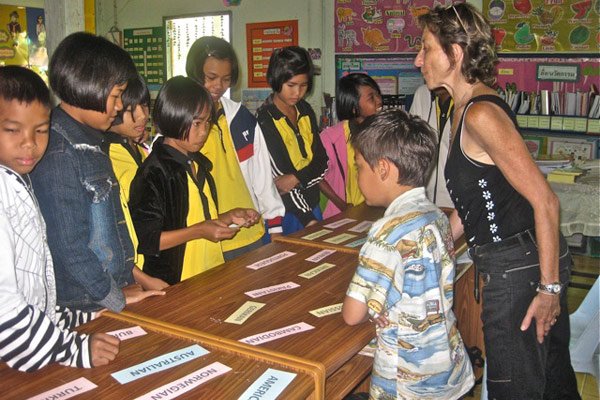 Describe your day to day activities as a volunteer.
Ruth: In Week One we volunteered working with elephants in a small village about an hour out of Surin, north east Thailand. Each morning we set off with the mahouts (elephant handlers) and our elephants, riding the elephants as they ate branches along the roadside. Some days we rode the elephants to the river for them to swim. Other days we headed to nearby fields where crops were specifically grown for elephant feed and we chopped down sugar cane, palms etc. Our days were given over to the elephants' needs which revolved primarily around eating and walking along rural roads.
Beyond our elephant related activities we were caught up in the ever-changing rhythms of village life - visiting the local market which comes to this area once a week, helping the villagers to prepare food for a wedding feast that was to take place in the village that week, attending the wedding feast with all the villagers, visiting a Buddhist festival, participating in a ceremony for placing foundations of a house. Who ever said village life was slow? There were constant events to participate in after work and into the evening, and while we were only in the village for 4 days, our experiences were so rich we felt we'd been there much longer. I should add here that we totally fell in love with the elephants, they are the most majestic and beautiful animals, and felt very sad to leave them.
My son participated in all volunteer activities with me and loved it. After work each day the local kids would come around to the house of the chief mahout where we were staying, and my son would spend hours playing with them - marbles, soccer, riding bikes up and down the road. It was great old fashioned fun with not a computer or tv in sight! The volunteers ate dinner together, and after dinner the village children would come back to the mahout's house once again for the kids to play cards and other games.
Each program - teaching, elephants, childcare, has their own dedicated coordinator. Our group coordinator was a very important part of our experience, meeting us at the airport, travelling with us from Bangkok to Surin, and with us from early morning throughout the day, translating and giving us cultural explanations. I feel the involvement of our group coordinator was crucial to making our experience such a rich one, and is one of the strengths of Starfish's programs. The coordinators are great fun, always up for a laugh and putting their entire energy into absolutely everything they do with and for the volunteers.
Our three day weekend was spent at the volunteer house in Surin, giving us a great opportunity to explore some of the richness of the surrounding area including temples, silk and silver villages, and just chilling - Starfish has an arrangement with a local hotel where volunteers can use the hotel's pool for a reduced rate. Some volunteers went to Siem Reap (Cambodia) over the weekend, definitely possible from Surin if volunteers have their visas in order.
After our weekend adventures we were ready for another week of work, this time teaching English to children in a nearby village. The Starfish van picked us up from the volunteer house around 8am each morning and drove us the half hour to the village school, dropping other volunteers at their locations en route - medical clinic, other schools and childcare. We rotated between different classes through the day, and my son and I team taught English to really appreciative and well behaved children. The kids in the school loved their 'young' English teacher, who spent his lunch break playing soccer with them. We taught till around 3pm each day when Starfish's van took us back to the volunteer house. There was always a great end of day energy with volunteers sharing their day's experiences with each other.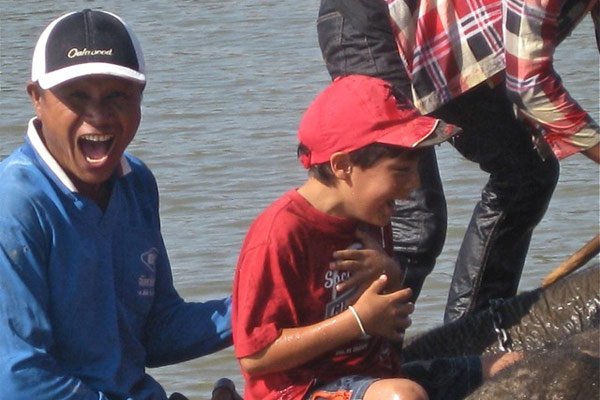 How has this experience helped you grow personally and professionally?
Ruth: This experience impacted my future hugely! It was probably the most rewarding trip I had ever been on, made all the more so by volunteering with my young son who was visibly moved and impacted by our rich experience and by the opportunity to give to others. I knew that this was an experience that many children would enjoy and be enriched by and I wanted to be part of creating this for the next generation. Together with a friend who is now my business partner we created Kids Giving Back (www.kidsgivingback.org) a non profit dedicated to volunteer experiences for children age 6 - 18 years and their families. I felt so strongly about our experience that we are now encouraging families to have their own experiences with Starfish and taking family bookings for their programs. We are also involved in developing volunteer experiences here in Sydney. While my friend and I had over the years spoken about creating volunteer experiences for our kids, it was my son's and my experience in Thailand that firmly convinced me that now was the time to do something about it. My life has changed totally, both personally and professionally as a result of my volunteer experience.