Why did you decide to volunteer with Travellers Worldwide in Ghana?
Katie: For years I had wanted to do some sort of volunteering abroad and had originally thought about helping in an orphanage. When I decided it was time for me to just do it, instead of simply think about it, I did some research and found a few different programs that I liked. I decided I wanted to go to Africa and Travellers had a program in western Africa that seemed safer than some other places I had looked at. It also had the preschool project which I felt was perfect for me since I had just decided to study early childhood education at my university.
Describe your day to day activities as a volunteer.
Katie: I would wake up and take a cold shower, but I was grateful that I even had a shower and not just a bucket, so it didn't bother me. My host brother would then walk me down the dirt road to the main street where he would help me find a tro-tro, a van that is used as a sort of bussing system, so I could get to Uniqueen Academy. At Uniqueen I worked with the school owner and helped mostly in the older class, 5-7 yr olds, but would occasionally spend time with the 1-4 year olds. I helped the students correct their work and sporadically taught lessons. When school was over I went back to my host family's home, but was allowed to stay later and play with the late kids if I wished. My host mom own a little restaurant, "chop bar", down the street and most of the time I would hang out there with her, read, eat, play with my little host siblings, etc. I was there during the World Cup so I also went back to the house often to watch the games with my oldest host sister who was around my age. On the weekends I usually went somewhere, although this took me a bit to figure out. I became friends with some other Americans from my church who were there on internships, and then together we would plan fun things to do. Sometimes this consisted of going to the market, sometimes to downtown Accra, and even once all the way to Cape Coast.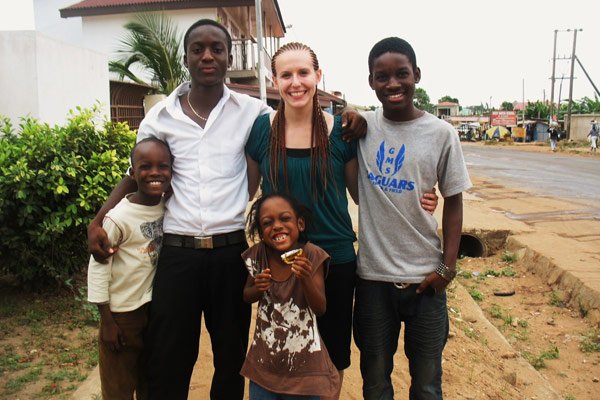 How has this experience impacted your future?
Katie: I will never forget my time in Ghana. I learned how to be happy with what I have, and not want. I learned the true meaning of love, as I felt it for the Ghanaians I worked and lived with. I also began to develop my personal philosophy of education in a round-about way. Most Ghanaian teachers had no schooling on how to be a teacher, and their practices differ greatly from the United States. For example, I saw firsthand how important learning by doing is, because this was absent from the school. I also realized how much I truly love serving others. I hope one day that I can go back and make more a difference in the lives of those people I grew to love.