Why did you decide to volunteer with Travellers Worldwide in Sri Lanka?
Sarah: I had no plans for a holiday that year, everyone was busy or could not afford to go away but I didn't want to go without so started looking into volunteer holidays abroad with other single travelers. I had not done anything like that before but decided it was time for a change, to be brave and do something different. I liked the fact that most of the volunteers were likely to be in the same boat as me and travelling alone and I found Travellers Worldwide the perfect choice as they helped you from start to finish including pick-ups, transportation etc. When I found the Pinnawala Elephant Orphanage my mind was made up.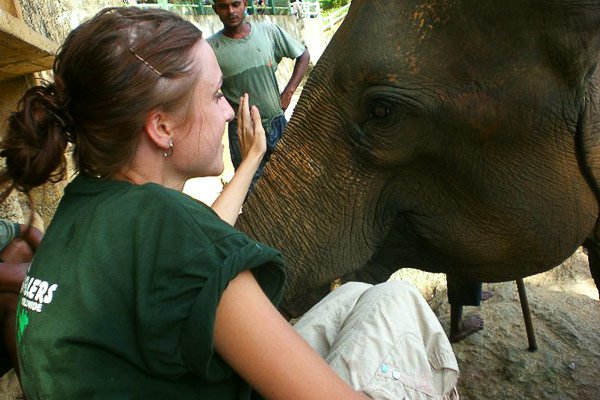 Describe your day to day activities as a volunteer.
Sarah: A typical day as a volunteer started early - around 7am - with breakfast at the house before changing into our 'mucking out' clothes and being driven to the orphanage. The first part of the day was quite hard work and we separated into groups to clear out the Elly sheds, It was quite tiring in the heat but it was great fun and we had a laugh with the Mahouts as we worked.
We returned to the house for showers and a Sri Lankan lunch that our cook had prepared and we had a couple of hours to relax, forget our hectic 9-5 working days, their work days are a lot more chilled and laid back. TIP They often give you some fruit for lunch but if you can bare to go without why not take it back with you to feed the Ellys, they will love you for it! We then returned to the orphanage for the afternoon where we joined the Mahouts and Elephants down by the river. Here we washed, played and tickled the Ellys and just enjoyed our time with them, watching them play and get up to mischief. The tourists look on wondering why we are allowed to get so close and they are not! We later return to the orphanage along with the Mahouts and Ellys, depending on the day you can go with the vet on his rounds or you can feed the baby orphan Elephants with their giant bottles of milk.
When we return to the house around 5-6pm the evenings are fairly quiet as the Sri Lankans typically go to bed very early. So after dinner this is an opportunity to write your diaries, play games, watch DVDS and play with the beautiful dogs that live with us.
You have plenty of time at your weekends to go exploring and do other things which the house mother will do her best to help you arrange, there is plenty to do and see around Sri Lanka from temples, Sigaria rock, elephant rides, the zoo, to the beach, turtle sanctuary, river cruise and much much more. There is also plenty of time on your way home from the orphanage to be dropped of on the main street and do a spot of shopping, and cheap Tuk Tuks to return to the house.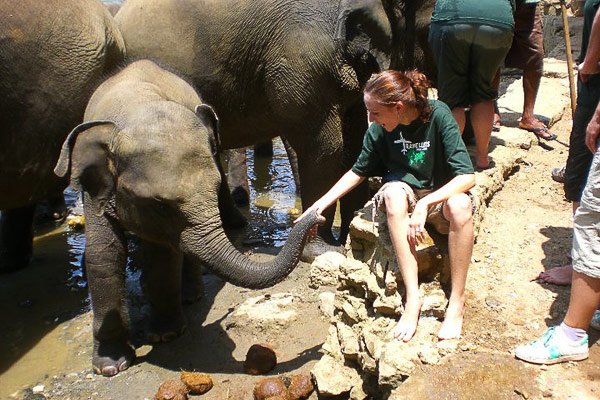 How has this experience impacted your future?
Sarah: I found this an extraordinary and enlightening experience it has made me appreciate what I have much more and appreciate the work the Elephant sanctuary does. I think it has defiantly helped me become a stronger, more independent and confident person and I would have no hesitation on going on a volunteer holiday alone again as you meet such great friendly and welcoming people along the way. It is defiantly a life changing experience and something I truly believe everyone should try at least once.