Why did you decide to volunteer with United Planet in Guatemala?
Alida: In college, I was very interested in working for a nonprofit organization in Latin America. Instead of doing a traditional study abroad program, I decided to look for volunteer opportunities to get the experience before graduating. I took summer courses to get ahead, took a leave of absence from my college, planned my trip, and went off to Central America.
I originally found a couple of volunteer programs that I was interested in. United Planet's program in Guatemala happened to be how I started my travels. I was only supposed to be there two months, but I had such an incredible experience that I canceled my volunteer plans in Ecuador and stayed in Guatemala for almost 8 months.
Describe your day to day activities as a volunteer.
Alida: For the first two months, I volunteered in a shelter for women and children who had escaped domestic violence. I was there from 8am-1pm daily. I helped children with their homework and helped them get ready for school. I arranged field trips for the children- to the zoo, to play soccer, to see a movie, to go out for pizza. When possible, I would take one or two children out of the shelter to run an errand with me or to buy bread for everyone. They spent a lot of time in the shelter, so it was important to me to faciliate time outside of the shelter as well.
For the rest of my time in Guatemala, I helped open a laundromat for women in the shelter to run. This included finding a location, working on a lease, consulting the city government for permission, cleaning and painting the space, purchasing the equipment, etc. The laundromat is managed by a couple of women living in the shelter so they earn a salary, and the rest of the profits go to the shelter as a whole.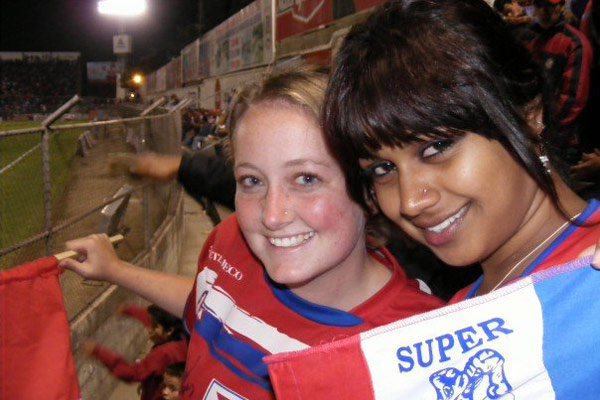 What advice do you have for future volunteers?
Alida: Be creative--there are so many little things we can all do that will make a difference. The kids will love any activity you suggest.
Suspend expectations--I was constantly shocked by the living conditions in the shelter; it was truly depressing. You just have to get used to it and not be put off by it.
Think long term--I loved playing with the children every day, but I was frustrated that I wasn't doing anything sustainable. I didn't want to return to the US and have it be like I was never there. I hope the laundromat will have long-term benefits to all the families living in the shelter.
Immerse yourself in the location--And take advantage of everything around you! I tried all sorts of amazing foods; I took salsa and meringue lessons, I went to all the home soccer games I could, I traveled around the country on long weekends, I came home fluent in Spanish; I climbed two volcanoes and swam in a cave. Every element of the country and the culture came together and made for a life-changing experience.
How has this experience helped you grow personally and professionally?
Alida: I ended up returning to Guatemala three more times following my time volunteering with United Planet (Winter 2007-2008, June 2008, September-November 2008). I fell in love with everything about the country. I think about Guatemala and the city I lived in every day.
While I am not currently working for an international nonprofit, I did spend a year with one building high schools in Nicaragua. I am confident that the experiences will help me down the road in terms of working for a nonprofit again. I currently work in the Center for International Engagement at Bridgewater State University and I know my unique international experience helped me stand out and secure the position.