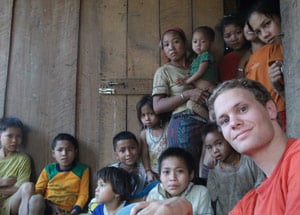 Why did you decide to volunteer with DEPDC in Thailand?
Vincent: I have been going to University of Tourism in the Netherlands, where I live. I learned there about sex-tourism and the human trafficking business a little bit. I became more interested and did some research. I always wanted to volunteer in a country with less-fortunate children. And this seemed like a bad problem in Thailand. So I looked up "stop child prostitution Thailand" and found DEPDC.
Describe your day to day activities as a volunteer.
Vincent: Teach English in Half Day School, monks, and to the older teenagers. Teach art classes in Thai, using the whiteboard and examples I drew. Tell stories in Kindergarten. Paint the library... that was a nice project, took seven weeks or so. Discuss webcontent with the other foreign volunteers. Present the Child Voice Radio a few times a week. Go to Chiang Kong and Loas for specifiek follow-ups and activities. Organize games and sports for Half Day School.
How has this experience helped you grow personally and professionally?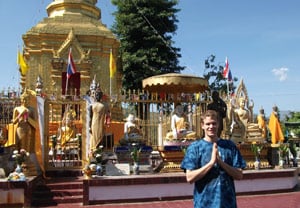 Vincent: Professionally: Of course this experience can be put on my resume. If you do anything in education, teaching, art, organization, or with English, languages and cultures, it can be a good help.
Personally: I have seen first hand how things work in a different culture, expanded my horizons with a totally different language, different eating habits, different climate, seen much of Buddhism (which is not my religion, so that was also interesting). And I saw how kids and people can be happy even in hard circumstances, how the trafficking really works, and that there are some parts of the world that we are not aware of that they live a very different lifestyle.
Honestly, it has also made me less spoiled, coming from a rich country like the Netherlands and taking all kinds of luxury for granted. And then coming to Thailand, which isn't all poor, but there certainly are poverty and other community problems, such as prostitution and cultural clashes. Now, sometimes when I make a big deal out of something stupid, like money or luxurious items or other worldy worries, I can say, "I have worked with and seen people who have almost nothing. I am not gonna complain. I am well off."
Besides that I feel great satisfaction that I contributed, that I helped out in at least some way to stop the problem, help kids, sacrificed time and money, tried to understand the culture and language, etc. I especially loved the foreign volunteers, many of the staff members and kids I got close to, and of course the inspirational Sompop. Haha! He really has a peaceful charisma. Makes sense that such a good guy founded DEPDC. When we had some free time, we went to good food places, had fun in April at the Song Krahn festival and did a bunch of other stuff that was fun. It was a really good experience altogether. I am glad I did it while I had the times. My whole life I will look back on it and be happy with the memories and the good work I could do.