Why did you decide to volunteer with Love Volunteers in Senegal?
Giorgia: At the time I was looking for an affordable volunteer solution. After some research on the internet I soon got that the fees most organizations offering this kind of opportunity were charging were not exactly affordable for a college student on her own. I kept looking until I found Love Volunteers which offered exactly what I was looking for at extremely feasible prices. I got in touch with the organization and the director Julian Phillips was so nice and patient in answering all my questions that all my doubts about them were soon cleared so that not even one month later I was heading off to Senegal.
Describe your day to day activities as a volunteer.
Giorgia: As volunteer I was assigned by the local staff to two different projects, one at TSX and the other at the Senegalese Red Cross. The first one filled most of my days as I would go there every day except for weekends.
My day started around 7.30/8 when I used to have breakfast with another volunteer my host family was also hosting. My working day started around 9:30 or 10 as soon as I got to the work place, that was not that far but that by buses was not reachable in less than an hour. When I got there the kids were usually having breakfast or had started their first class. The morning would go by class after class without any dead time. It is incredible to see how much those kids craves for learning more and more.
I then used to have lunch with the other volunteers at the project and hung out with them for a while after that as the kids used to take a nap in the early afternoon. After that a lot of different activities were scheduled depending on the day of the week. There was the day we would dedicate to art and painting or to sport, music, going to beach and this kind of activities, trying to change them as much as possible so not to bore the kids. Around six the day was over and the kids were sent to the showers. I used to walk them home before going home myself. During weekends other volunteers and I enjoyed hanging out in the city as well as exploring the country, which I found totally worth it to see.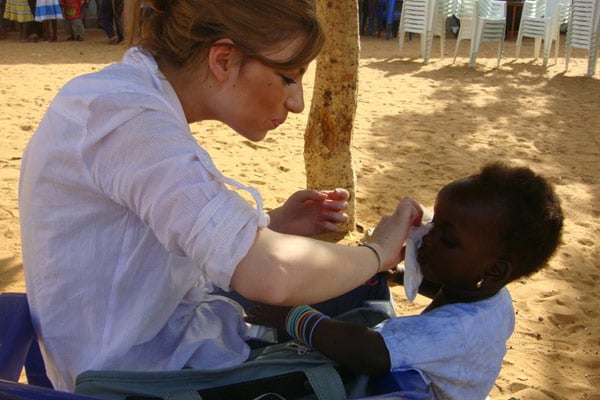 What made this volunteer experience unique and special?
Giorgia: I think it is impossible to say that one thing or another made my trip to Senegal the most incredible experience I ever had. Truth is each detail, everything and everyone I ran into played a crucial role. In particular all the persons I met on my way and I got to share that period with, starting from my host family, the other volunteers, the people working at the projects till the kids and their precious smiles, all of them were so amazing that I cannot imagine what my experience would have been like without any of them.
How has this experience helped you grow personally and professionally?
Giorgia: It did impact my future and myself in so many ways I would have never expected it could. Most of all it gave me a total different prospective to look the world from, a more realistic one that until then I did not know I was totally missing.
It also gave a hint of the role I want to play in the world and the determination to fight for what I believe is right because now when I hear about people starving, people living in bad health conditions or kids abused and forced to work, what comes to my mind are not the image of unknown random people but faces I actually know and that I have seen with my own eyes.