First tell us a little about yourself and your trip.
Butch: I am a 60 year old, semi-retired applied scientist. I am still active in consulting in applied physics and electronics, and I do a fair amount of lecturing at universities around the world. People know me as Butch Shadwell from Jacksonville, Florida.
My situation is somewhat unique in that I have been working on a global humanitarian project since 2009. I am the international chair of a project for the United Nations Foundation and the IEEE called the Humanitarian Technology Challenge. I was looking for an African test site for an experimental power system and Village Volunteers was extremely helpful in getting all of that set up. They were even able to provide some financial support in order to complete this important project for the Maasai people in Kenya.
Why did you decide to volunteer with Village Volunteers in Kenya?
Butch: I was referred to them through a series of connections with medical projects in Africa. When I explained my objectives, they offered to do all they could to facilitate the project. To that end they helped by setting up most of my in country arrangements, and even prepaying some for me.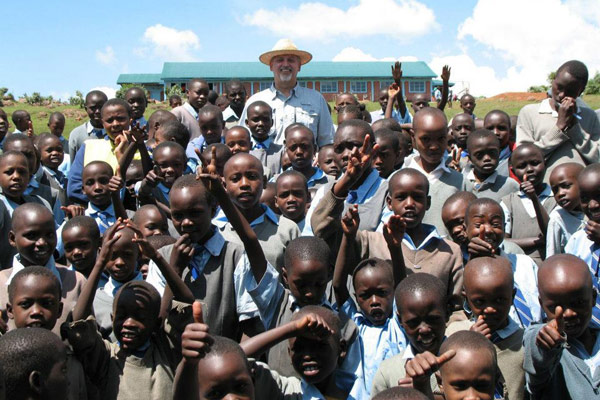 Describe your day to day activities as a volunteer.
Butch: Each day was spent installing my experimental power system at a remote school, and wiring all of the classrooms with electric lights. My Maasai host did set aside one day for a photo safari at a local game preserve. After the power system was installed and working, I directed my attention to some other pressing needs in the region. I am still involved in an effort to make sanitary napkins more available for poor young women that are trying to go to school.
What made this volunteer experience unique and special?
Butch: I had never been to Africa before. This trip was unique in every way imaginable, except that like everywhere else I have been, you always meet a lot of great new friends.
How has this experience helped you grow personally and professionally?
Butch: Because of range of expertise and willingness to volunteer my services for worthy projects, VV has invited me to contribute to a number of other important efforts going on around the world that they are trying to fund. To that end I fear a lot more of time will be spent on projects in Africa and Asia. My wife doesn't like me traveling so much, and I still need to earn some income now and then.