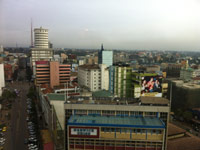 Why did you decide to volunteer with Flying Kites in Kenya?
Abby: I chose to work with Flying Kites because I wanted to work with a organization that I knew is making a true and positive sustainable change, and that's exactly what Flying Kites is doing.
What made this experience unique and special?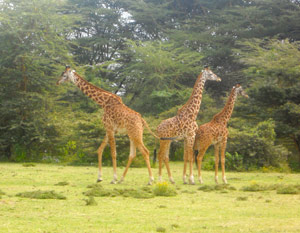 Abby: Unlike many other organizations that are purely based around volunteers coming to take care of the children, Flying kites is home, and to go there you become part of the family. Flying Kites is extremely well organized and the children they take care of there will not only become important people in Kenya, they will become important people of the world. I knew I wanted to work with Flying Kites because I knew and still know they are making a true difference.
How has this experience impacted your future?
Abby: Since working at Flying Kites I feel as though I am a more well-rounded person. Working there has made more globally aware, and more self aware. I feel like I now better know who I am and that I have purpose. In classes at school I am able to make connections to my trip and understand concepts better than anyone else because of my experience.
Morning: A typical morning at Flying Kites started with an early wake up and breakfast. If it was Friday we would hold a staff meeting around 8 am, if not then mornings were usually time to get ready for your day and do your own work. For me, doing my own work consisted of planning lessons for the day at school, and doing my own research and organization on personal projects I was starting at the house.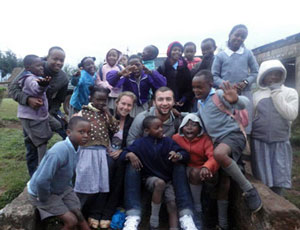 Afternoon: During a typical afternoon in Njabini I would eat lunch and then head off to school. The walk to school was about an hour each way, give or take 30 minutes depending on which route you took. I would arrive at FK's school with the other Education Ambassadors around the time the kids were eating their lunch. When classes got started again, I would help the kids with Reading in English, or what they called "Daily Five". After Daily 5 I would teach the elective course in either health, art, PE, or music. After school we would all head home together, kids and volunteers. When we got home the kids would do their chores and the volunteers would do their chores around the house as well, until dinner time.
Evening: After chores we would have family dinner. Dinner was usually a mix between traditional Kenyan food and ingredients with an American twist for the volunteers. After Dinner we would have family meeting. During family meeting we would read a book, talk about our day, pull questions from the question box to discuss, and do gratitude. After family meeting I would help with tutoring the kids with their homework. After homework time the kids would go to bed and the volunteers would either hang out or go to bed themselves.
Highlights: The highlight of my trip would have to be learning all that I did from the amazing kids at flying kites. The kids living at flying kites are some of the most resilient, smart, funny, and well rounded kids I have ever met. Spending time with them was never dull, if we were not playing a game outside we would be talking about life and and I would be answering some of the questions that were always on their minds.
I also loved learning about Kenyan culture. Kenya has such and amazing culture and I am so glad I got to experience that first hand this summer.