Why did you decide to study abroad with Global Players in Prague?
Mary Lambert: I chose to spend my study abroad experience with Global Players because I liked their philosophy. I was concerned about going abroad and not being able to train for lacrosse season and Global Players created the perfect opportunity for me. I would be able to travel to Amsterdam, Germany, and Prague while taking classes as well as playing and coaching lacrosse around the world. The program is built on four basic pillars: learn, play, travel, and serve. Through integrating lacrosse with studying abroad we were able to embody each of those pillars making the experience that much more enriching.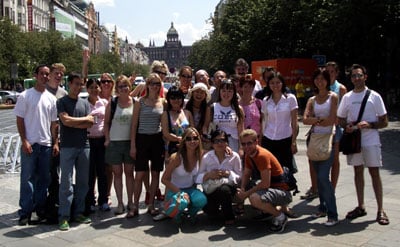 What made this study abroad experience unique and special?
Mary Lambert: Global players recruits athletes from all different playing levels and backgrounds. I played with people who are now in the MLL and people who have competed against the best players in the nation. Having the experience to play with them broadened my game. I also played against people who had just started playing lacrosse and wanted to learn all they could from the "mighty American laxers" (as they called us). The German and the Netherland players truly enjoyed playing with us and learning.
How has this experience impacted your future? (Personally, professionally, academically, etc)
Mary Lambert: My GP experience has taught me a lot about myself, challenged me to be independent (getting lost in Dresden, Germany really challenges you!) and has given me a greater appreciation for the beauty and history of Prague. I met some truly amazing people on my trip with whom I talk to on a regular basis and I have cherished those relationships.