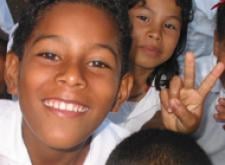 Why did you choose World Teach?
Kia: I chose this program because of the variety of countries I had to choose from versus being placed somewhere randomly. Also I did not want to commit to a year abroad so the one year commitment worked for me.
Describe your day to day activities as a teacher in Guyana.
Kia: There was no typical day really but if I have to sum it up it would be as follows. I taught each day and then after work prepared my meal and then went to bed since I did not have a television. On the weekends I got up early to wash clothes so they could dry before the sun went down. I cleaned the house and then went out to meet up with friends.
How has this experience impacted your future?
Kia: I have managed to stay in contact with a lot of the people i met in Guyana and now we are like family. I was able to reconnect with some members of my family in Guyana which was very nice as well. This experience has changed my life because it has made me use the experiences I had overseas as a way to guide my future decisions. I also tend to be more resourceful because I know how well the Guyanese make due with things the average American would toss away. I still don't really own a TV so I like that I can do without a TV.
Going to Guyana didn't impact my life academically because I already had a graduate degree and knew I had no intentions of continuous higher education pursuits. Professionally, it helped me to see that I could be a good/great teacher if that was my life's passion. I could do it in Guyana but I would never do it in the US. The children are spoiled, disrespectful, and feel too entitled.
What is one piece of advice you would give to others thinking about teaching abroad?
Kia: Try it- what the worse that could happen? Believe you probably had a teacher that was unsure of themselves and you turned out just fine. Besides if you suck that bad you can always go home!