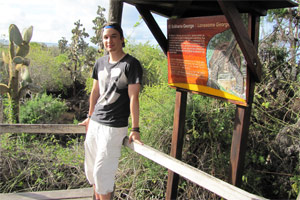 Why did you decide to volunteer with Get Ecuador in Galápagos?
Rickard:My life had reached a point where I felt a strong urge to travel – I just needed to get away from everything. My job for more than a year had consisted of helping a boy with autism and mental retardation. You could say that I was his full-time battery in his daily life. This job influenced me in the field of wanting to help out. Therefore, I wanted to combine traveling with helping out – it just felt more valuable than just taking a standard vacation trip.
Why I chose Galápagos of all places is easy to understand; it has always been a dream to get there, where Darwin once set his foot. A very unique place with a rich and beautiful flora and fauna. I also have to admit that money was a factor. It gets much cheaper to travel to Galápagos as a volunteer than it would otherwise. Dreams cost money, so it was even more natural to travel as a volunteer with that in mind.
Also, being a volunteer was also a challenge for me. By traveling alone, I had to rely on myself all the time and your personal attributes really show themselves. This was a great way to improve myself and I received a lifelong confidence boost from the trip.
Describe your day to day activities as a volunteer.
Rickard:My project focused mainly on protecting the native vegetation of Galápagos. It could be activities like planting trees, cutting down a lot of unwanted mora trees with machete (grows everywhere, all the time), keeping the biological station's garden/plantation clean from weed, picking different kinds of fruit, make coffee (all from collecting the coffee beans to grinding and lastly roasting them), helping out in the kitchen preparing food (you could sign up on a schedule – breakfast, lunch or dinner), setting up wire fence to protect against boars and so on. Fridays were always the 'relaxing' day, doing hikes and similar stuff.
One day on the biological station could look like this:
06:30 (ONLY the one that had signed up for it): Helping out with breakfast, like squeezing orange juice (it took time, but the result was amazing) and lay things on the table for everyone.
07:00: Breakfast. Everyone eat together.

08:00 to 10:00: Work.

10:00 to 10:30: Break (consisted mostly of lying in a hammock).
10:30 to 12:00: Work.
12:00 to 14:00: Lunch break.
14:00 to 16:00: Work.
18:00: Dinner.
After the dinner it was free time. It was pitchblack outside so everyone was gathered together in the "social activity area" (where we also ate). Here people socialized, played cards, read books or perhaps wrote in their travel diaries/journals.
What made this experience unique and special?
Rickard: I could say everything – really, since everything was unique in its own way – and everything went smoothly! I had no problems with anything, fortunately. I followed a planned schedule and did not encounter any struggles with accommodation, tickets, transportation or anything (I visited three islands, so there was a lot of that).
The people were friendly and the islands I visited were all amazing in their own different ways – and very safe! I saw a lot of things that I probably never will see again unless I go there again, or a similar place.
The animals, landscapes, forests, culture and biological awareness of the people. Boat taxis, volcanoes, beaches, the small airport, and I was also incredibly lucky to witness the existence of Lonesome George (the tortoise that was the only one of its kind) before he past away.
Galápagos is unique and naturally it gave me a unique once-in-a-lifetime experience. Recommended.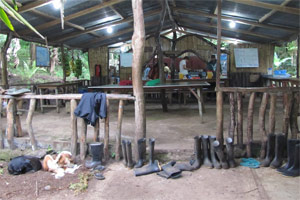 How has this experience impacted your future?
Rickard: Having worked as a volunteer – and especially on a location like Galápagos – often tends to impress people, and for me it has been an advantage when I have applied for jobs – it is a great thing to have in your CV.
Except for that, the thing that has impacted me the most is probably myself (cliché maybe, but it is true). To always have this experience with me in my "life backpack" is invaluable. When things get difficult, I can draw strength and inspiration from my time there and everything gets much easier. It opened my eyes as well, increasing awareness of just how important our nature around us is, and should not be taken for granted. In fact, it goes for the whole ecosystem. All organisms are needed, no matter how small they might be. Never forget this. One last thing – cold showers can be quite cruel (but refreshing), so enjoy your warm showers back home.