Why did you decide to volunteer with CHI in Kazakhstan?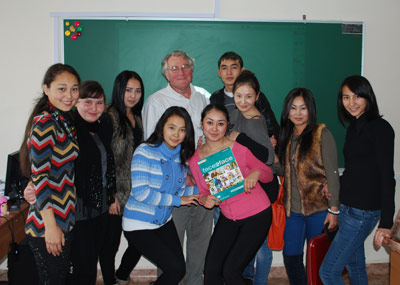 Jim: My maternal grandparents were born in Russia. My maternal grandmother was born near Astrakhan which is near the border with Kazakhstan. As a young boy, she told me many stories of the Kazakh people that would come and trade in her small village. I was intrigued by the stories, and when I saw that CHI had a listing for Kazakhstan, I jumped at the change to go.
Describe your day to day activities as a volunteer in Kazakhstan.
Jim: On Tuesdays, Wednesdays, and Thursdays I would teach three one hour English classes at Bolashak University, and then go to lunch with one of the English teachers on staff. On Mondays and Fridays I would lecture for two hours at the Karaganda American Corner at the Gogle Library. These were open to all interested parties. I talked about, San Francisco, American Music, Mexican-Americans, American Poets and the California Gold Rush.
I also met with the English teachers at Bolashak University and Karaganda State University and passed on my thoughts, theories, and techniques about teaching English. In the evenings I would sit with my host family and go over what I had taught that day, or talk about idioms, fables, sayings, US history and politics, anything that the family was interested in.
On the weekends or after school, I was shown or brought to many interesting places. Sometimes it was just a walk through Karaganda's Central Park, or visiting their museum, the circus, a musical, having tea at some one's house or a trip to Karlag, a retired gulag. I think my most memorable event was my first trip to a Russian banya (sauna). I had never experienced anything quite like it!
What made this experience unique and special?
Jim: The chance to teach overseas was special to me, but what I will always remember is how incredibly warm, friendly and giving the people of Karaganda were to me. It seemed that my host family, my new friends, teachers, school administrators, and especially the students couldn't do enough to make my stay the best. I felt totally spoiled and I loved every minute of it.
How has this experience impacted your future?
Jim: I can certainly relate to my students here in the US more, now that I have experienced coming into a country by myself, where I didn't know the language, the alphabet, didn't particularly look like many of them, and really didn't know but a few people when I got there. I think this experience has also convinced me to follow through and complete my MATESOL.